1-800-ADOPTION
Thank you for viewing our profile
If you would like to learn more about us, please call 1-800-ADOPTION (2367846), fill out the form at the bottom of our on-line profile page, or email us at bp_information@americanadoptions.com.
To revisit our on-line profile page and view our profile video at American Adoptions, simply use your mobile phone to scan the QR code on the right. We are looking forward to hearing from you!
Tom & Haley
Hello! Thank you for taking time to get to know our family. Adoption is one of the most important things we will do in our life, and we are so excited to become parents! We promise to love your child unconditionally, and to provide a safe and happy home filled with laughter, where your child can learn, grow and be themselves. We will always honor you, and make sure your child knows you love them.
About Us
Job
Speech Therapist
Success Coach
Education
Master's Degree in Speech Pathology
Master's Degree in Higher Education
Relationship
Legally Married
Our Leisure Time
We enjoy spending time together, and can have fun doing anything! We typically spend Saturday mornings finding new coffee shops, reading together or just talking. Lately our conversations have been about turning our Saturday morning tradition for two, to a family outing of three!
We spend many Saturday nights with our best friends who live a mile away with their two children. We love getting to spend time with their kids, playing and reading, and feel so lucky that our child will get to grow up playing with them! Once their kids go to bed, we play cards or board games together, and catch up. We enjoy being active together, and getting outside when the weather is nice. Haley teaches a fitness class twice a week, which Tom takes with her. We like to run 5k races, and Tom ran his first half marathon this year! When the weather cools down, we enjoy exploring local parks and taking our dog on long walks. We can't wait to have our child join us on these adventures!
We are active in our church, and spend time with our small group every Thursday, and volunteer most Sundays. Our church is very family friendly, and we are excited to have our child grow up surrounded by such a loving community! We have learned the value of a relaxing night in together. We enjoy making homemade pizza and watching a movie together, and are excited to continue this tradition with our children!
Why We Chose Adoption
We chose adoption to build our family out of a deep desire to be parents and to share our love with others. Adoption has always been an option for us, both individually, before we met each other, and together as a couple. It has never been a back up or second choice option, rather something we considered as an equal option. Throughout our relationship and our marriage, we shared dreams of parenting together. We would frequently talk about what our life would look like with little ones running around, and of all the things we want to teach our children and experience together as a family.
We have been married for about three years now, and those dream filled conversations started to become more serious as we bought our first home together and adopted a dog. We felt ready to start talking about how we really wanted to grow our family. The answer was simple for us, we felt called to adopt. We have the utmost respect and love for expecting parents, and are honored to be considered as parents. We are beyond excited to grow our family through adoption, and cannot wait to raise a child with love and guidance!
Our Most Memorable Moment
One of our most memorable moments happened early in our relationship when Haley accepted an internship in New York for a summer. She told Tom about the opportunity and mentioned being unsure about making the drive from Missouri to New York on her own, when he offered to drive with her. At first, Haley thought he was being nice, but when she followed up with him later, he was just as enthusiastic about making the trip. A few weeks later, they made the 14 hour drive together in one day! This adventure is one of our absolute favorite memories! Other than taking turns to nap, or singing together, we rarely turned on the radio. We spent the majority of those 14 hours just talking to each other, sharing childhood memories and future dreams and goals. It was that trip that showed us that we truly had something special!
Once we got to our destination, Tom was comforting and proactive in helping Haley get settled in to her new space, and set up for success in her new job. We spent the next couple of days adventuring through Haley's new town and exploring Niagara Falls before Tom went back to Missouri. We navigated our summer apart relying on video chats, letters, and surprise packages before reuniting for our last year of graduate school at the end of the summer.
Photos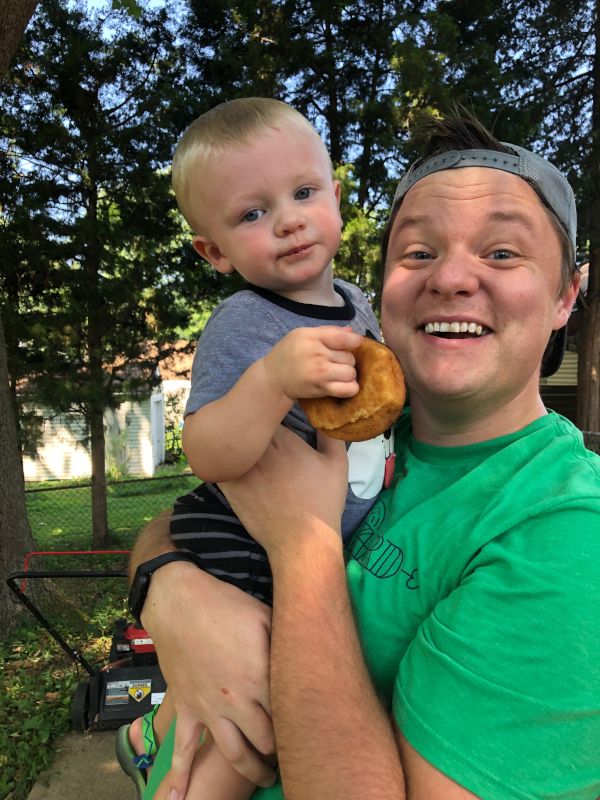 ×
1 / 12
2 / 12
3 / 12
4 / 12
5 / 12
6 / 12
7 / 12
8 / 12
9 / 12
10 / 12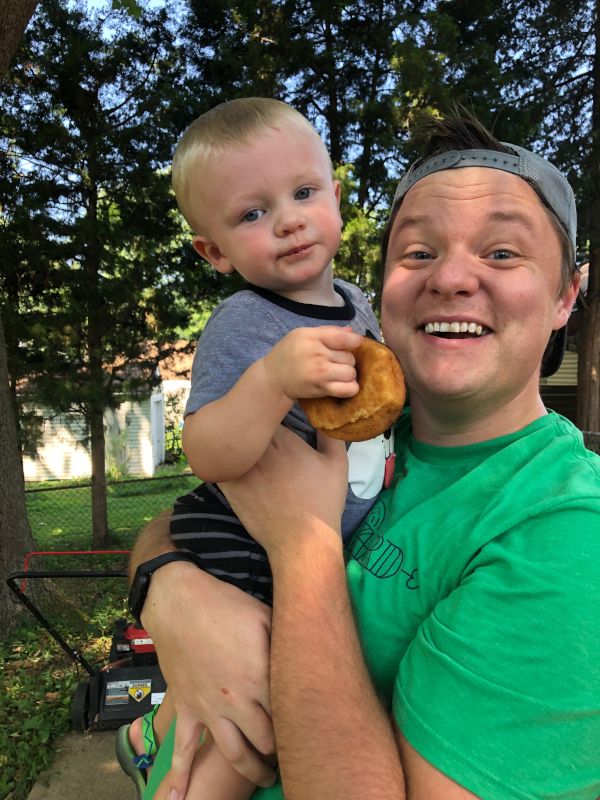 11 / 12
12 / 12
❮
❯
Our Extended Families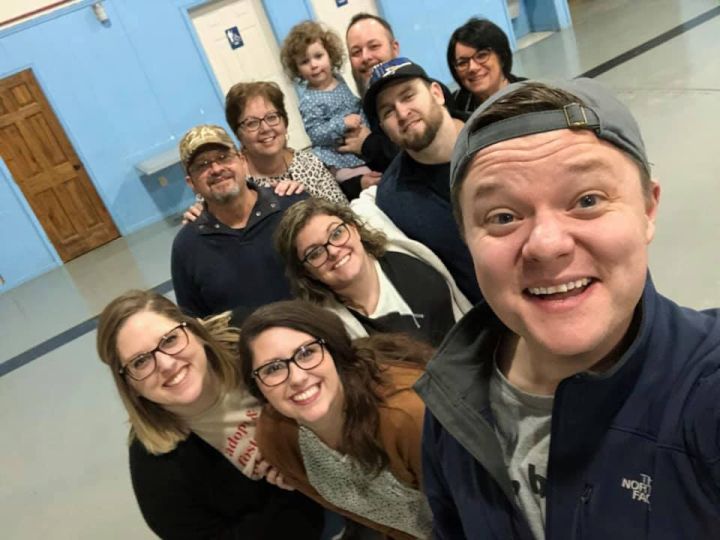 We feel lucky to live close to Tom's family. His parents, sister's family, and extended family live about an hour away. We see them frequently, and spend most holidays together. Tom's mom is a great cook, and we love going out to share a meal together! Tom's sister and her husband have two young boys, and we love getting to play with them and watch them grow. We're excited for the day we get to see our child running around and playing with them!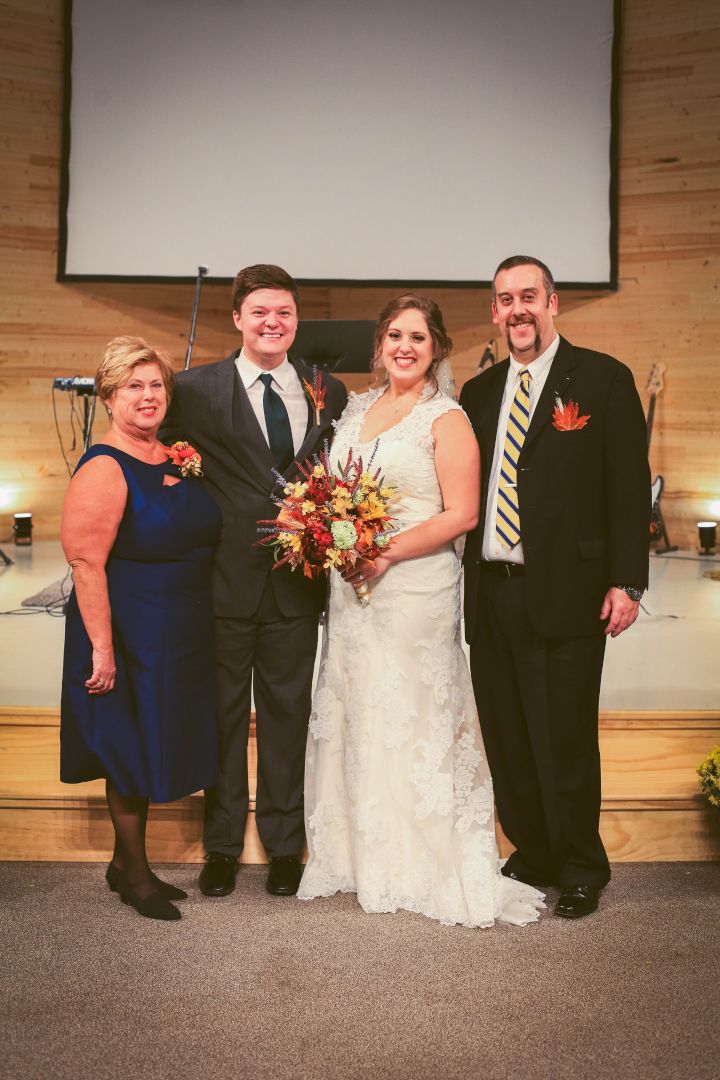 While we live in a more suburban neighborhood, Tom's family lives in a more rural setting. We enjoy the change of pace, and are excited that our children will be grow up experiencing the benefits of both! Haley's family is a little more spread out. Despite the distance, we are able to see them a few times every year. Our hope is that traveling to see Haley's family will help instill a love of travel and adventure in our children. Because our time with Haley's family is more limited, we can typically be found with laughing and talking over a cup of tea or a good meal. Many of our Christmas traditions came from Haley's family, including an annual cookie day and exchanging pj's on Christmas Eve. We can't wait for a child to join in on our family traditions! It's important to us to create memories and traditions with our families, and we all look forward to creating new ones as our family grows!
Our House and Neighborhood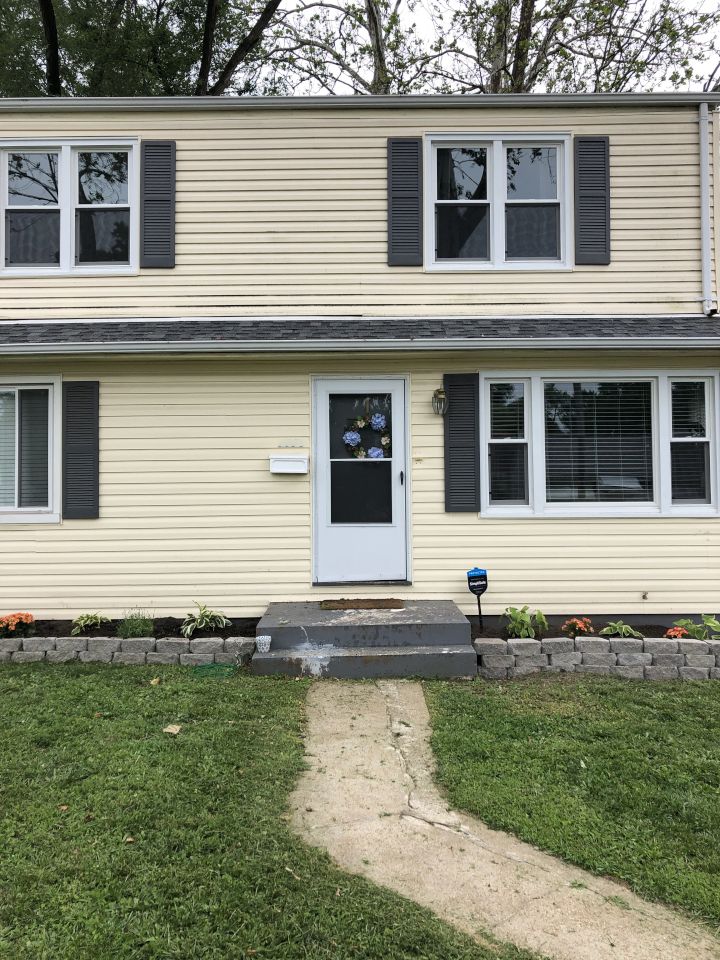 We live in a mid-size city in Missouri, in a quiet neighborhood, close to our church and friends with families. Some of our closest friends live less than a mile away, and they have two children who we are excited for our children to grow up playing with. There is a park less than a block away from our house, where we like to walk our dog. We also live close to a variety of big parks, local museums and the zoo.
Our community is very supportive of families, offering many events throughout the year, including a weekly farmer's market, fall festival, and summer fairs. The local community center also offers events catered toward children and families, including holiday parties and summer camps. Our church is also supportive of families, offering a kid's program every Sunday, Kid's Summer Adventure, and a Fall Picnic every year.
We live in a two story home with three bedrooms and two bathrooms. Our living room opens up into our kitchen, which is nice for having friends and family over. We love the big windows in our living room and all of the natural light they provide. We also have a dining room where we enjoy sharing meals and hosting game nights. Our child's room is located across the hall from our room on the second floor, and has a big window looking over our back yard. We have a deck and fenced in back yard, which our dog loves running around!
From Us to You
Hi! We're Tom and Haley, and we're honored that you're getting to know more about us as you consider adoption. We are excited to learn more about you, and to share even more with you about who we are and the hopes and dreams we have for this child. We met when Haley was starting her first year of graduate school and Tom was finishing his last semester of his bachelor's degree six years ago. Tom stayed at the same school for graduate school, we started dating, and knew pretty quickly that we wanted to be in each other's lives forever. We dated for a few years, and cheered each other on through graduations and first jobs, before getting married about three years ago. We share a passion for loving others well and making a positive difference in the lives of those around us. That desire to love people well quickly became the foundation of our relationship and of our marriage. We love each other deeply, and enjoy calling each other both best friend and partner. Our marriage and our life is filled with genuine love, commitment, honesty, adventure, and laughter. We are dedicated to using these values as the foundation to grow our family.
We feel called to become parents, and are so excited to begin our greatest adventure through adoption! Adoption has always been on our hearts, even before our relationship began. Your child is already deeply loved, by you, and by us. Adoption is a beautiful reflection of love, and we are honored to be considered for the opportunity to love this child.
We are committed to loving this child unconditionally, and appreciating them for who they are. We will put their needs first, and do everything we can to build a safe, stable, loving, and happy life together. We will work hard to make sure their childhood is free of worry, and is instead filled with laughter, support, and learning. We will strive to teach this child to love God and to love people. We will raise them to be kind, loving, and honest, and help them to see the good in everything and everyone. We will do what we can to help them grow into a happy, honest, fun-loving, and hard working person who makes the world a brighter place. As parents, we will strive to be the best parents and role models we can be, and to provide every opportunity for this child to learn, grow, explore, and have fun. We promise that your child will never question how deeply known, wanted, and loved they are.
Most days our home is filled with music, laughter, and good food. We love spending our evenings snuggled up on the couch with a movie or good book, with our dog sleeping at our feet and our cat curled up on Haley's lap. We have a dance party every Sunday, and can't wait to have a child join in on the fun! Our home will continue to be a place where sweet memories are made, with the addition of baby giggles, toys, bedtime stories, and handmade masterpieces.
Please know that we love you deeply, and you will always hold a special place in our hearts and in our home. We will honor you, and the sacrificial love you showed in choosing us to be parents to this child. We look forward to getting to know you, and will faithfully send letters, pictures and emails throughout your child's life. We believe you are strong and courageous, and will only speak kindly and lovingly about you to your child.
From the bottom of our hearts, thank you for considering us as parents. Your child will always know of the love you have for them, and how much love, respect, and appreciation we have for you.
With love, respect, and hope,
Tom & Haley
Favorites
Actor
Matt Damon
Ryan Reynolds
Actress
Jennifer Lawrence
Anna Kendrick
Author
Andy Weir
Jodi Picoult
Book
The Martian
Little Women
Cartoon
Calvin and Hobbes
Rugrats
Childhood Memory
Playing with my sister on my grandfather's farm
Going to the circus with my dad
Childhood Toy
Bike
Teddy Bear
Children's Book
Where the Wild Things Are
Goodnight Moon
City
Kansas City
Milwaukee
Classic Movie
It's a Wonderful Life
It's a Wonderful Life
Day of Week
Saturdays
Thursdays
Dessert
Ice Cream
Cookie Dough
Disney Movie
Hercules
Toy Story
Dream Car
Tacoma
Old Yellow Pickup Truck
Dream Job
Disability Ministry
Backup Singer for Adele
Dream Vacation
Israel
Thailand
Family Activity
Fall Date Day
Friday Night Movie Night
Flower / Plant
Eucalyptus
Peony
Form of Exercise
Running
POUND Fitness
Game
Scattegories
Scattegories
Hobby
Running
Plants/Gardening
Holiday
Christmas
New Year's Day
Holiday Song
O Holy Night
Oh Come all Ye Faithful
Holiday Tradition
Christmas Eve Service
Christmas Eve PJs
Ice Cream
Cookies and Cream
Cookie Dough
Junk Food
Chips and Guac
Cheese Curds
Leisure Activity
Hammocking
Coffee Dates
Magazine
ASHA Leader
Better Homes and Gardens
Memory with a Child
Meeting my nephew
Halloween with friends
Memory with Spouse
Proposal
New York Roadtrip
Movie
Jurassic Park
Mona Lisa Smile
Movie Munchie
Popcorn
Buncha Crunch
Movie Quote
"Hard work may not always result in success, but it will never result in regret."
"Carpe Diem. Seize the day, boys. Make your lives extraordinary."
Movie Type
Action/Adventure
Romantic Comedy
Musical
Hairspray
Hairspray
Musical Group
Foster the People
Adele
Nursery Rhyme
Twinkle Twinkle Little Star
Itsy Bitsy Spider
Olympic Event
Gymnastics
Swimming
Play
A Midsummer Night's Dream
A Midsummer Night's Dream
Poet
Emily Dickinson
Shel Silverstein
Quality about my Spouse
Compassion
Kindness
Quote
"Clear eyes. Full heart. Can't lose."
"See written on the foreheads of everyone you meet, 'make me feel important.'" -Father Naus
Restaurant
Seoul Taco
Rooster
Sandwich
PB&J
Grilled Cheese
Scripture
1 John 4:19
Psalm 16: 7-11
Shopping Store
Target
Old Navy
Song
"Forever Life That." -Ben Rector
"Stand in your love." -Bethel
Sport to Play
Ultimate Frisbee
Swimming
Sport to Watch
Hockey
Hockey
Sports Star
Vladamir Tarasenko
Simone Biles
Sports Team
St. Louis Blues
Detroit Red Wings
Subject in School
Science
English
Thing to Cook
Tacos
Cookies
Time of Day
Morning
Afternoon
Tradition
Family Vacation
Sunday dance party
TV Show
Stranger Things
Parenthood
TV Show Character
Chandler from Friends
Paige from Atypical
Type of Music
Indie/Folk
Worhip
Vacation Spot
Jamaica
Jamaica
Video Game
Super Smash Bros
Pac-Man