1-800-ADOPTION
Thank you for viewing our profile
If you would like to learn more about us, please call 1-800-ADOPTION (2367846), fill out the form at the bottom of our on-line profile page, or email us at bp_information@americanadoptions.com.
To revisit our on-line profile page and view our profile video at American Adoptions, simply use your mobile phone to scan the QR code on the right. We are looking forward to hearing from you!
William & Kate
Thank you for considering us for the privilege of parenting your baby. Should we get the honor, we are secure with whatever level of openness you foresee. We consider ourselves to be lucky because we found each other at a young age, have always wanted to adopt a child, and we both come from supportive families who will love a child unconditionally.
About Us
Job
School Social Worker/Learning & Behavior Specialist
Business Analytics
Education
Master's Degree in Learning & Behavior/Social Work
Bachelor's Degree in Public Relations/Sociology
Relationship
Legally Married
How We Met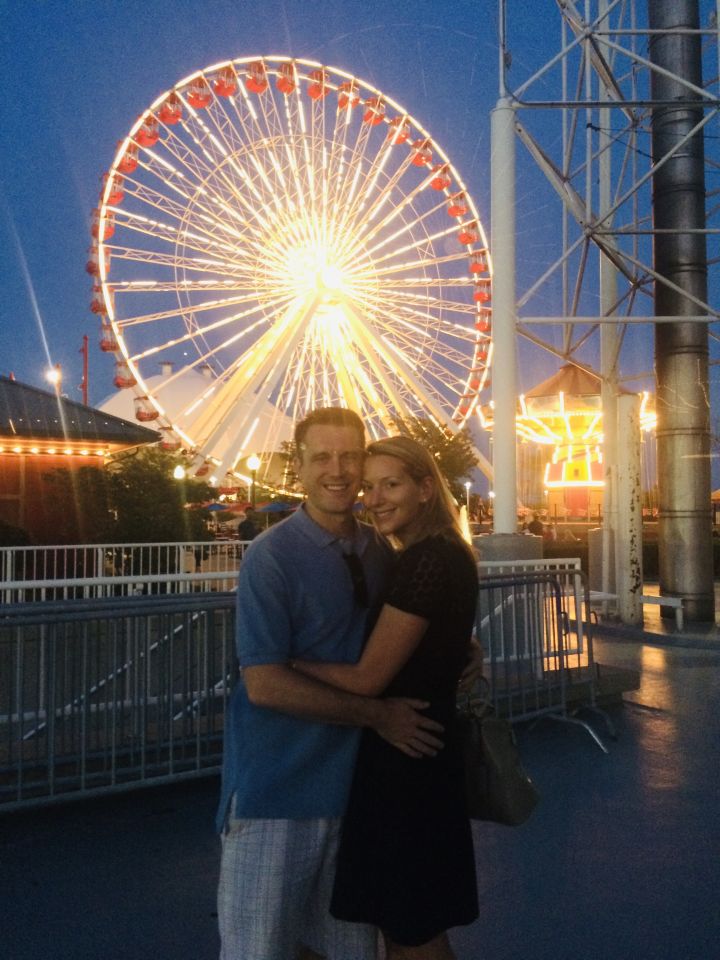 We literally grew up around the block from each other. We first met as neighborhood friends when we were five-years-old. We are the same age, and attended the same elementary school and high school, including being in the same Kindergarten class. We both share a vivid memory from Kindergarten of Kate trying to smack a piñata, but instead of hitting the piñata, she hit the structure holding it up, and it toppled over on to William!
We began dating in high school - our first date was to the movie Independence Day. This first date ended up getting William grounded by his parents. We were late to the showing we intended to see, and did not realize how long the movie lasted, so came home well after we said when we would be home. We all still laugh about it to this day.
The large majority of our friends who stood in our wedding knew us in high school, and many of them have often claimed, "We've only ever known you as 'William and Kate' because you've always been together." We have been best friends for our entire lives.
Our Leisure Time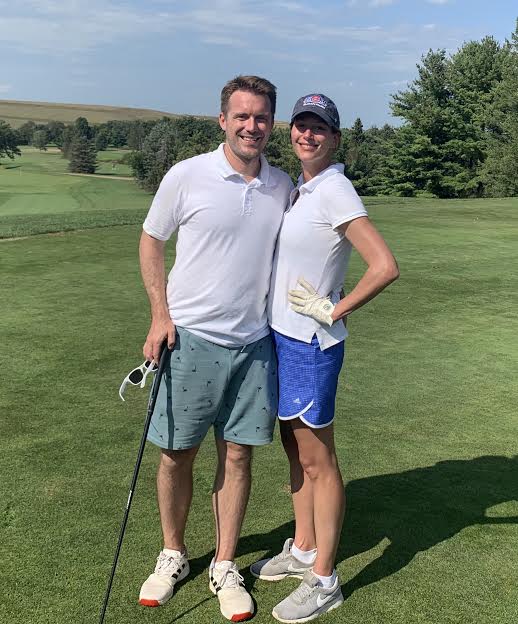 During our leisure time, we love spending time and playing with our new puppy, Pippen. We also enjoy exercising and engaging in a variety of sports. Golf is one of our favorite activities to do together. It allows us the chance to get away from the hustle and bustle of everyday life, and spend time with each other in a peaceful setting. We are definitely planning on taking our child golfing once they are old enough. We also enjoy playing basketball, beach volleyball, running, and bike-riding. We are enthusiastic Chicago sports fans, and our child will be raised attending games, and cheering for our beloved Chicago Bulls, Bears, Cubs, White Sox, and Blackhawks.
One of the events we are very much looking forward to sharing with our child is giving them the "gift of time" - instead of giving material objects for holidays, birthdays, etc. we have always given the kids in our family (i.e., nieces and nephews) the gift of time, which consists of visiting museums, sporting events, cultural centers, restaurants, etc. Not only is it great fun spending time together as a family experiencing new things, but we always incorporate an educational component so our child will constantly be learning.
Lastly, we have volunteered for many years on our community organization. During this time, we have planned events (e.g., Garden Walk) that folks in the neighborhood can engage in, and even founded a scholarship program for high school seniors that attend our local public school.
Our Family Traditions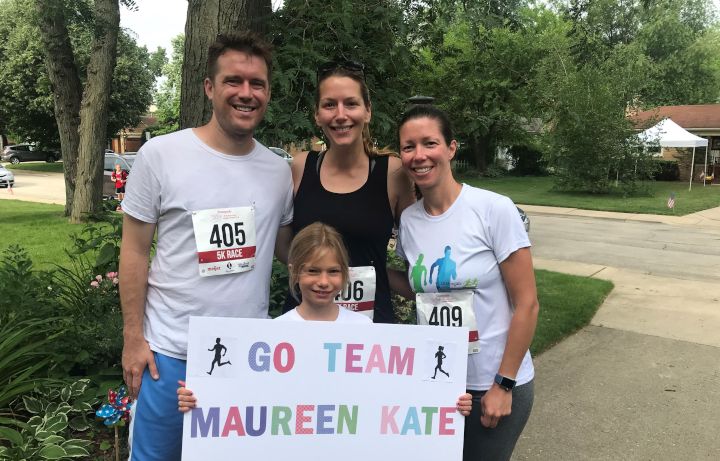 Both sides of our family have numerous traditions that have etched a distinctive place in our hearts. The holidays are typically one of the first things people think of when discussing traditions, and while we have definitely made them a tradition, they are not the only celebrations that bring us together. Some unique traditions for our family include, but are not limited to: both sides of the family coming together to run in an annual 5K that raises money and awareness for various charities (e.g., Alzheimer's); William's family has an annual family reunion at the end of every summer that goes back generations; the beginning of each summer is routinely kicked off by celebrating Kate's dad's birthday and Father's Day on the family's sailboat at Lake Michigan; and every Memorial Day since we have been in high school has been spent with our dear friends so we can stay in touch. As we have matured, we have come to realize the importance of traditions - particularly for children - that include both our family and friends. Traditions create indelible memories for kids and play a role in shaping a child's identity. We look forward to the day where we are able to create our own traditions that our child can look forward to, as well as having them take part in the traditions that excited us as children all the way into adulthood.
Photos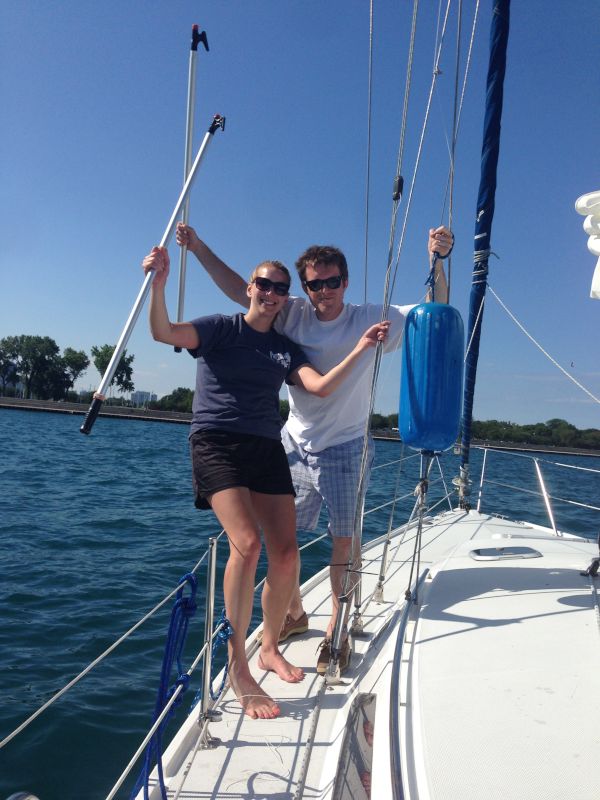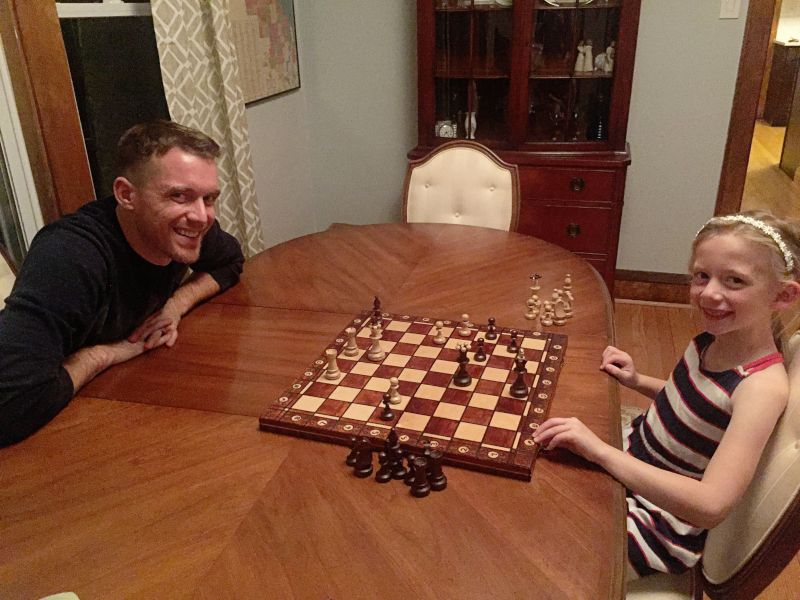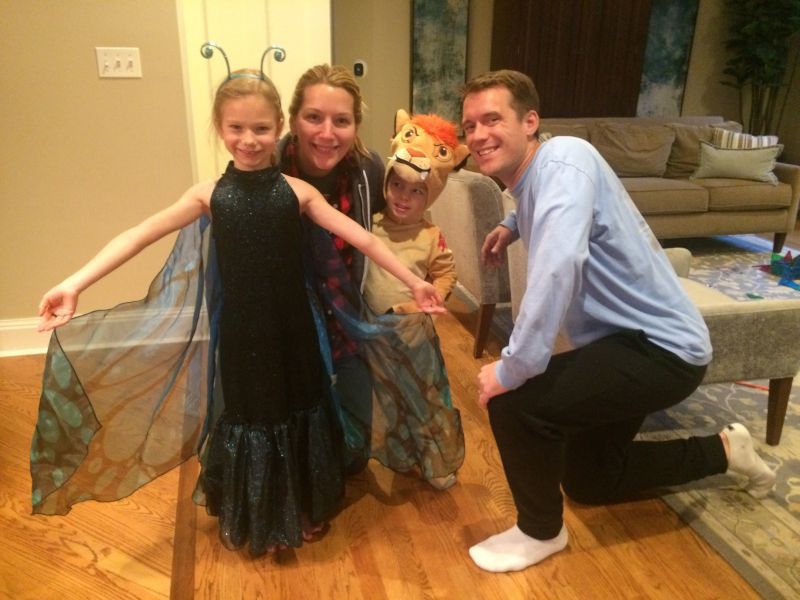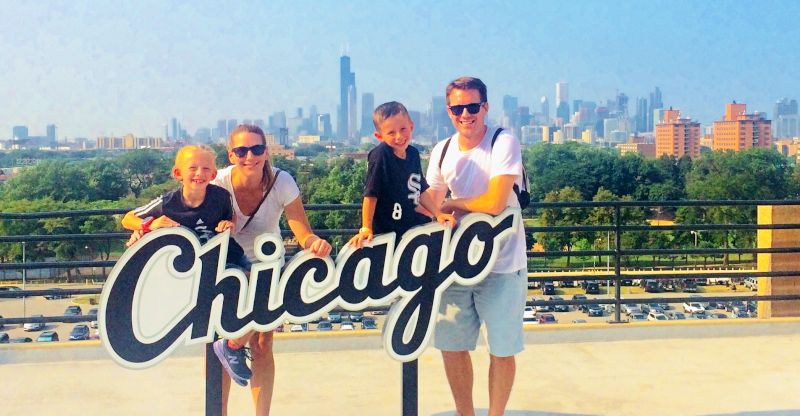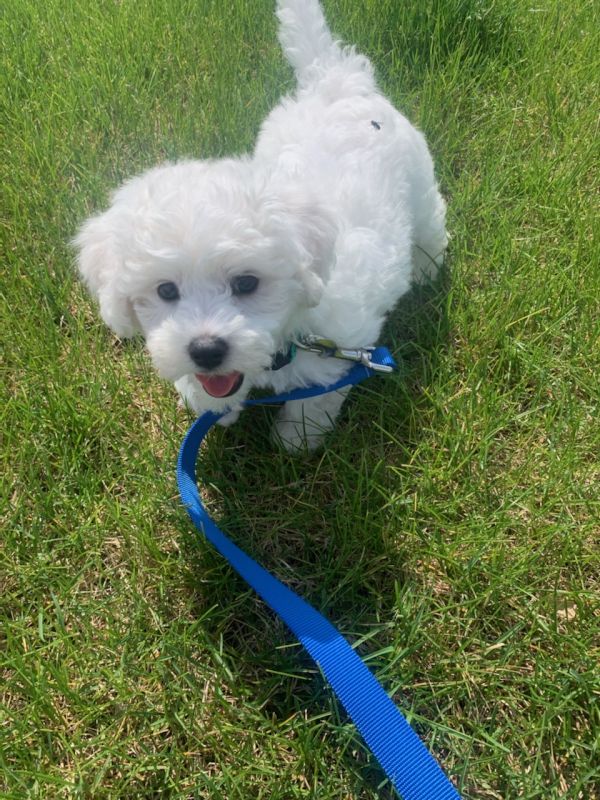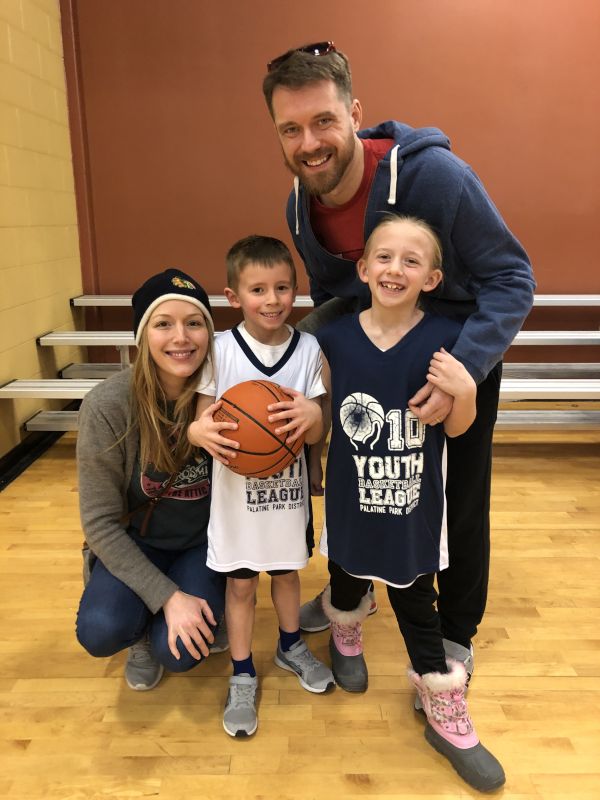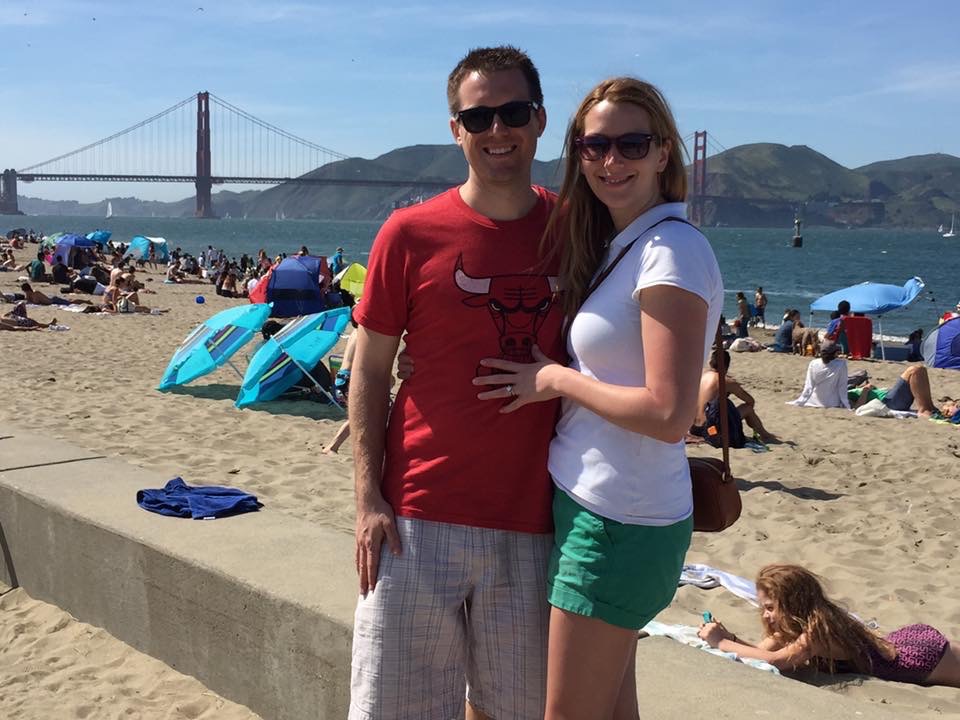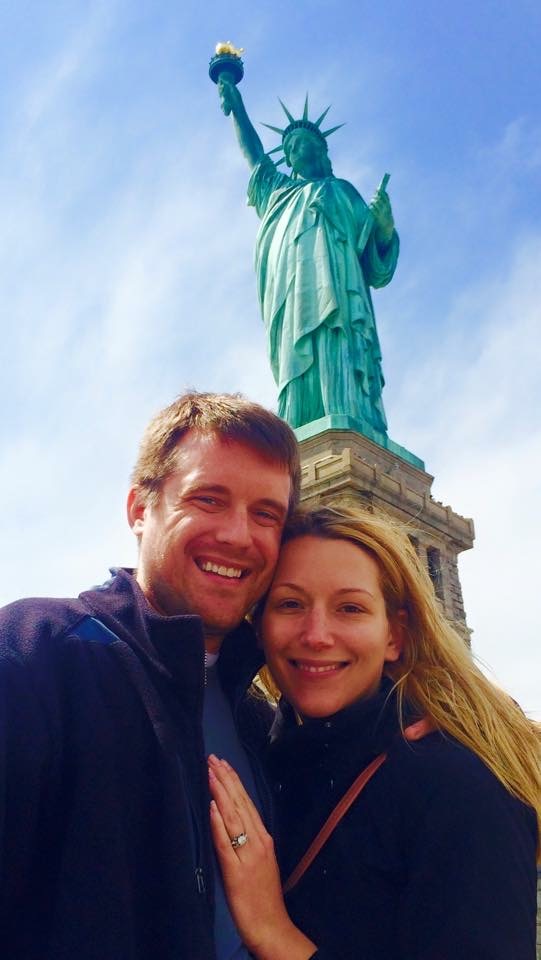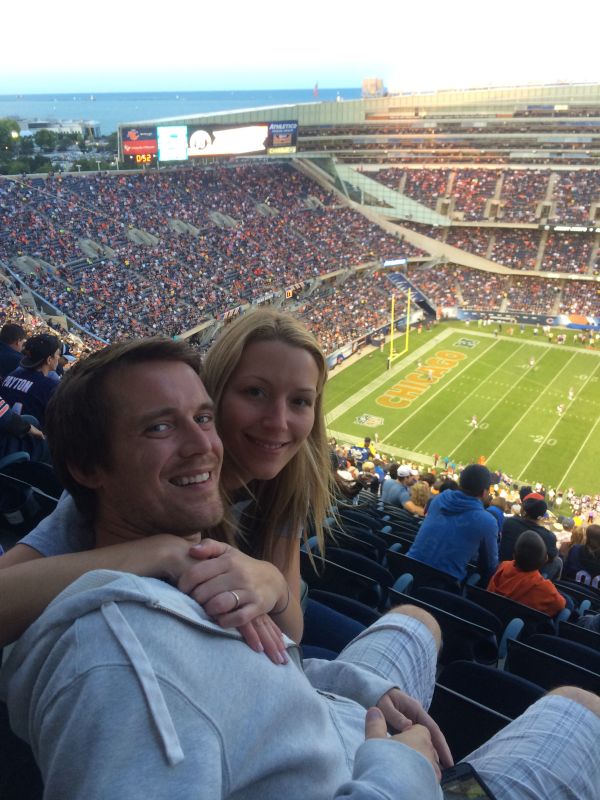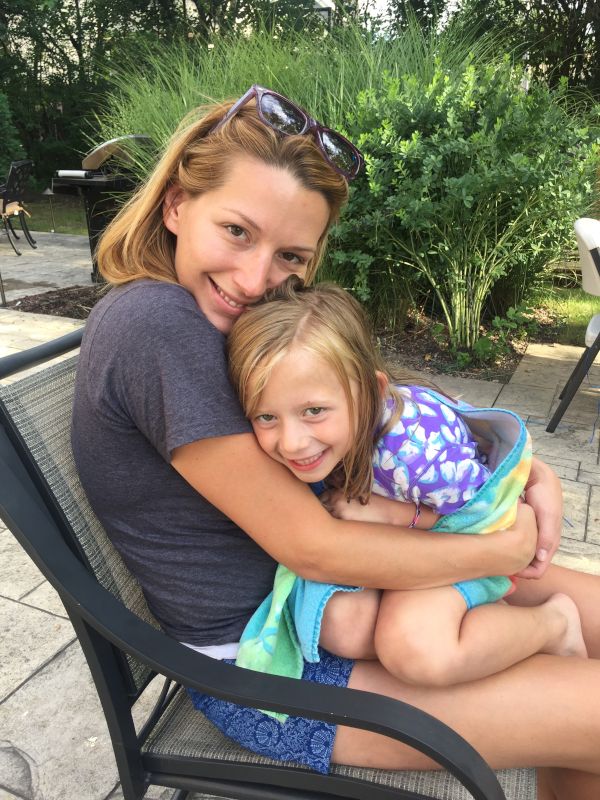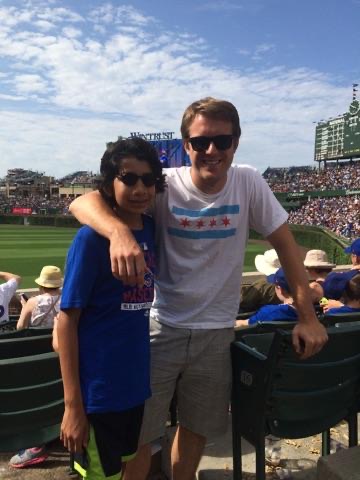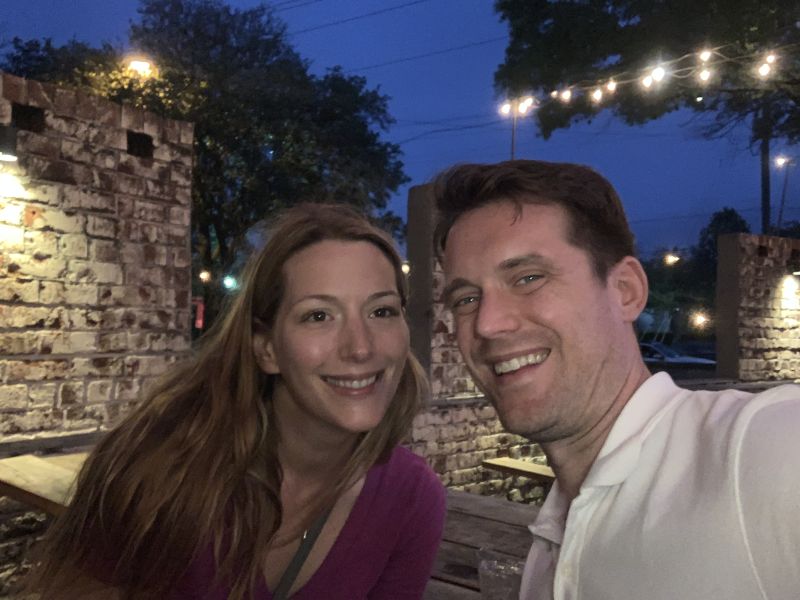 ×
1 / 12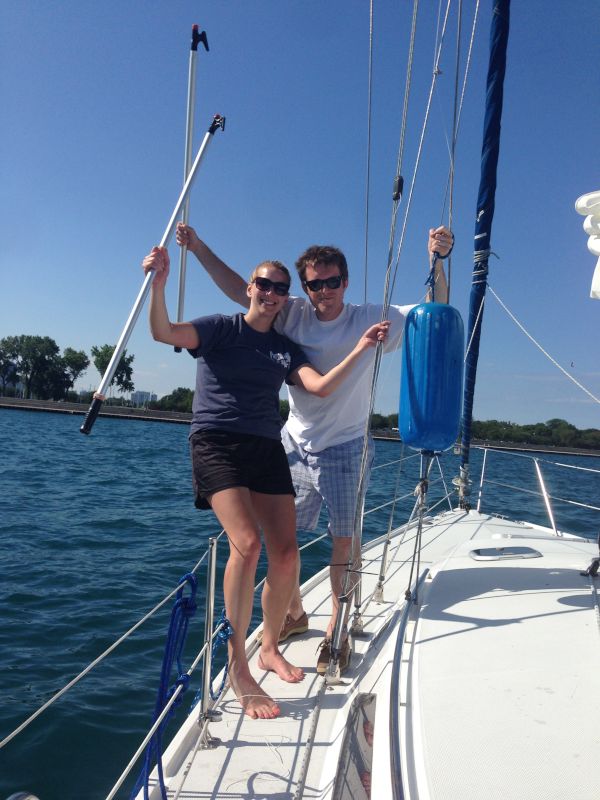 2 / 12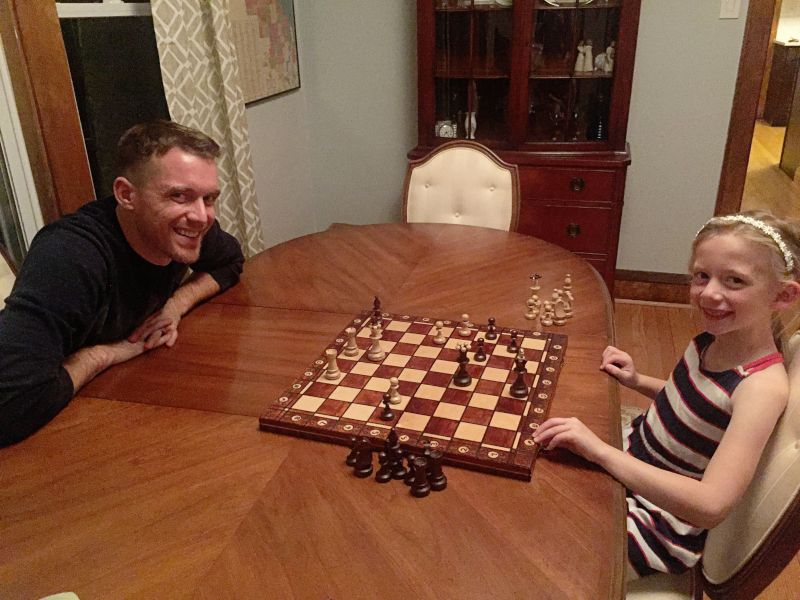 3 / 12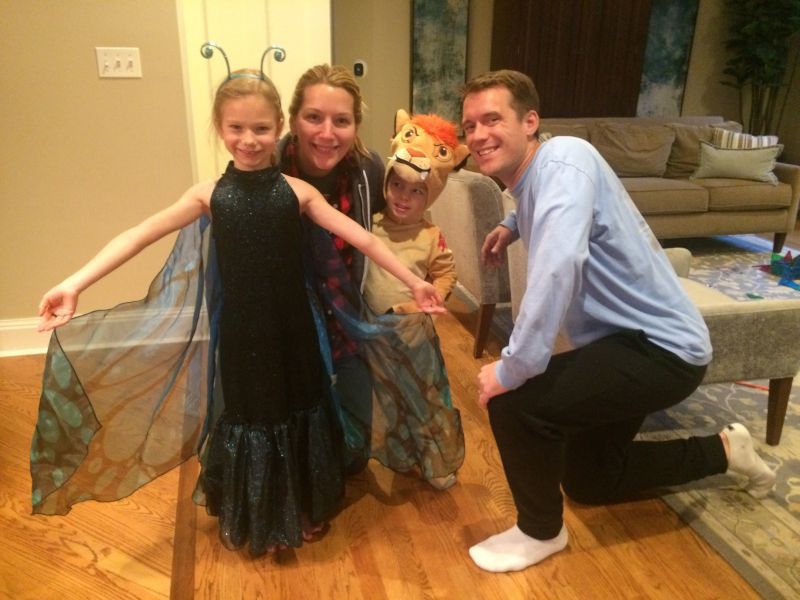 4 / 12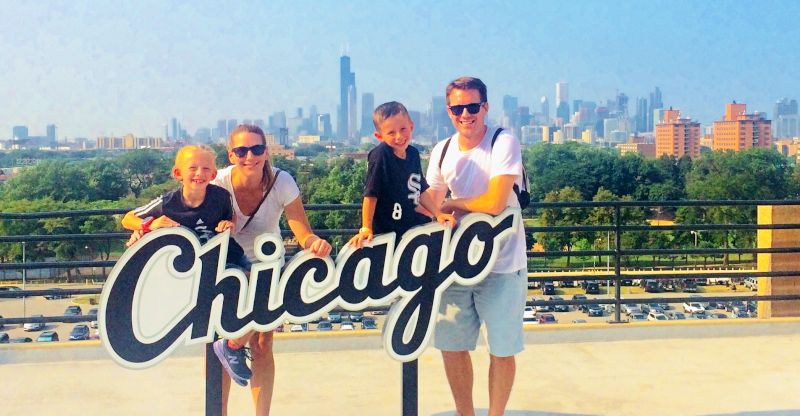 5 / 12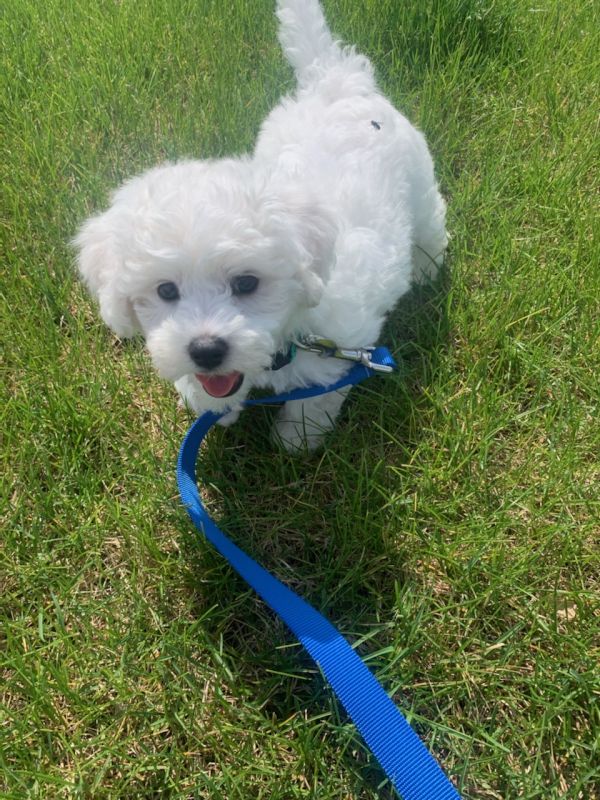 6 / 12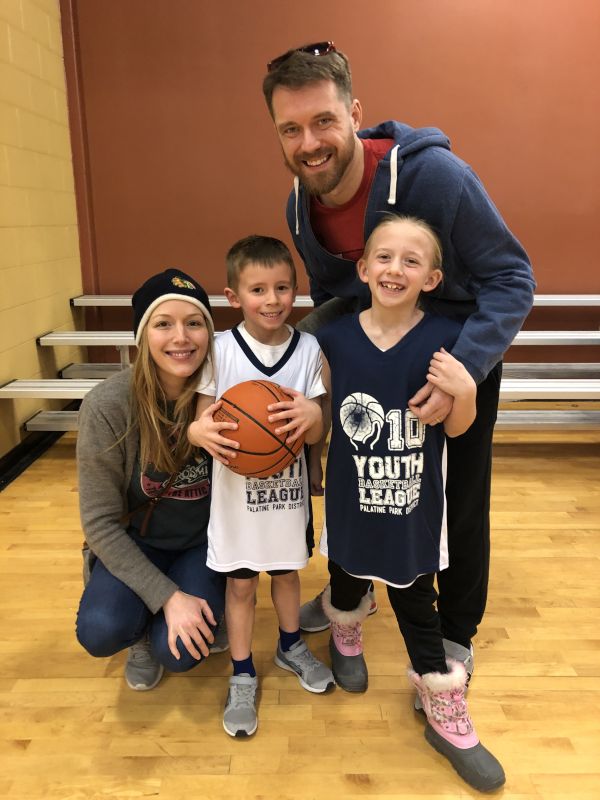 7 / 12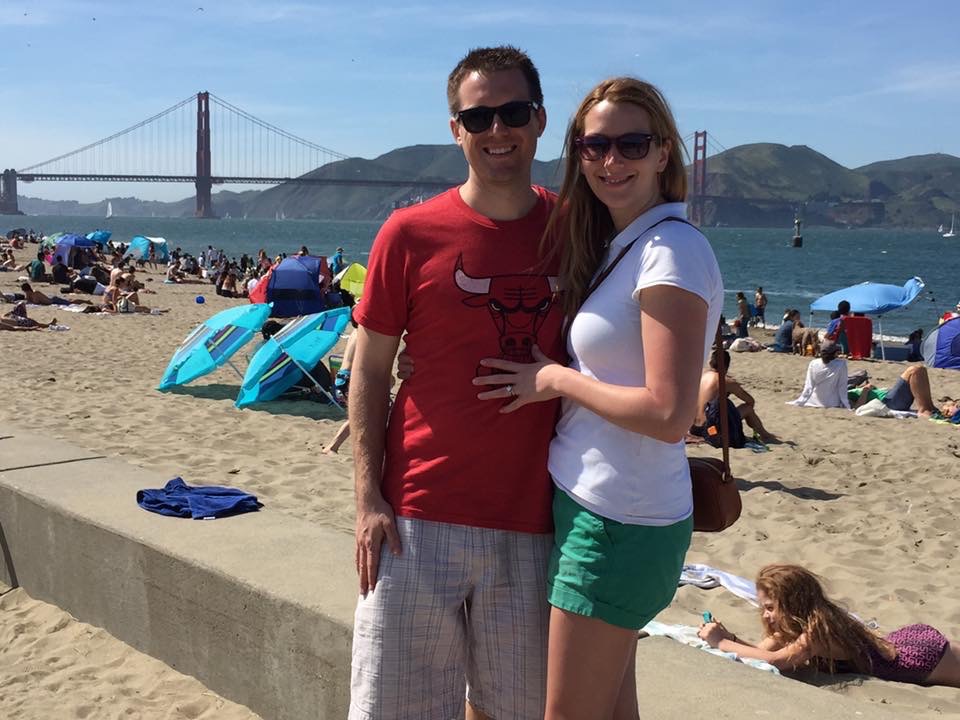 8 / 12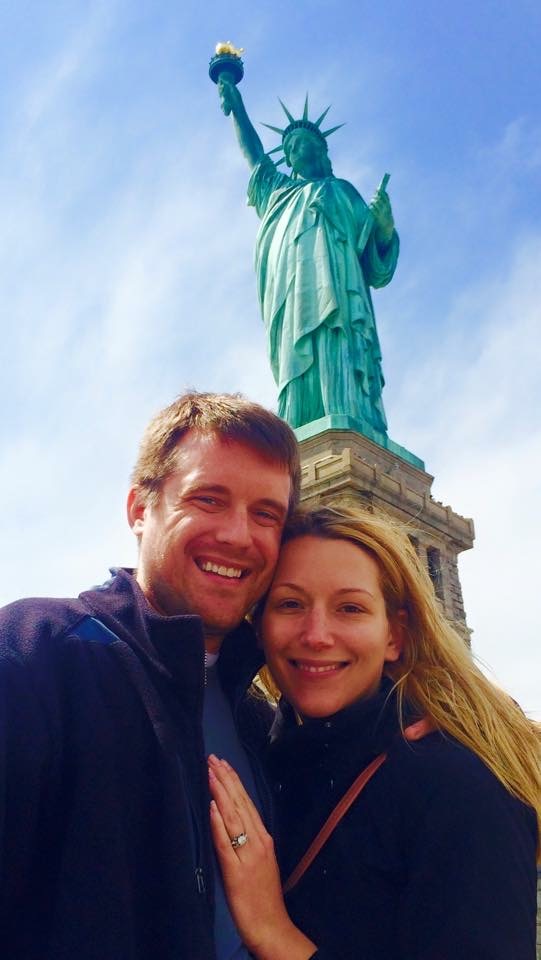 9 / 12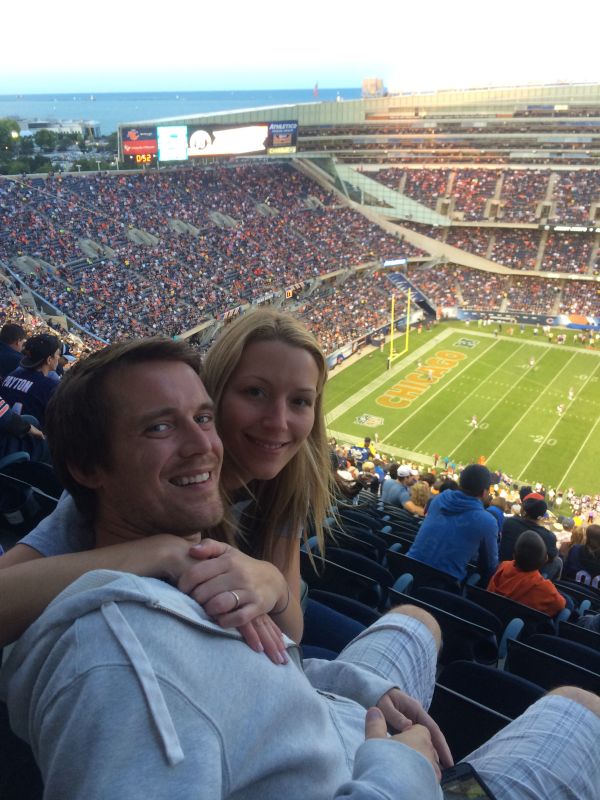 10 / 12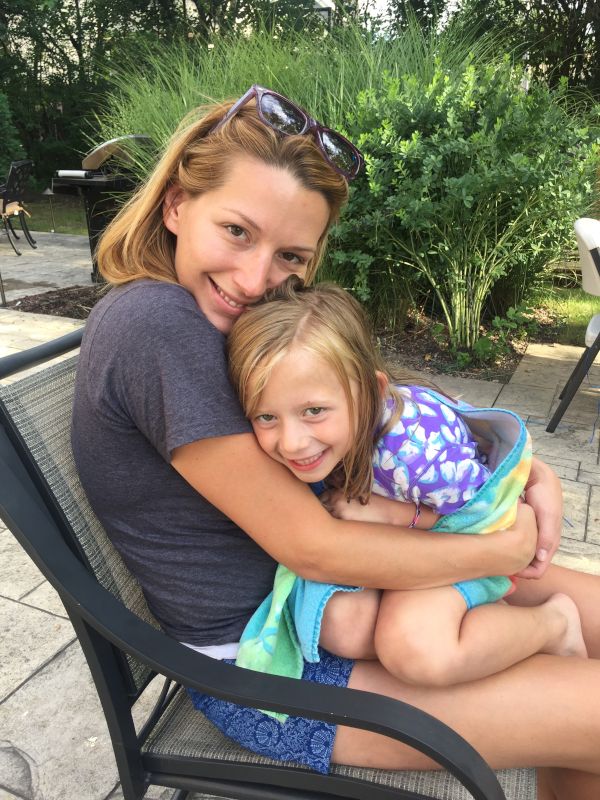 11 / 12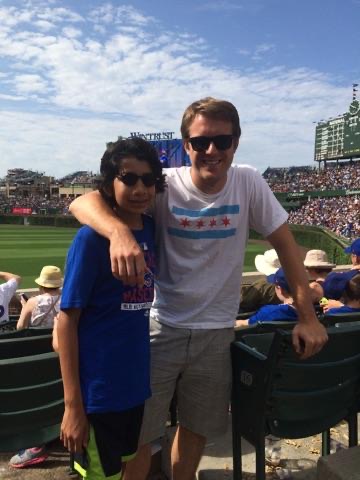 12 / 12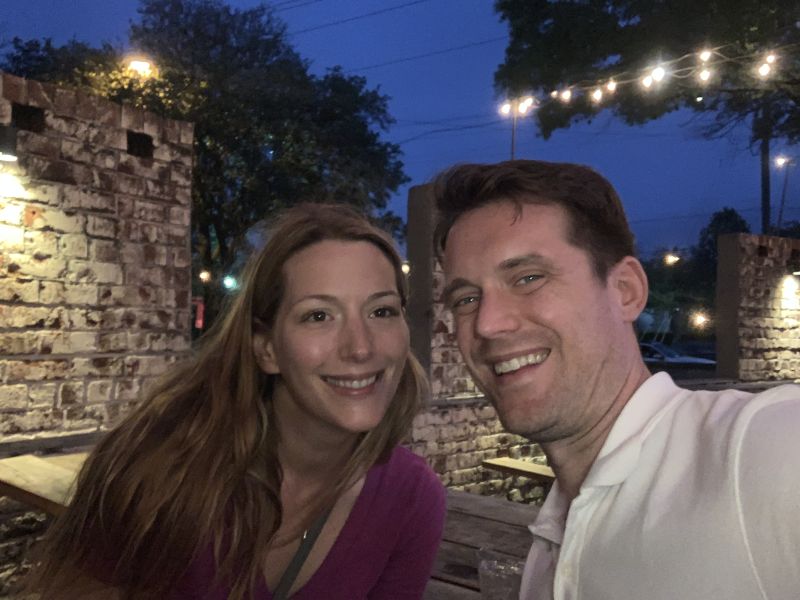 ❮
❯
Our House and Neighborhood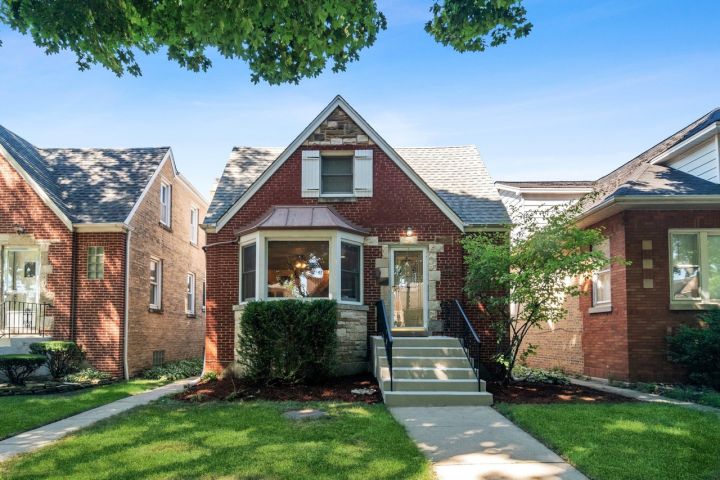 While Chicago is definitely known for its skyscrapers, it's also known for its unique bungalows, which we just purchased in November. Our bungalow is three stories, with bay windows greeting our street through a facade of red brick. Our top floor flat has two bedrooms, and we just set up the baby's bedroom.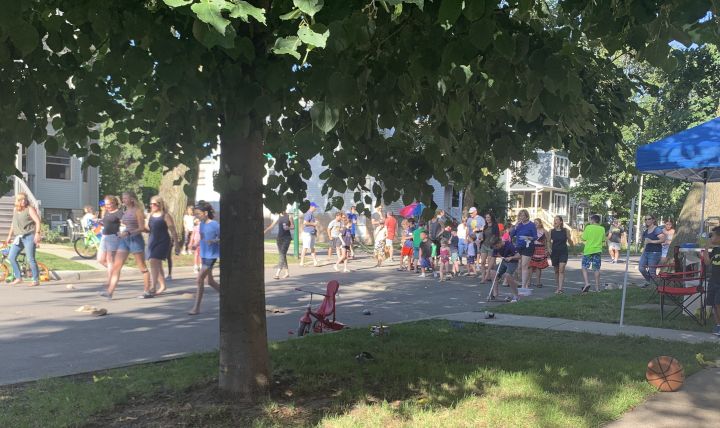 There are countless young families living in our neighborhood. Accordingly, there are a number of annual events held throughout the year specifically for children, including our summer social, where ice cream, fire trucks, and bouncy houses rule the day; our summer and fall block parties, where our block is shut down from cars, and children can bike, skate, and/or run the length of the block for the entire day; and our locally famous Garden Walk, where folks from all over Illinois come by to stroll through the neighborhood admiring our breathtaking gardens. It is truly a magnificent place to raise a family.
Our Extended Families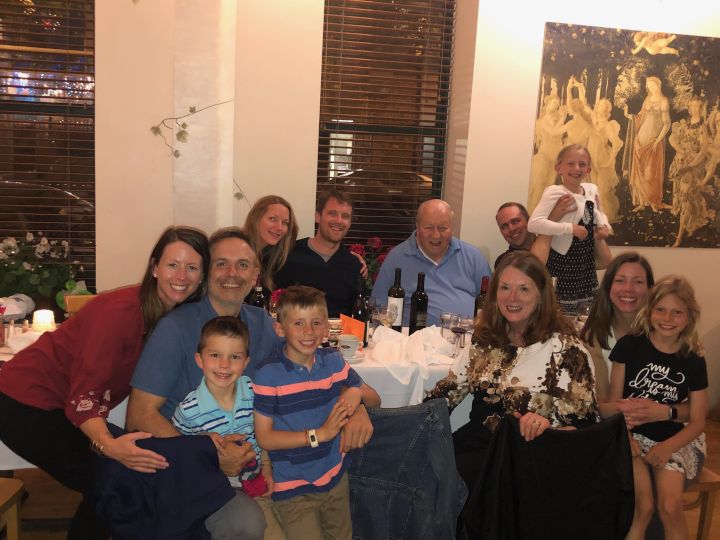 Our extended family on both sides have always been extremely supportive of our adoption plans. In particular, our nieces and nephews are tremendously excited for the arrival of another cousin to play with!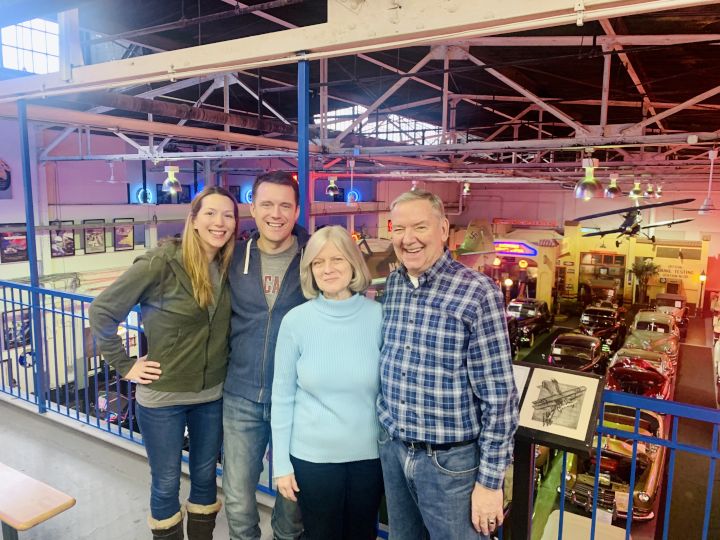 We feel blessed because not only do members of both sides of our extended families all reside within less than 30 miles of us, but we also get along exceptionally well with all of them. During our monthly get-togethers, we regularly spend time going out for meals, playing games (e.g., Chutes & Ladders, chess, euchre), attending the kids' events (soccer, choir, etc.), and simply being with each other.
We especially love spending time with our nieces and nephews! We enjoy taking them out to explore new things in our city and to experience new things. We look forward to the day when we can take our own child on the same adventures, while teaching them the values of honesty, integrity, and compassion that our families have instilled in us.
From Us to You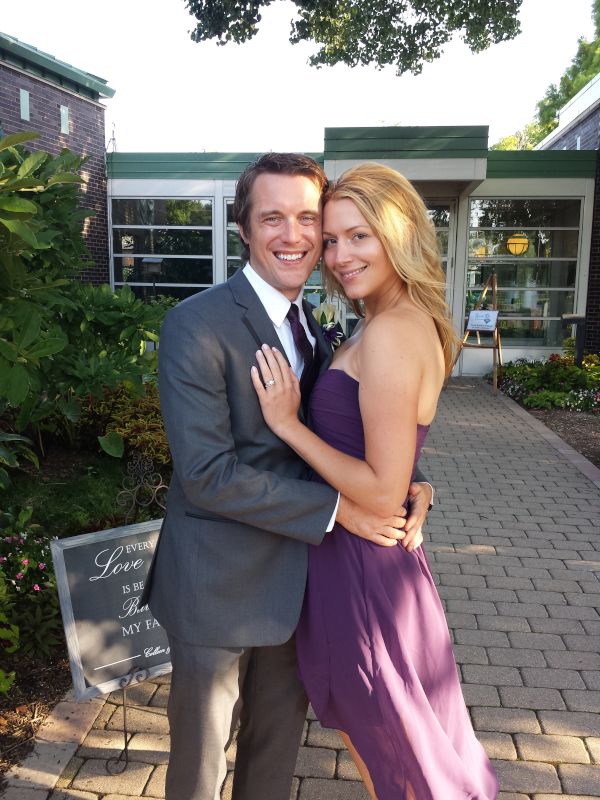 Words alone cannot fully describe the excitement and anticipation we have for bringing a child into our family. First of all, thank you for considering us for the honor of raising your baby. We are eternally grateful that you would consider us for this amazing chance, while also allowing us to pass on the values, morals, and beliefs that were instilled in us, to the next generation. We fully recognize that, without you, we would not have the opportunity. You are potentially giving us the ultimate gift, and we fully intend on sending you letters and pictures for the rest of our lives. If you are open to additional contact, such as emails, phone calls, or even future visits, we would be more than willing to facilitate that as well. Saying "thank you" does not do justice to express the depth of our gratitude to you. You are not only considering giving us the ultimate gift, you are also allowing the world a chance to experience the existence of a child who we will call our own. And for that, we can simply think of nothing else to say, except - Thank you. Thank you for considering this decision. We are forever grateful.
We have given a lot of thought about why you should consider us as parents over so many other folks. Through our life experiences, we have come to recognize that some of the strengths in our marriage include always being able to appropriately solve problems together, laughing with each other, and always being there for each other. In addition, we have come to treasure each other's' humility. Humility will be one of the principal values we intend on instilling in our child to help them navigate any difficulties. An Irish poet, Thomas Moore, once said that humility is, "that low, sweet root, from which all heavenly virtues shoot." We have always felt that when children gain the ability to exhibit humility, or modesty, while also having confidence in themselves, that can be a recipe for success. The most successful children are typically the ones who take their abilities, and couple it with humility. Ideally, this will foster more positive results for whatever path our child chooses.
In addition, we believe that our love, patience, empathy, and years of experience working with children make us extremely qualified, prepared, and ready to be parents. We have always had an abundance of love to give, and the love we have for each other is indescribable. We have been married for ten years, and have been committed to each other since we were 16-years-old. Now that we have been together for 20 years, we cannot wait to give a child the same love, joy, and admiration that we have shared with each other for so long. We will strive to be the kind of parents you would want this baby to have. And while we cannot promise a life free from discomfort, what we can promise is that we will love them forever, and will be there with them to navigate any difficulties during their life. Our child will be cherished and loved unconditionally.
William & Kate
Favorites
Actor
Denzel Washington
Robert De Niro
Actress
Mila Kunis
Nicole Kidman
Author
William Shakespeare
George Orwell
Candy Bar
Milky Way
Kitkat Bar
Cartoon
Teenage Mutant Ninja Turtles
Family Guy
Childhood Memory
Cedar Point amusement park with family
4th of July fireworks with family & friends
Childhood Toy
Lego Blocks
Stuffed Bunny
Children's Book
The Goosebumps Series
Good Night Moon
Classic Movie
Indiana Jones - Raiders of the Lost Ark
Jurassic Park
Day of Week
Thursday
Friday
Dessert
Chocolate Chip Cookies
Brownies
Disney Movie
Aladdin
Sleeping Beauty
Dream Job
Host a World Traveler TV Series
Travel writer
Dream Vacation
Cape Town, South Africa
Driving & touring Europe
Family Activity
Playing cards, specifically euchre
Sailing
Flower / Plant
Orchid
White Roses
Food
New York style pizza
Pizza
Form of Exercise
Crossfit
Running and Yoga
Fruit
Red Grapes
Strawberries
Holiday
4th of July
Halloween
Holiday Song
A Charlie Brown Christmas (Soundtrack)
Sliver Bells
Holiday Tradition
Donating to the needy
Christmas Eve white elephant gift exchange with the family
Ice Cream
Chocolate Chip Cookie Dough
Cookies and Cream
Junk Food
Fried chicken
Fruit Roll Ups
Leisure Activity
Reading
Sailing
Magazine
National Geographic
Travel and Leisure
Memory with a Child
Becoming my nephew's Godfather
Taking my nieces and nephews on adventures
Memory with Spouse
Visiting Rome, Italy
Crying with laughter on our honeymoon
Movie
The Dark Knight
Mean Girls
Movie Munchie
Nachos with lots of cheese and jalapenos
Popcorn
Movie Quote
"Life is like a box of chocolates. You never know what you're going to get." - Forrest Gump
It's October 3rd
Movie Type
Science Fiction
Comedy
Musical
The Book of Mormon
Lion King
Musical Group
Red Hot Chili Peppers
Dave Matthews Band
Nursery Rhyme
This Little Light of Mine
The Itsy Bitsy Spider
Olympic Event
Track & Field
Gymnastics
Personal Hero
David Attenborough
Gloria Steinem
Play
Romeo & Juliet
Raisin In The Sun
Quality about my Spouse
Loving
Humor
Quote
Treat others how you want to be treated.
Keep your head up to the sunshine and you cannot see the shadows - Helen Keller
Restaurant
Little Bad Wolf in Chicago
Ora Sushi
Sandwich
Cajun turkey and pepperjack
Turkey with mustard
Scripture
And now these three remain: faith, hope, and love; but the greatest of these is love.
Faith does not make things easy, it makes them possible - Luke 1:37
Shopping Store
Banana Republic
West Elm
Sport to Play
Soccer
Basketball
Sport to Watch
Basketball
Baseball
Sports Star
Derrick Rose
Michael Jordan
Sports Team
Chicago Bulls
Chicago Cubs
Subject in School
English/Language Arts
Social Studies
Superhero
Batman
Wonderwoman
Thing to Cook
Spicy Chicken Chow Mein
Fish tacos
Tradition
Attending our annual family reunion
Putting the Christmas tree up right after Thanksgiving Dinner
TV Show
The Simpsons
Friends
TV Show Character
Homer Simpson
Rachel Green
Vacation Spot
Folly Beach, South Carolina
Anywhere with a Beach
Video Game
Mario Kart
Super Mario Brothers
Get in Touch
Provide more information, so American Adoptions can connect you with this family.
---