1-800-ADOPTION
Thank you for viewing our profile
If you would like to learn more about us, please call 1-800-ADOPTION (2367846), fill out the form at the bottom of our on-line profile page, or email us at bp_information@americanadoptions.com.
To revisit our on-line profile page and view our profile video at American Adoptions, simply use your mobile phone to scan the QR code on the right. We are looking forward to hearing from you!
Jeff & Becca
We have been blessed with an incredible love story, extended family, and community of friends. Having children to share our lives with is something we've dreamed about and we have always desired to do so through adoption. Thank you for taking the time to (virtually!) get to know us a little better. We look forward to the opportunity to get to know you better and your dreams and hopes for this journey and child as well!
About Us
Job
Non-Profit CEO
Creative Team Manager
Education
Bachelor's Degree in Business & Sports Management
Bachelor's Degree in Art Education & Graphic Design
Relationship
Legally Married
Our Leisure Time
Cooking, traveling, being active, and spending quiet nights at home together are just a few of the things we love doing in our free time. Jeff also enjoys doing projects around the house or tackling woodworking projects. He's made some beautiful furniture for our home! Becca frequently uses her free time to donate her graphic design talents to local nonprofits, paint, or get creative in the kitchen with new recipes and delicious sweets. (Hence why there's lots of being physically active) We also have a crazy awesome church community that we love spending time with whether it be volunteering, doing small group scripture studies, or just hanging out and chasing little ones around.
We both enjoy watching and playing sports. Family Whiffle Ball, basketball, or kickball games are frequent weekend activities in the summertime. Sports are one of the things that brought us together! Some of our first dates took place after flag football games—we played on a local league with friends from work and instantly connected. Over the years, we've traveled to see our favorite professional teams play—usually meeting-up with friends and family members in cities as we go.
Qualities We Love, Admire and Respect in Each Other
Becca About Jeff: Jeff is a great listener. He has the ability to make you feel heard and understood without judgment. Jeff is also extremely thoughtful. He is constantly showing those around him how much he cares about them and what they mean to him—with a kind act, an unexpected gift, or with sincere and heartfelt words. He's an incredible writer! Jeff keeps journals about his life, our marriage, and his dreams for our family. My heart swells just thinking about him sharing them with our children one day. They are already so loved by Jeff! He will be an unbelievable father. I know this because I've seen what an amazing Uncle and Godfather he is already as well as the incredible work Jeff has done throughout his professional career. His entire adult life has been dedicated to helping kids and teens, especially those in underserved communities, reach their full potential. Our child will be blessed to be unconditionally loved and supported by Jeff.
Jeff About Becca: Becca, or Bec as I call her, is a generous spirit, filled with love and kindness. She is selfless in so many ways, always putting the needs, interests, and desires of others before her own. She donates her time, she loves to cook for others, and she is always looking for new adventures. Bec is a gentle soul with a playful nature, never failing to appreciate a moment, make others laugh with her, all while being great at making other people feel comfortable and valued. Our children will be so lucky to share in Becca's amazing creative talent and will learn from her gentle nature, ultimately seeing the wonder and beauty in others, just like she does. (She also makes a mean meatloaf and some good pancakes…).
Education We Will Provide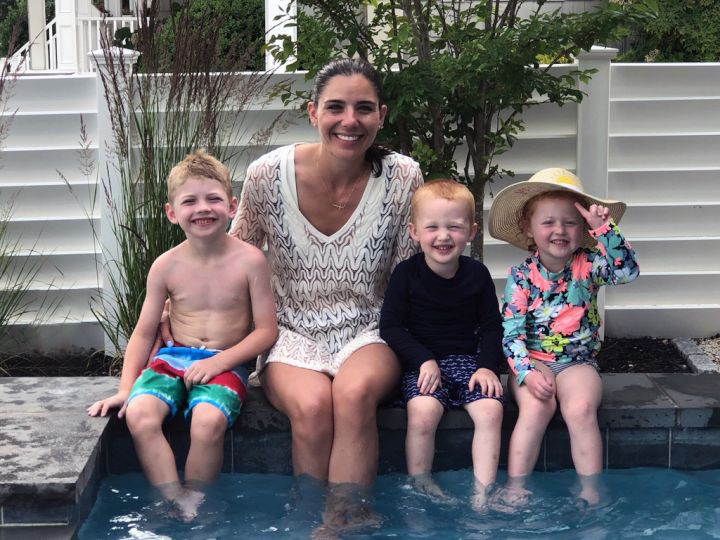 Both of our moms were public school teachers and we are excited to create a home with a love for learning and to provide an education that is well-rounded and meaningful. We want our children to experience many types of educational opportunities. We envision our children attending pre-k, kindergarten, and elementary school in a public or private school and likely attending a high school that exposes them to opportunities of all types. We also expect to raise our children with the chance to participate in different activities including sports, band, theatre or other activities that will help to become a well-rounded student in preparation for their time after high school. We plan to support our children's desire to continue their education either in college, trade school, military, or whatever else might fulfil their passion and contributing to the world around them.
Photos
×
1 / 12
2 / 12
3 / 12
4 / 12
5 / 12
6 / 12
7 / 12
8 / 12
9 / 12
10 / 12
11 / 12
12 / 12
❮
❯
Our House and Neighborhood
We live in a beautiful community between Baltimore and Washington, DC. Life on the East Coast is wonderful because it has a little bit of everything which makes it great for family day trips and family vacations! All within a short drive from us are several beach towns that we love spending time at in the summer, mountains, and trails for hiking, and numerous lakes which we especially like to visit in the fall.
We picked our neighborhood because it is wonderful for families and has some of the best schools in the state of Maryland. We love that at any given time you can run into neighbors (especially lots of kids!) playing outside, riding bikes, grilling, or just hanging out! We even have a community pool and several parks and playgrounds that are within walking distance of our home.
We're so fortunate to have a home that we can grow into—three bedrooms, a big kitchen to cook together, and a place to host our friends and extended family. We just love a full house! Welcoming a little one into our home and building memories and traditions at home together is something we've dreamed about!
Our Extended Families
Our extended families, where do we even start?! We are SO blessed with wonderful parents, siblings, aunts, uncles, and lots of cousins. We are fortunate that we live near our family members. Like Becca's brother, sister-in-law, and kids who are just 20 miles away. We enjoy getting together for weekend fun and especially Saturday morning breakfast which usually consists of hot donuts from some of our favorite local spots. Jeff's parents and siblings are just a little over two hours away and so is Becca's mom. We often take a "mini road trip" to get together with them at least once a month. The distance is a great excuse for family sleepovers which usually consists of sharing delicious meals around the table, playing board games, and watching movies while all piled on the couch together.
Our extended family is equally as excited as we are to welcome another family member through adoption. Both of Jeff's Godparent are adopted and we have other family members (and friends!) who are also exploring fostering and adopting to grow their families. One of Jeff's nieces was so excited about our adoption journey that she researched and wrote a list of 100 potential names for us just after we shared the news—too cute! We are both extremely fortunate to have always had very close, loving, and supporting families and their role in our adoption journey has been no different. It is very meaningful to us to have the support of our families in many different ways—from gathering family photos for our profile, to being on-call to help coordinate potential travel, to helping with all the details to come as we welcome a new family member into our immediate and our wonderful extended family. We have a great village who are so excited to welcome you and this child as part of it!
From Us to You
Thank you for taking the time to read our profile. We're first-time adoptive parents and we must admit…this profile thing is all new to us! Did we do it "right"?! How do you summarize everything about your life into one piece of paper, website, or video?! We hope that if nothing else, our profile has given you a glimpse into the crazy amount of love we have for each other, our families, and our deep desire to share all that love with a child. We live such a blessed and fortunate life and when you have something amazing…you can't help but want to share it. That's exactly how we feel about welcoming a child into our lives.
We both have such fond memories of our childhoods filled with family vacations, lots of play dates with siblings and cousins, and abundant joy and laughter - so much laughter! That joy and laughter has only multiplied as our families continue to grow. It has been an awesome blessing to watch our siblings grow their families and to see our parents become admiring, googly-eyed grandparents. We love every second of being Aunt Becca and Uncle Jeff to nine wonderful nieces and nephews and after five years of marriage, we are overjoyed to be on this journey to adoption.
Shortly after we began dating, we discussed our desires to have a family and to do so through adoption. Adoption has always been our dream for having a family, not a second option. While we can never fully know what the experience of adoption is for you, we recognize that while this may be one of the happiest times of our lives, it very much could be one of the most difficult times of yours. Please know that we have been and always will be a champion for you and for this child. We have been praying for you?"for your comfort, peace, for courage, strength, and for clarity. We have and will continue to do so for weeks, months, and years to come!
We look forward to sharing letters and pictures with you as our family grows as well as sharing your story with this child as they grow. We hold every person's story in high regard, and we would be honored to ensure that your story holds a place in this precious child's heart.
We so appreciate that you have taken the time to read our letter and learn more about our journey. We are equally honored that you would consider us and our home that is rooted in faith and love. We are deeply committed to ensuring that this child is raised in a house that honors their story, develops their skills, and cultivates their gifts while always providing an abundance of encouragement, support and oh-so-much love.
These are just a few of the things we value as a family, we hope to share the many others with you!
Gratefully,
Jeff & Becca
Favorites
Actor
Martin Sheen
Tom Hanks
Author
Mitch Albom
Matthew Kelly
Book
The Last Lecture by Randy Pausch
Small Great Things by Jodi Picoult
Candy Bar
Reese's Fastbreak
Take 5
Childhood Memory
Eagles games with my Dad
Summers at the beach with a house packed with cousins!
Childhood Toy
Wrestling figures
My art box
Children's Book
Pokey Little Puppy
Where the Sidewalk Ends by Shel Silverstein
City
Seattle
Ocean City, NJ
Classic Movie
Clue
Sandlot
Day of Week
Thursday
Saturday
Dessert
Cheesecake
Ice Cream
Disney Movie
The Lion King
Aladdin
Dream Car
Porsche SUV
Range Rover
Dream Job
White House Press Secretary
Creative Director specializing in restaurant branding and design
Dream Vacation
Cabin on a lake
A beautiful beach
Family Activity
Cooking dinner
Board Games
Flower / Plant
Tomato plant
Hydrangeas
Food
Cottage Cheese
Any form of potatoes! Fries, mashed potatoes, chips
Form of Exercise
Running
Weight lifting or playing sports
Holiday
Thanksgiving
Thanksgiving
Holiday Song
O' Come All Ye' Faithful
The Christmas Song by Bing Crosby
Holiday Tradition
Christmas Eve dinner and "Its a Wonderful Life"
Writing New Year's resolutions and tucking them in our stockings before packing away the Christmas decorations.
Ice Cream
Anything with peanut butter
Mint Cookies + Cream
Junk Food
Sour Patch Kids
French Fries
Leisure Activity
Watching football
Getting comfy on the couch with snacks and a TV show or movie
Magazine
Politico
Real Simple
Memory with a Child
Taking my nephew to the game and getting him a ball
Having our nieces and nephews in our wedding
Memory with Spouse
Our trips to see NeedtoBreathe
Dancing & Laughing in the Kitchen
Movie Munchie
Sour Patch Kids
Popcorn
Movie Quote
This is war Peacock!
"You're killin' me smalls."
Movie Type
Comedy
Romantic Comedy
Musical Group
NeedtoBreathe
NeedtoBreathe
Nursery Rhyme
The Wheels on the Bus
Olympic Event
Swimming
Hockey
Personal Hero
My grandfather
My big brother
Poet
Mark Twain
Ben Rector
Quality about my Spouse
She's the most caring person I've ever met.
Jeff's thoughtfulness
Quote
"Take away my people, but leave my factories and soon grass will grow on the factory floors; Take away my factories, but leave my people and soon we will have a new and better factory."
"God created you on purpose and for a purpose."
Restaurant
The Neighborhood (aka Applebees)
Neighborhood Italian
Sandwich
Chicken Parm
Turkey hoagie with sweet peppers and pickles
Scripture
Psalm 118 The LORD is my strength and my song; he has become my salvation.
Psalm 23:4 "Yea, though I walk through the valley of the shadow of death, I will fear no evil: for thou art with me; thy rod and thy staff they comfort me."
Shopping Store
Ace Hardware
Trader Joes
Song
Keep Your Eyes Open by NeedtoBreathe
Note to Self by Ben Rector
Sport to Play
Football
Soccer
Sport to Watch
Football
Baseball
Sports Star
Andy Harmon
Jamie Moyer
Sports Team
Eagles
Phillies
Subject in School
Civics
Art
Superhero
Superman
Spiderman
Time of Day
Morning
Morning
Tradition
Christmas Day breakfast eggs
Raising a glass and cheersing - love a good celebration!
TV Show
West Wing
West Wing
TV Show Character
Josh Lyman on West Wing
Sheldon from Big Bang Theory
Type of Music
Country, Classic Rock, 80's power ballads
Indie Pop / Folk
Vacation Spot
Lake Chelan, Washington
Anywhere warm preferably with sand.
Video Game
Madden
Mario Kart