1-800-ADOPTION
Thank you for viewing our profile
If you would like to learn more about us, please call 1-800-ADOPTION (2367846), fill out the form at the bottom of our on-line profile page, or email us at bp_information@americanadoptions.com.
To revisit our on-line profile page and view our profile video at American Adoptions, simply use your mobile phone to scan the QR code on the right. We are looking forward to hearing from you!
Carl & Susan
Greetings! Thank you for allowing us to spend this time together. We are thinking of you as you carry the weight of this decision. If we are given the chance to join you in loving this child, we understand that our relationship may ebb and flow over the years, but our hearts - as they are now - will always be with you. May you find peace as you do whatever is best for you and your child.
About Us
Job
Data Engineer
Business Analyst
Education
Master's Degree in Data Analytics
Master's Degree in Public Policy & Management
Relationship
Legally Married
Susan's Adoption Story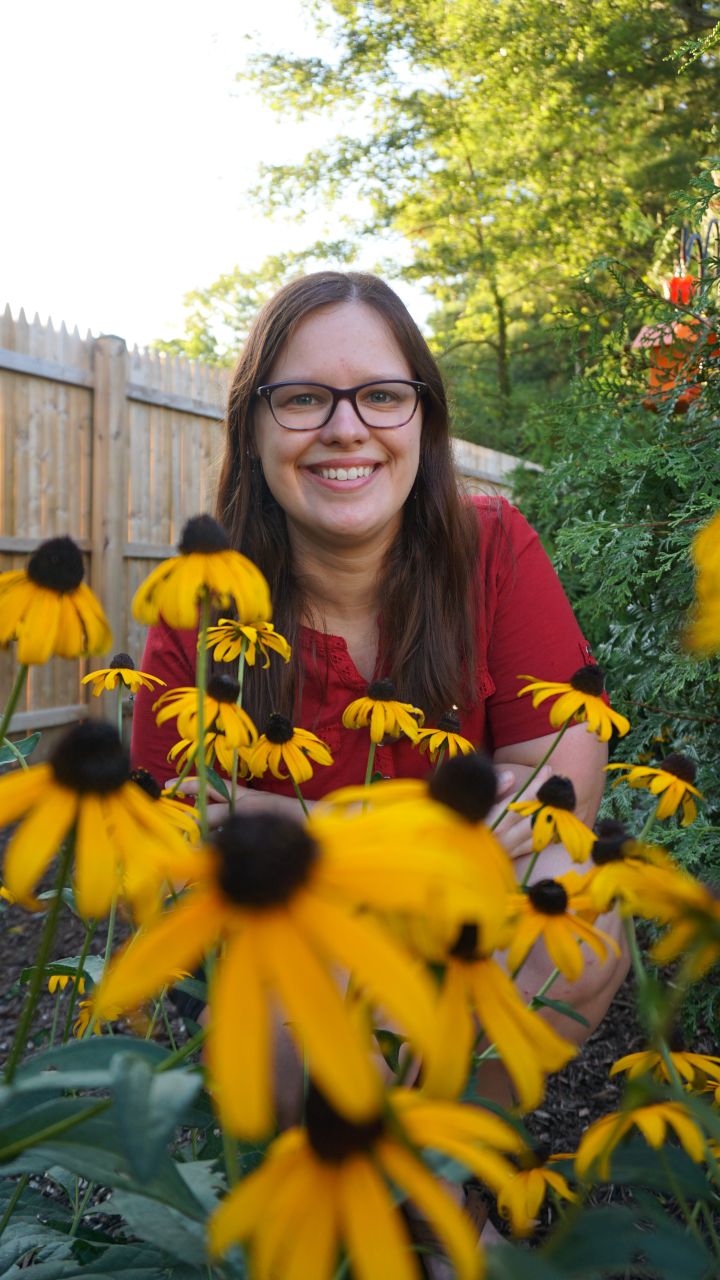 As an adoptee, Susan has always been very open about her background. At eleven years old, she visited the orphanage in Poland where she was cared for as a child, and has had it in her heart to adopt ever since. Carl also had several close friends growing up who were adopted and saw that they were embraced wholeheartedly. It was never a question of whether or not we would pursue adoption one day. Adoption was never a "second choice" for growing our family.
One of my favorite adoption stories to reflect on was during a layover in Germany before boarding the plane to Washington, DC. My parents were trying to play with me, but I heard a couple speaking Polish behind me. I immediately turned around and was more interested in these strangers than my parents who were speaking some "weird foreign language". From this story, and many others that my parents have told me, along with my own experiences, I know that there are and always will be ups and downs when it comes to adoption. After all, when you are bringing two worlds together, we can't expect it to be a piece of cake.
While I know my experience as an adoptee will be different than that of our child, I believe it will help us better understand what our child is experiencing. It has also given me real insight into the importance of connection to one's biological family.
Qualities We Love, Admire and Respect in Each Other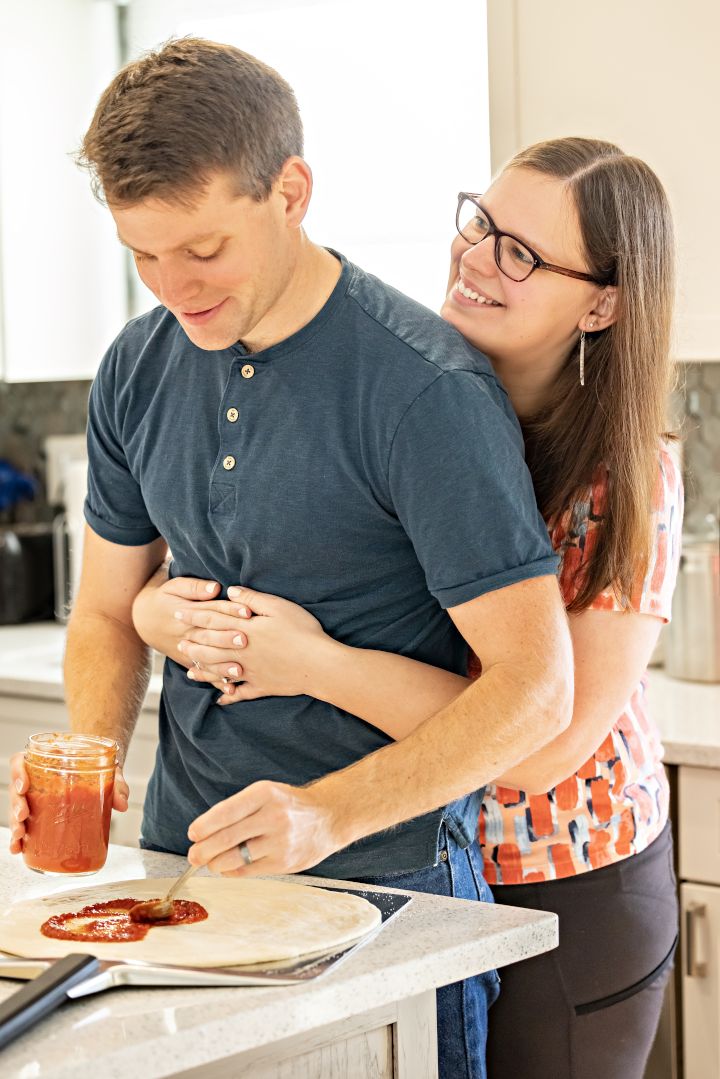 Susan About Carl: Carl is steadfast and loyal. I completely trust that Carl will support me in my decisions and always put our family first. When we met, he was working on his Master's degree while working full-time. His drive and hard work carries over to our lives together. When he puts his mind to something - like teaching our cats to sit before being fed - he doesn't make excuses and gets it done. I love his sense of humor and his ability to see the best in life, even in difficult situations. Every time I see Carl playing with our niece, nephew, and other kids in the family, I am reminded of the wonderful, loving, attentive, and engaged father he is going to be.
Carl About Susan: From our first date to today, I have always appreciated Susan's ability to openly communicate with me. This has allowed us to build an enormous amount of trust and have those hard conversations while still treating each other with respect. She is also extremely good at preparing for situations and takes the initiative to educate herself in areas where there could be many potential surprises. Susan helps me to be a better person whether by not procrastinating (as much) or sharing her joy of meal prep, despite my primitive cooking abilities. She's funny and encouraging, and I look forward to watching her become an amazing mother who is patient, eager to share what she knows, and willing to help her children.
What Makes Our Family Unique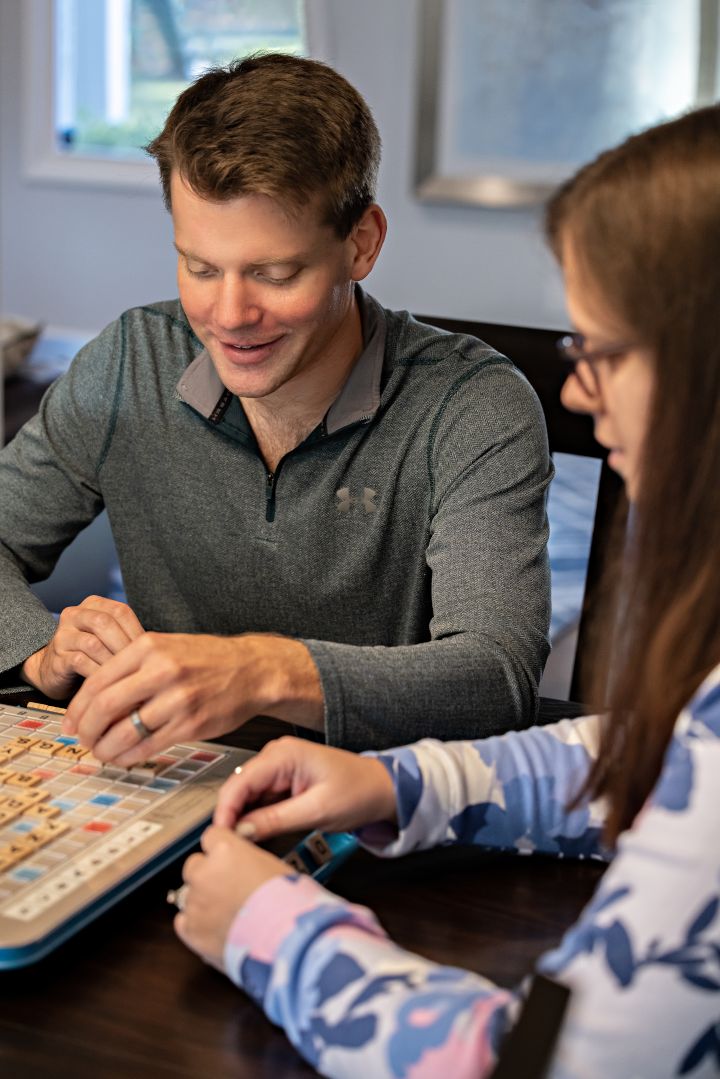 Since the day we went out on our first date, we have been building a friendship that has become the cornerstone of our life together. We are respectful, genuine, and cannot wait to share our life with a child.
We love being in nature. We like to go on walks and hikes, and always slow down to figure out what "cool looking" tree or flower is in front of us. Several times a week, Susan goes on a walk that ends at the local park where she enjoys swinging on the swings while listening to NASA podcasts. Carl can be found in the afternoon out on a run.
We like to try new recipes and enjoy making "fancy" recipes like homemade pasta noodles and crème brulee.
We enjoy our weekly events like Thursday Date Night and Chick-fil-A Saturdays.
We love a little competition and playing games together. During the fall, each of us has multiple fantasy football leagues and we can often be found playing board games around the kitchen table.
Carl's main hobbies include video games, puzzles, and perfecting his homemade pizza dough & sauce.
When she isn't cooking, Susan loves to crochet and is learning to sew - her list of ideas could last a lifetime!
We value trust and understanding. These two values will always be the foundation of our marriage.
Photos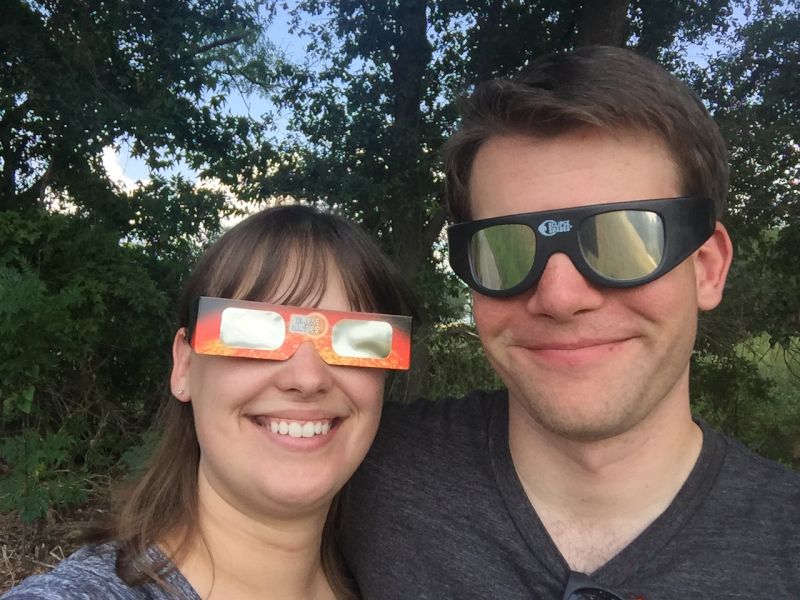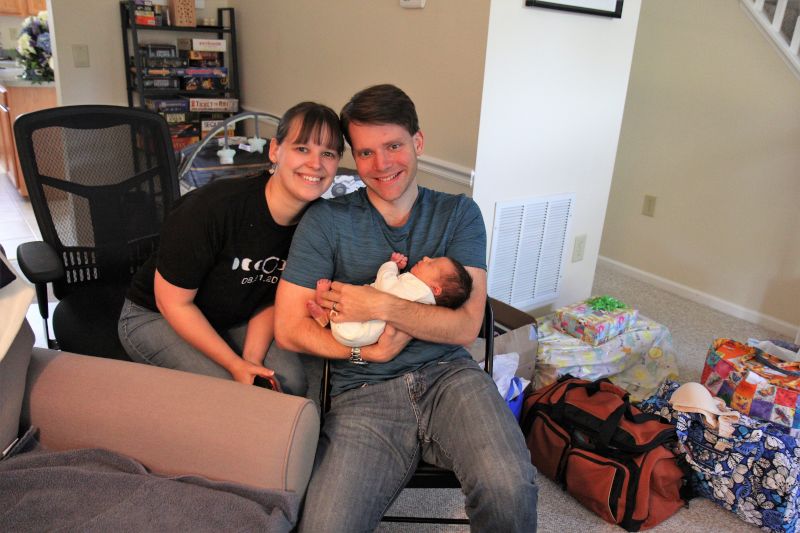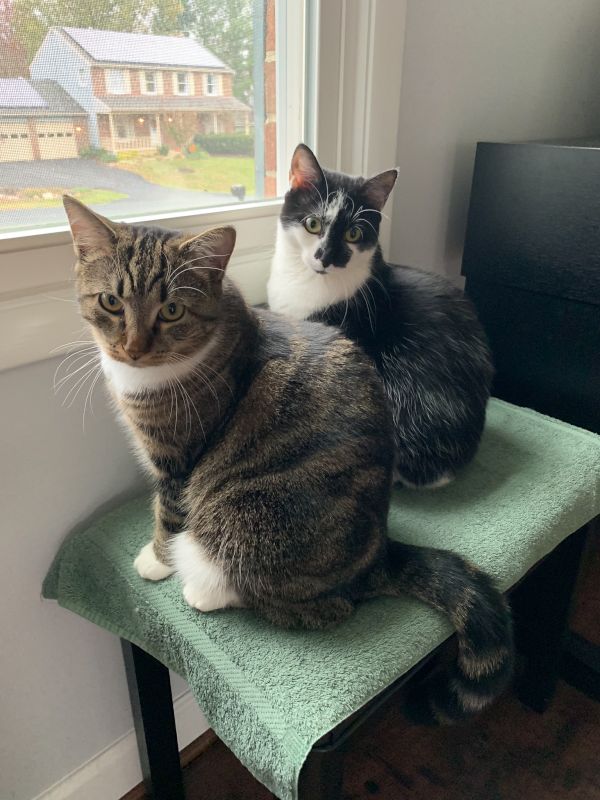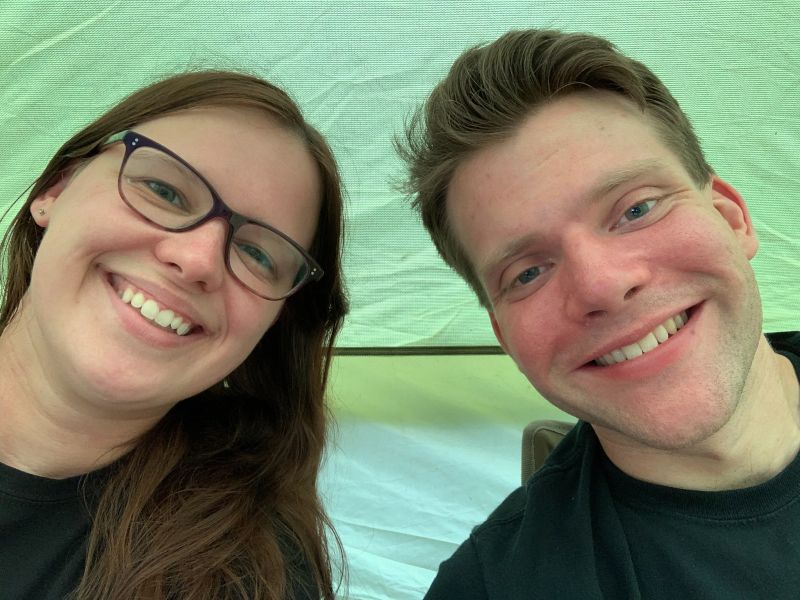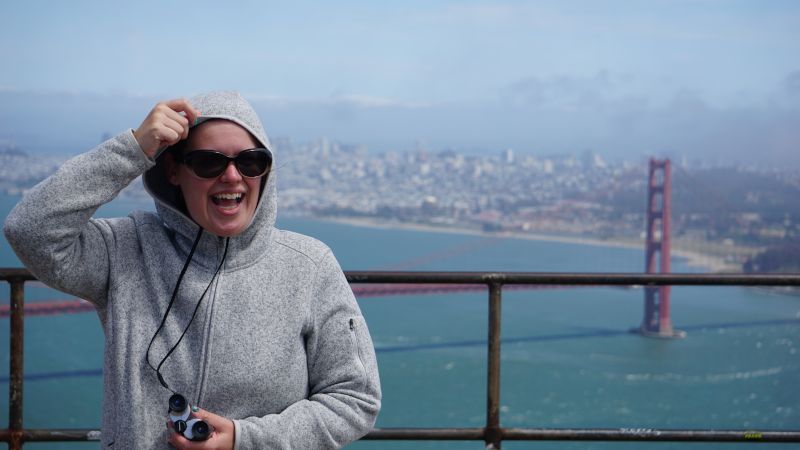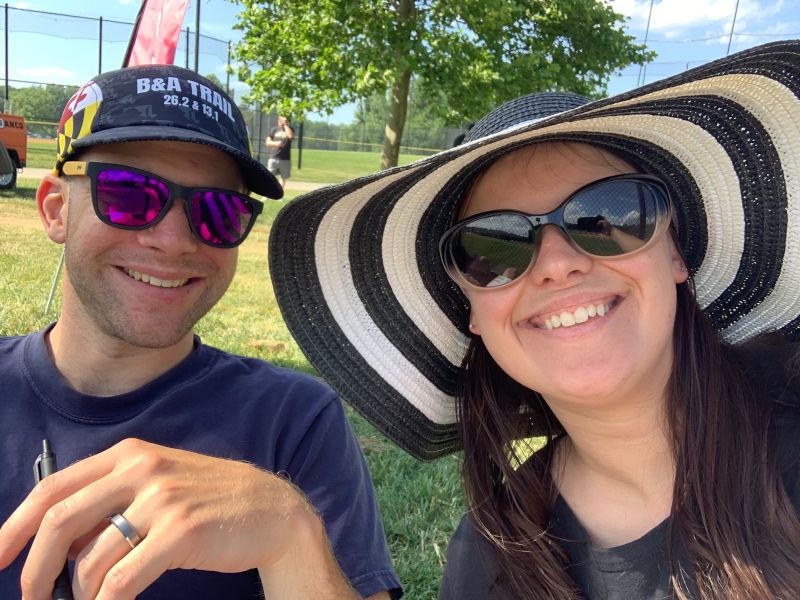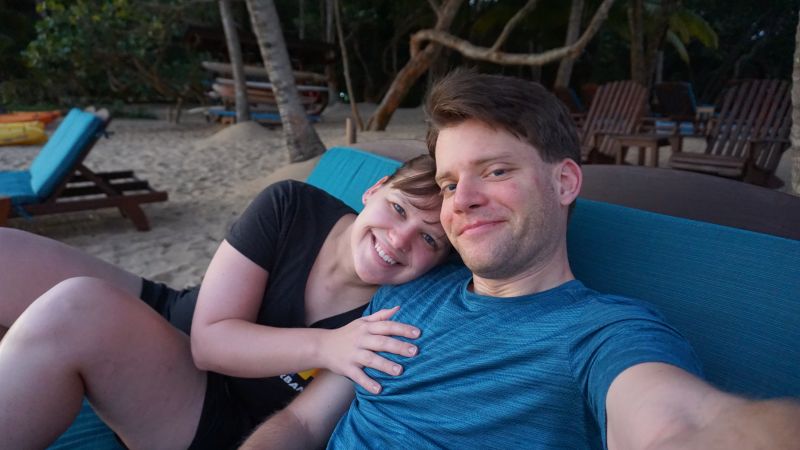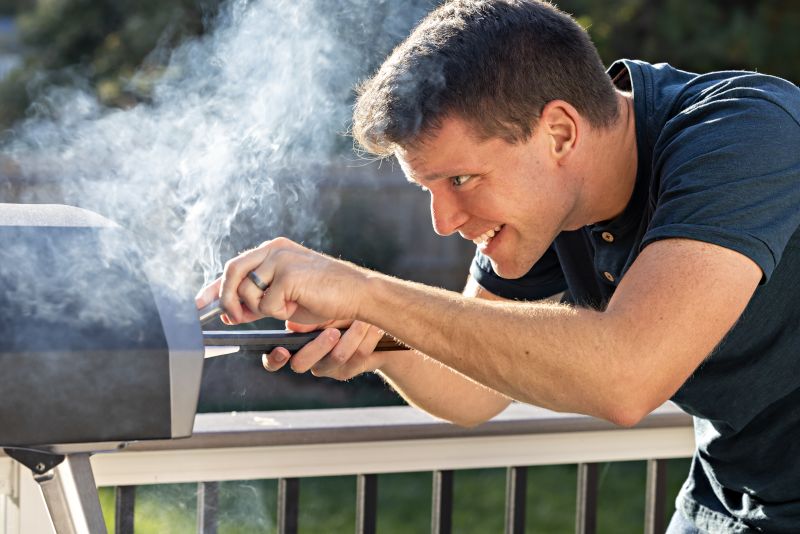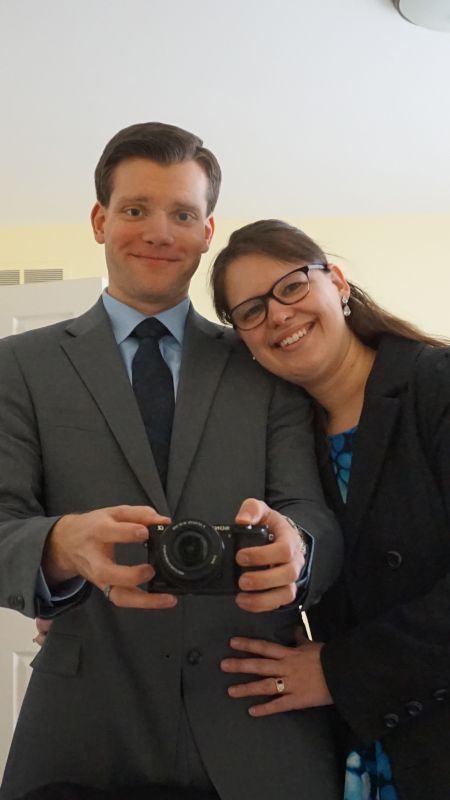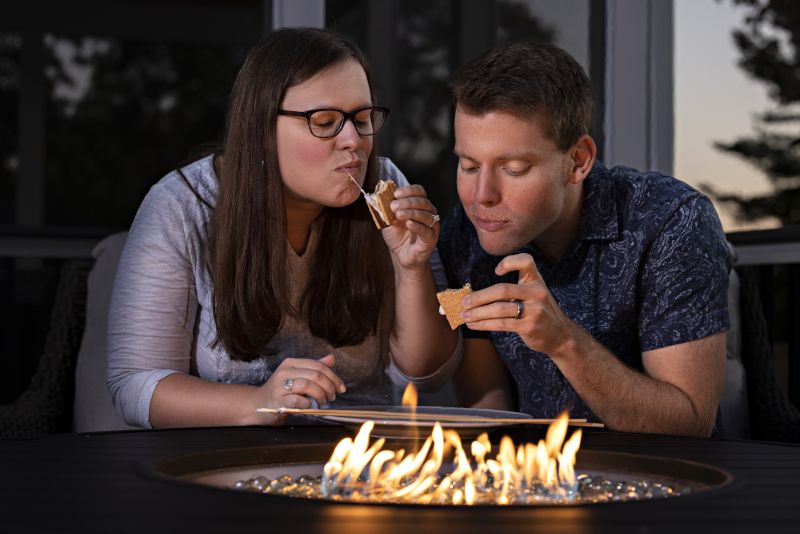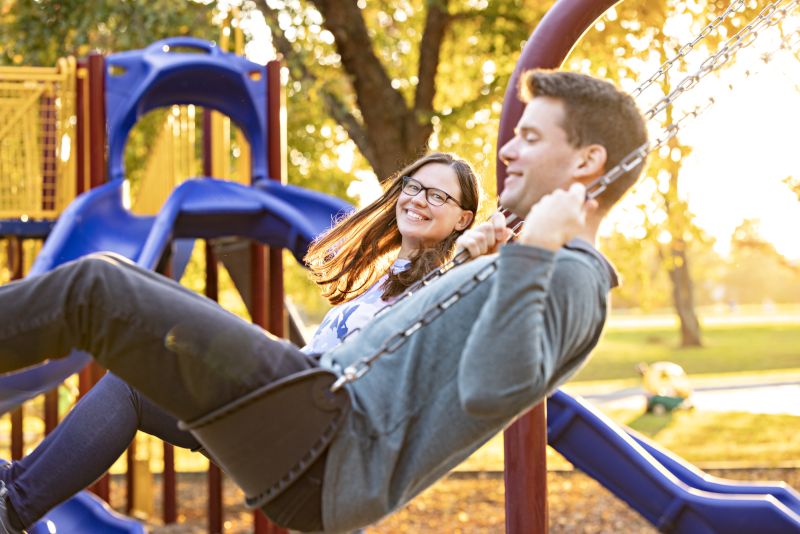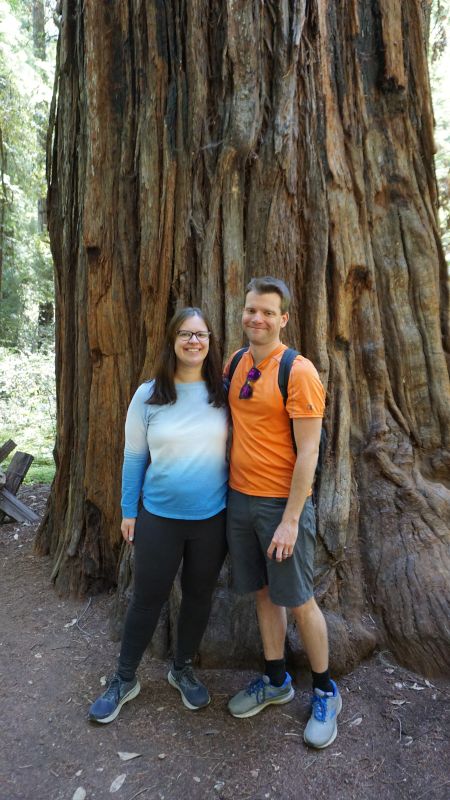 ×
1 / 12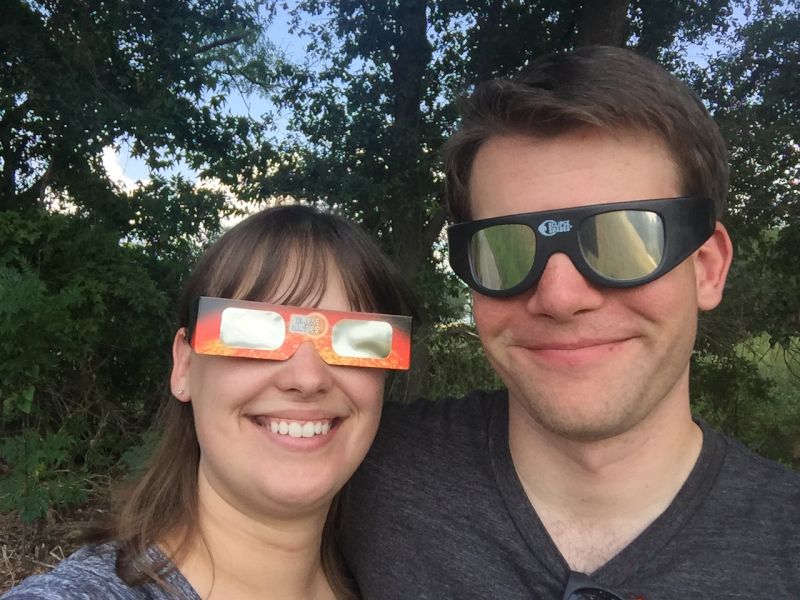 2 / 12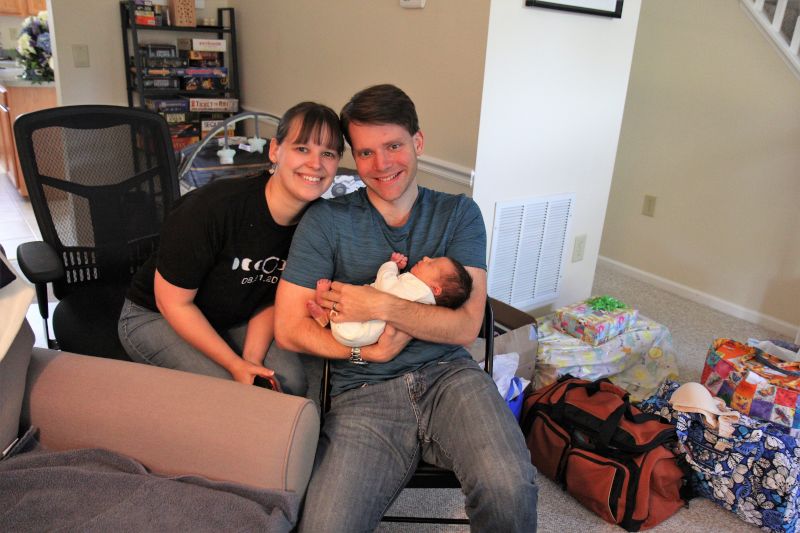 3 / 12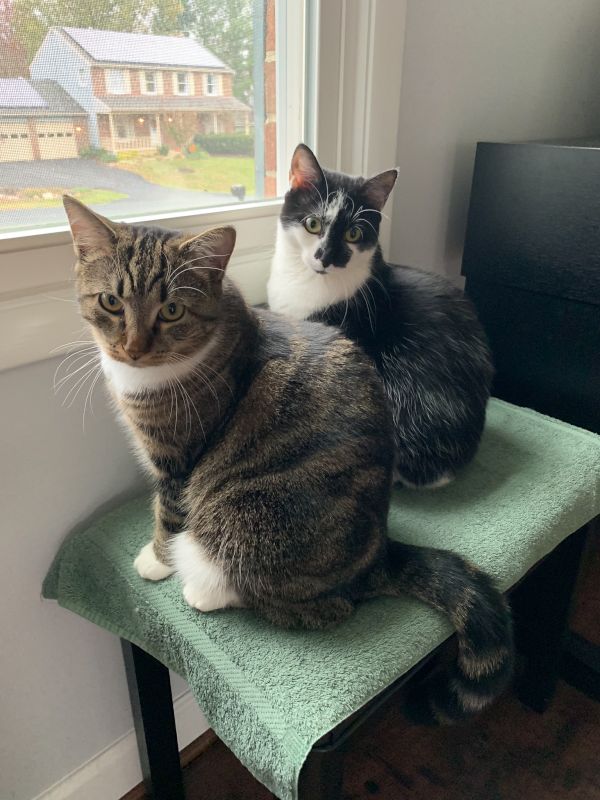 4 / 12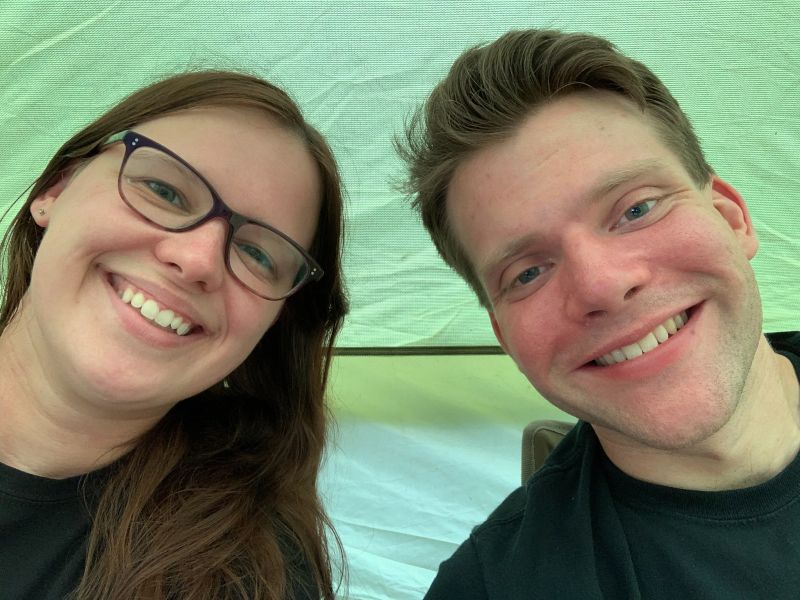 5 / 12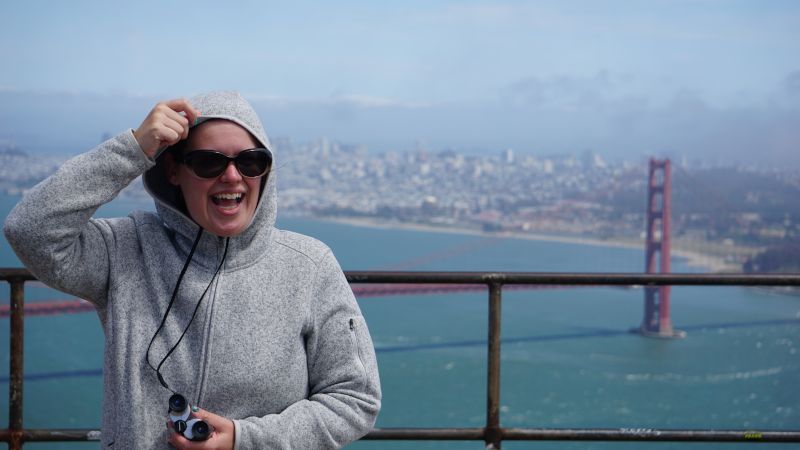 6 / 12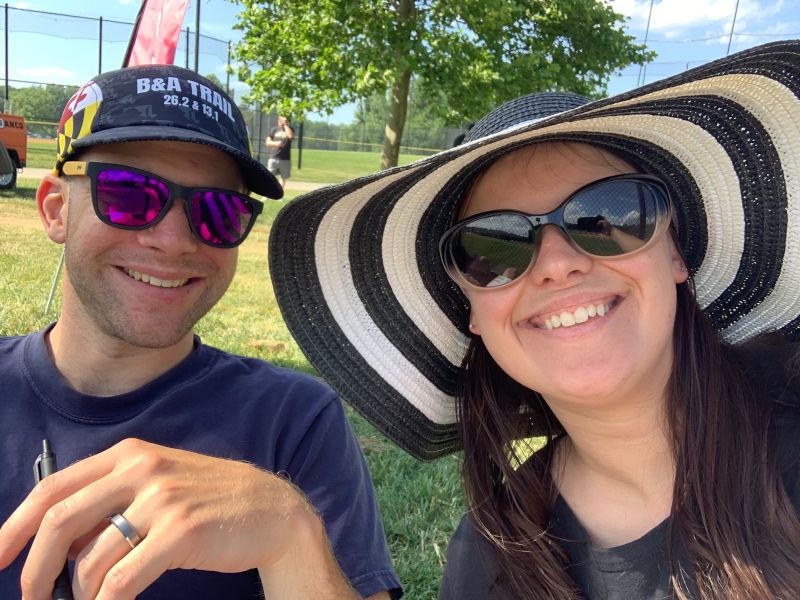 7 / 12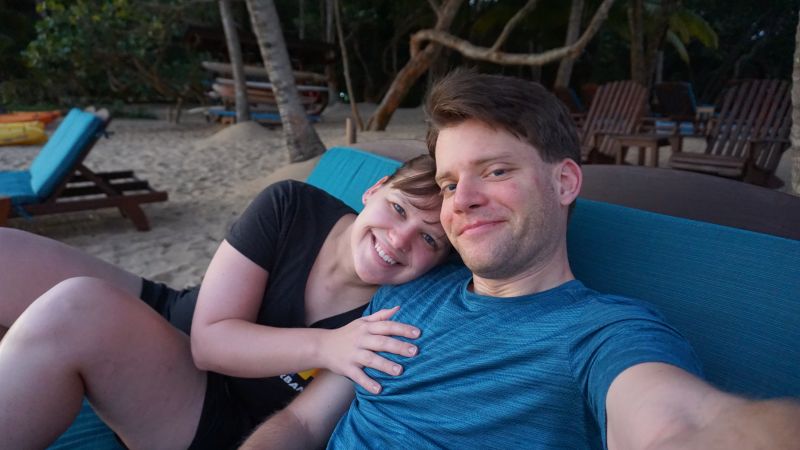 8 / 12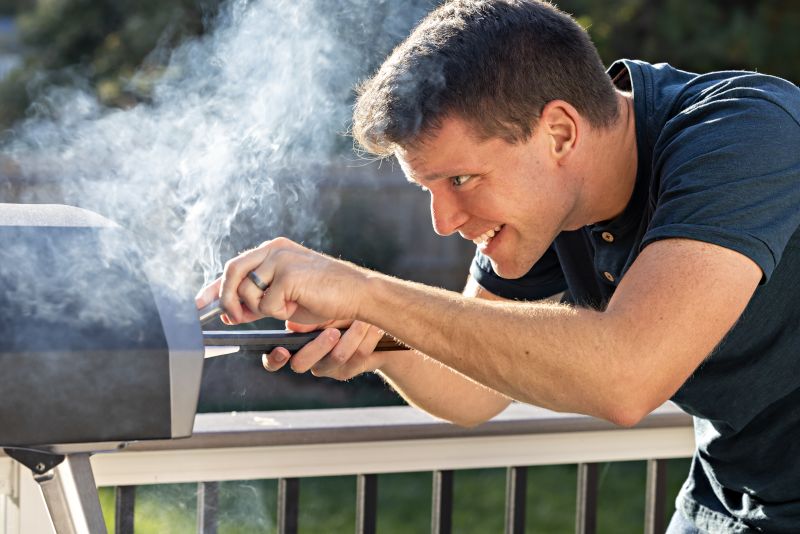 9 / 12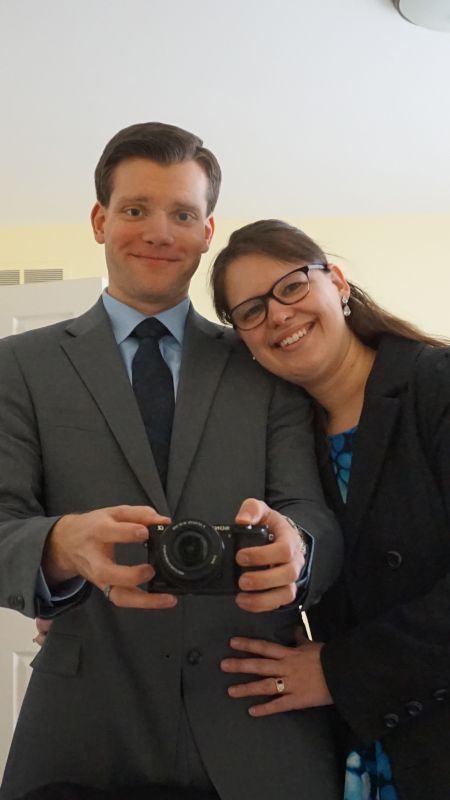 10 / 12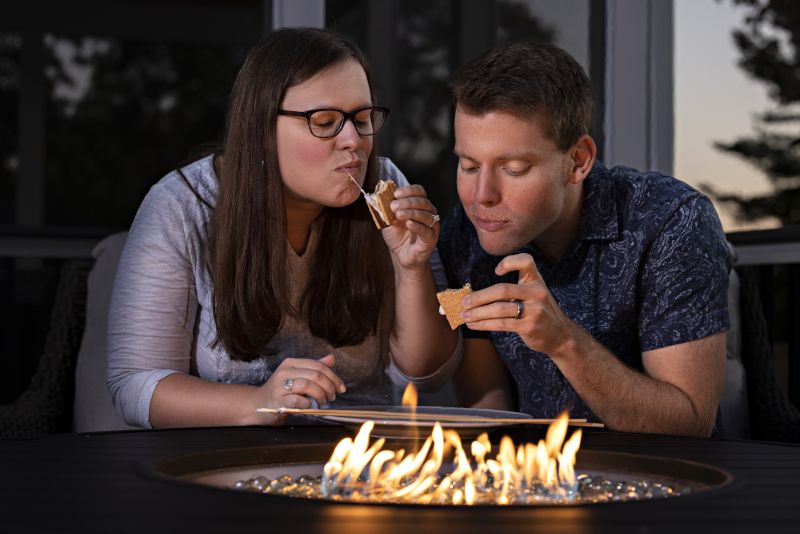 11 / 12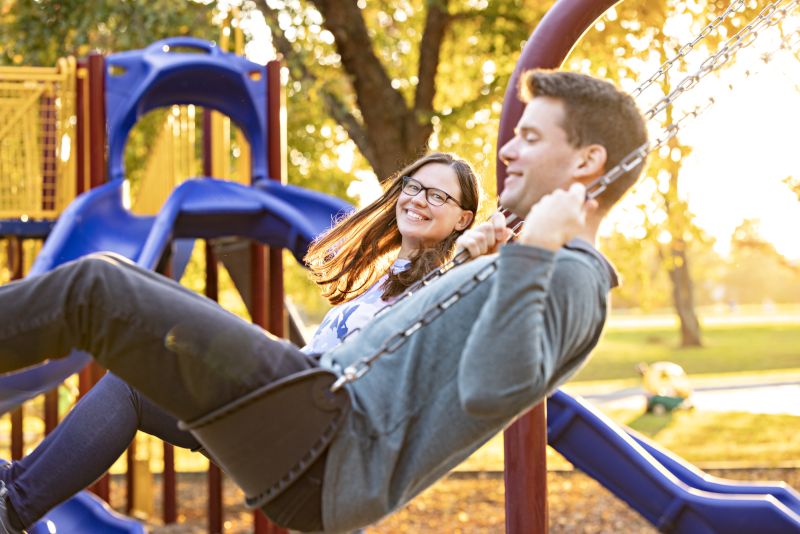 12 / 12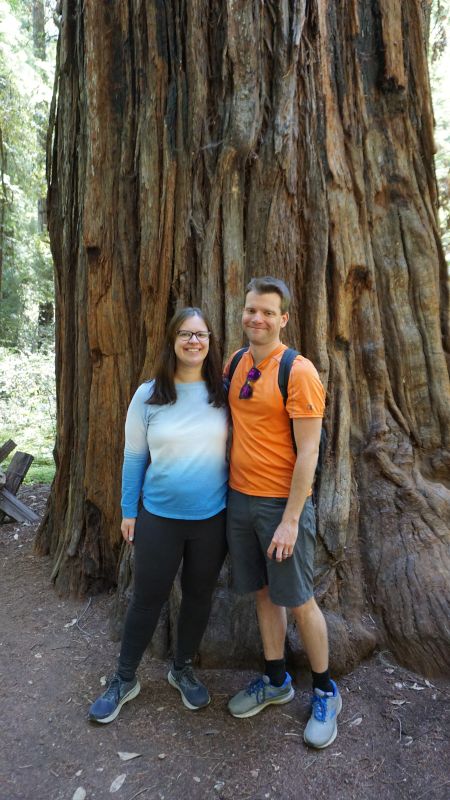 ❮
❯
Our House and Neighborhood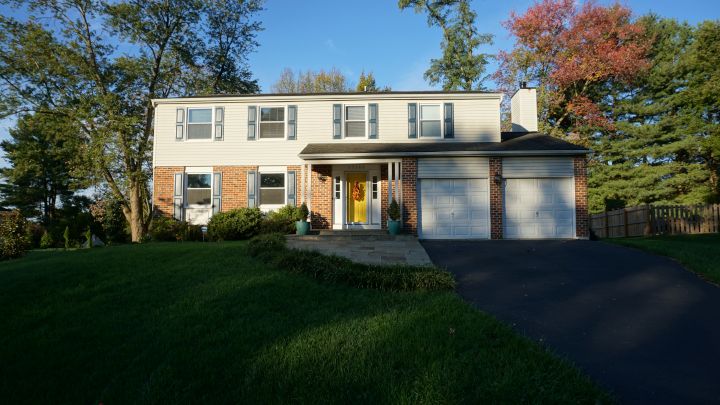 When we were house hunting almost four years ago, our main objective was to find a family-friendly home in a highly-rated school district with a large backyard and a fun yet safe neighborhood. We found it and immediately fell in love with a four-bedroom colonial house in a Maryland suburb about 30 minutes north of Washington, DC.
It's sunny, clean, and spacious with smart technology wired throughout.
All four of our bedrooms are on the second floor with a cozy living room, dining room, kitchen, and family/TV room on the first floor. The cats own the basement!
It's surrounded by a large yard with a vegetable garden and the perfect little space that has been begging for children's play equipment since we moved in.
The nursery is ready and waiting! There's a new crib and an old rocking chair, as well as shelves stocked with favorite books, games, and stuffed animals from our childhood.
Our neighborhood also doesn't disappoint. It has a safe, small-town feel, while still being only a 2-3 minute drive from the town center. There is farmland a short drive away with a large pumpkin patch in the fall, berry picking in the spring, and a petting zoo we look forward to bringing our kids to. We expect to take many family trips to the nearby adventure course, the National Zoo and other Smithsonian museums.
Our Extended Families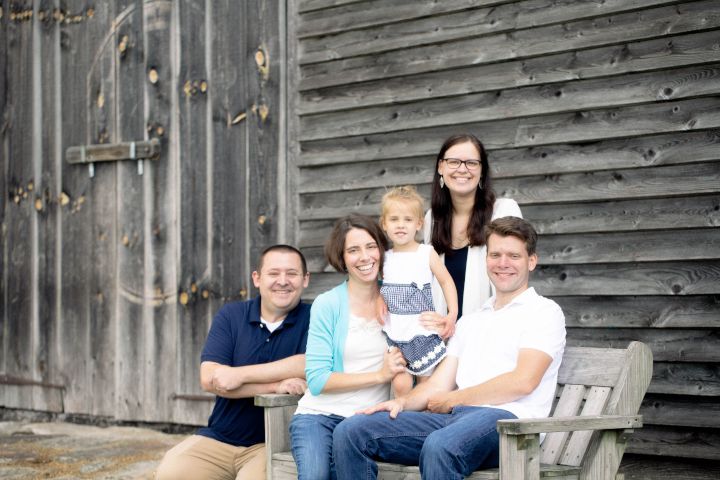 Carl's family is loving and open. His parents moved to Rapid City, SD eight years ago. While we only see each other once a year, we keep in touch via technology. His sister is married with two children. They live close by and we imagine our niece and nephew will be close playmates with our child one day. His family likes to play games - specifically euchre and rummy! When they are together you can be sure the competition is on...and there are probably ham and broccoli roll-ups to eat (his favorite childhood tradition).
From Carl: My mom taught me how to be patient and empathetic in all situations and towards all people. From my dad, I learned how to be a caring husband and a present father.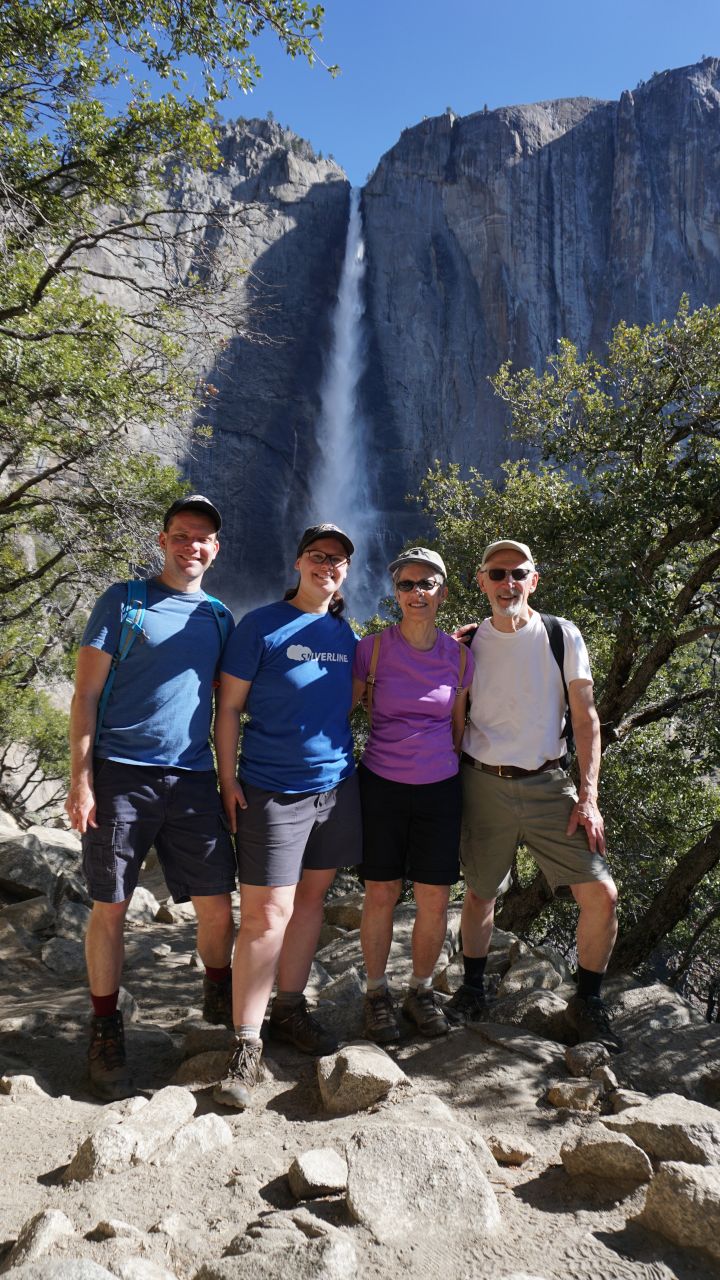 Susan's family is close-knit and fun-loving. Her parents have been married for 40 years and she is an only child. Her dad is very outgoing and is always doing something to keep busy, whether it is volunteering at the natural history museum or a cooking school. Her mom is social and has been on the board of several non-profits during her retirement. They both take their health very seriously and regularly exercise to "stay young". They live about a 30-minute drive away and we see them at least once a week.
From Susan: Being adopted at 14-months, my parents showed me that it doesn't take a biological connection to love someone wholeheartedly. They also taught me that having a support system is critical.
From Us to You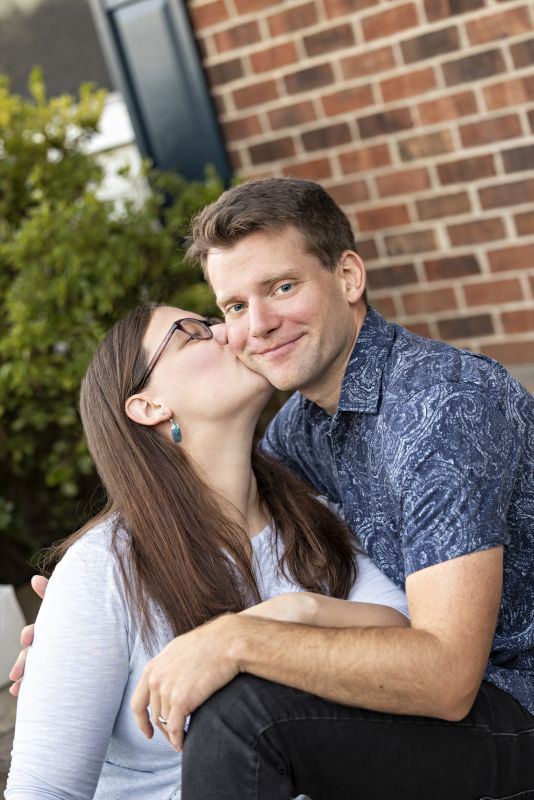 Hello! The first sentence is always the hardest. Whew! Glad we got through that. We tried out so many different openings before landing on a simple, "Hello!". We hope it may lead us to getting to know one another better in the future. Before we continue, we wanted to first thank you for reading our profile. We have put as much as we can over these pages about who we are and the life we lead. But most importantly, we hope that you know we are here to support you; we want to make sure you feel empowered during this time. We admire your bravery as you educate yourself on the options available for you and your child, and we hope you find peace in whatever you decide.
Adoption holds a unique and significant place in our hearts, as it is very much part of Susan's story. Susan was adopted from Poland at 14-months-old. She never knew anything about her biological family as she was growing up and understands that there is pain in this process for everyone involved. And yet, there was never a moment she did not feel loved.
After four years of marriage, we are extremely excited to be parents, but we are also excited to see the unique way in which our family might grow. Whether we are on opposite sides of the country or an hour's drive away, we imagine our child knowing about his or her birth family and understanding the special bond you two share. We are eager and committed to an open adoption with visits and lots of photos, if that is what you desire, as well. We will always do what is in the best interest of our child, loving his or her birth family, and nurturing the unique and unbreakable connection between mother and child in any way we can.
We thought long and hard about the promises that we are making to you. We promise to:
A
Applaud and honor your bravery and respect your wishes about communication and openness.

D
Devote our lives to our family and yours. We will always strive to support one another.

O
Open our hearts to your child. We will celebrate all that God has created them to be.

P
Pursue adoption training to better support your child when they have questions about their adoption.
T
Teach your child about their heritage and invest in opportunities that provide mirrors of themselves.

I
Inform your child of his or her story and let them decide when they want to share it with others.

O
Overcome obstacles together through open communication and serve as role models for our children.

N
Nurture your child and raise them to be a prepared and confident adult.
Becoming parents is not something we take on lightly, and we know the considerations you are making now are not taken lightly either. Please know that your voice is the most important one in this process as you are the one making the most important decision.
Thank you again for inviting us into this vulnerable space with you. Whether you choose us, another family, or to parent, we have been and will continue to be praying for you.
Wishing you all the best,
Carl & Susan
Favorites
Actor
Tom Hanks
Martin Sheen
Actress
Allison Janney
Scarlett Johansson
Author
Lemony Snicket
Ken Follett
Book
Harry Potter and the Goblet of Fire
The Pillars of the Earth
Candy Bar
Twix
Reese's Cups
Cartoon
Spongebob Squarepants
Arthur
Childhood Memory
Camping with my family
Girl Scout Rafting Trip
Childhood Toy
A yellow teddy bear
K'NEX
Children's Book
The Very Hungry Caterpillar
Stellaluna
City
Annapolis, MD
Washington, DC
Classic Movie
The Sound of Music
Harold and Maude
Day of Week
Friday
Saturday
Dessert
Coldstone Ice Cream
Funfetti Cake
Disney Movie
The Lion King
The Rescuers Down Under
Dream Car
Mazda MX5
Corvette
Dream Job
Sports Data Analyst
Senior Consultant
Dream Vacation
Hiking Patagonia
Galapagos
Family Activity
Board Games
Euchre (Card Game)
Flower / Plant
Colorado Blue Spruce
Orchids
Food
Beef Wellington
Cheddar Bay Biscuits
Form of Exercise
Running
Biking
Hobby
Jigsaw puzzles
Crochet & Sewing
Holiday
Thanksgiving
Halloween
Holiday Song
Carol of the Bells
Jingle Bells
Holiday Tradition
Playing cards
Making Pierogi
Ice Cream
Mint chocolate chip
Chocolate Chip Cookie Dough
Junk Food
Oreos
Reese's Cups
Leisure Activity
Video games
Playing with cats
Magazine
Washingtonian
Cooking Light
Memory with a Child
Playing with my cousins when they were toddlers
Vacation to Grand Canyon
Memory with Spouse
One perfect day in NYC
Total Solar Eclipse
Movie
The Lord of the Rings
10 Things I Hate About You
Movie Munchie
Popcorn
SnoCaps
Movie Quote
"I am serious. And don't call me Shirley."
It's not the battles we lose that bother me, it's the ones we don't suit up for.
Movie Type
Crime Drama
Drama
Musical
Hamilton
Singing in the Rain
Musical Group
Queen
Simple Plan
Nursery Rhyme
This Little Piggy
Eeny, Meeny, Miny, Moe
Olympic Event
Gymnastics
Swimming
Personal Hero
My parents
My parents
Play
QB Sweep
Beautiful: The Carole King Musical
Poet
Shel Silverstein
Czeslaw Milosz
Quality about my Spouse
Her sense of humor
Humor
Quote
"If you're going through hell, keep going."
"Never doubt that a small group of thoughtful individuals can change the world."
Restaurant
Outback Steakhouse
Red Lobster
Scripture
"What then, shall we say in response to these things? If God is for us, who can be against us?"
Psalm 23
Shopping Store
Costco
Macy's
Song
Hallelujah - Jeff Buckley
Something Just Like This
Sport to Play
Baseball
Tennis
Sport to Watch
Football
Tennis
Sports Star
Lamar Jackson
Roger Federer
Sports Team
Baltimore Orioles
Pittsburgh Steelers
Subject in School
Math
Math
Thing to Cook
Anything on the grill
Desserts
Tradition
Board/Card game nights with the family
Easter Egg Hunt
TV Show
Friends
The West Wing
TV Show Character
Dr. Gregory House
Josh Lyman
Type of Music
Classic Rock
Pop Rock
Vacation Spot
Deep Creek Lake
Grand Canyon
Video Game
Portal 2
Stardew Valley
Get in Touch
Provide more information, so American Adoptions can connect you with this family.
---