1-800-ADOPTION
Thank you for viewing our profile
If you would like to learn more about us, please call 1-800-ADOPTION (2367846), fill out the form at the bottom of our on-line profile page, or email us at bp_information@americanadoptions.com.
To revisit our on-line profile page and view our profile video at American Adoptions, simply use your mobile phone to scan the QR code on the right. We are looking forward to hearing from you!
Aaron & Ricki
We have been blessed with a great marriage, remarkable friends and family, and an abundance of love. Adoption enables us to share this love and these gifts in an even more beautiful way. We know that we will make tremendous parents and are humbled that you would even view our profile. We are so very grateful that you would consider us and look forward to the journey that lies ahead.
About Us
Job
Director of Asset Protection
Senior Account Manager
Education
Bachelor's Degree
Bachelor's Degree
Relationship
Legally Married
Our Lifestyle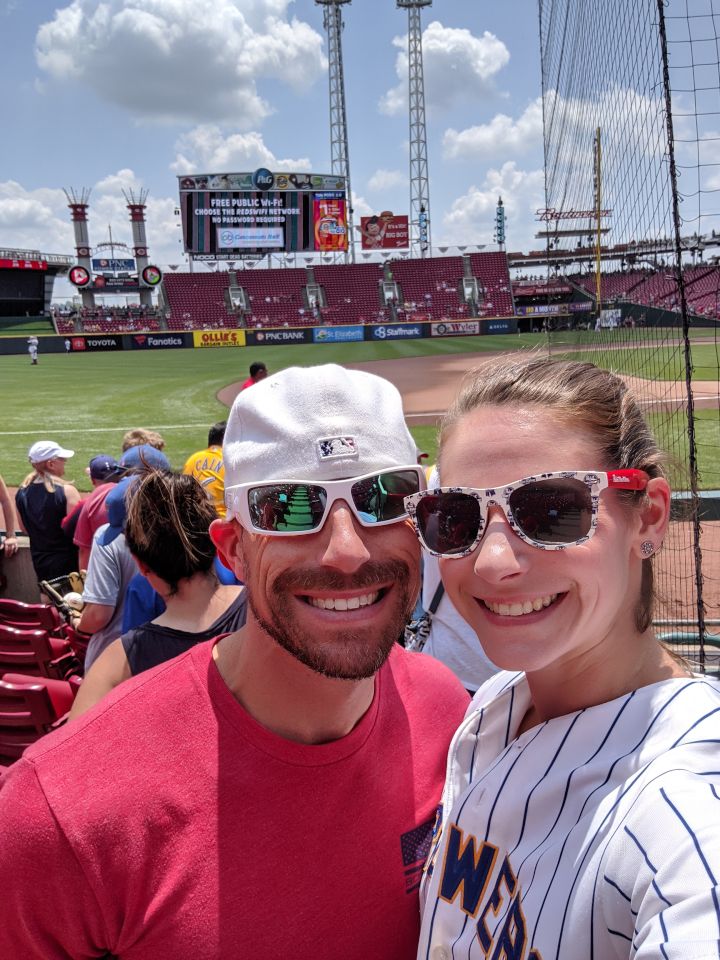 Our lifestyle is a very active one! We love to exercise in all different kinds of ways, from running and biking, to strength training, and fun outdoor activities like hiking and kayaking. Each day, you can usually find us working out in our garage that we have converted into a gym, and throughout the day, we are taking our three dogs on various walks, as the weather permits.
Ricki works for an insurance agency as a Senior Account Manager, and Aaron is the Director of Asset Protection for a national gas station and convenience store chain, which is headquartered not far from where we live. This allows for a short commute for Aaron, meanwhile Ricki works completely from home! Our three dogs love having someone home with them all day! As a couple, our favorite things to do together involve working out, eating at new restaurants in our area, and attending sporting events whenever possible!
While we like to keep busy, we definitely take time for leisure too. Sunday afternoon/evening is dedicated family time. We enjoy watching new shows on Netflix or other streaming services, as well as our favorite sporting events. Ricki loves to cook, so on Sunday she tries to make something a little more time-consuming or complicated, that she wouldn't otherwise be able to make during the week.
Cultural Diversity
We believe that exposing children to many different cultures, in addition to their own, is really important for many reasons. Often, we as humans fear what we don't know or understand and so introducing a child to neighbors that may not look like them, eat the same foods as them, or practice the same religion, is a great opportunity to teach them that while we may have differences, it doesn't mean we treat them any differently than those that are culturally the same as us.
If we are blessed with a child of a different culture, race or ethnicity than us, we desire for them to know their heritage, their history, and to be able to connect with their culture in a meaningful way. We plan to incorporate books, movies, toys, and even food so they know their cultural roots, as well as introduce them to any of our friends and neighbors that may come from the same or a similar cultural background.
We have been privileged to travel to different parts of the world, to experience different cultures firsthand. We would love to be able to continue to do this with a child, as well.
Our Religious Beliefs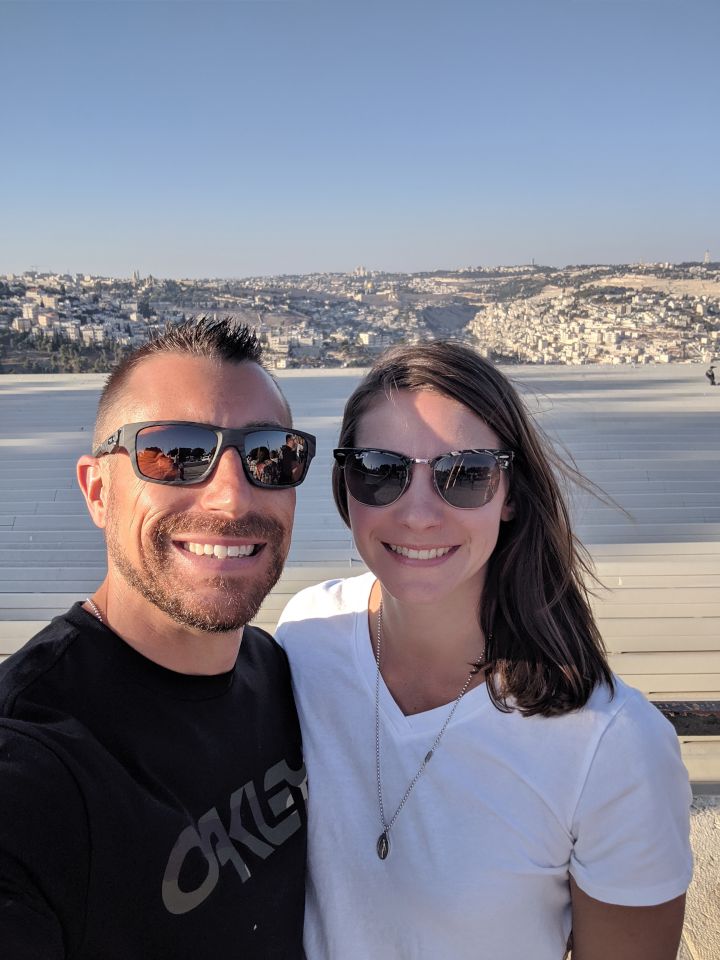 We are practicing Roman Catholics. We attend Mass every weekend and at least twice a month we spend time in adoration of the Blessed Sacrament at our nearby parish. Aaron was born and raised Catholic and attended all Catholic schools. Ricki was baptized Catholic, but in 2020 was fully initiated into the Catholic Church after going through the Rite of Christian Initiation process. We recently took a pilgrimage to the Holy Land (Israel & Palestine) to visit many of the sites where Jesus walked and preached; it was an incredible experience.
It's safe to say that living a moral life with a focus on God is our top priority. We are continually trying to grow in our understanding and knowledge of the Church Jesus Christ left us. We take the mission to bringing others to Jesus very seriously and it will be a top priority for us as parents to ensure that we raise a child strong in faith, with great morals and love for everyone.
Photos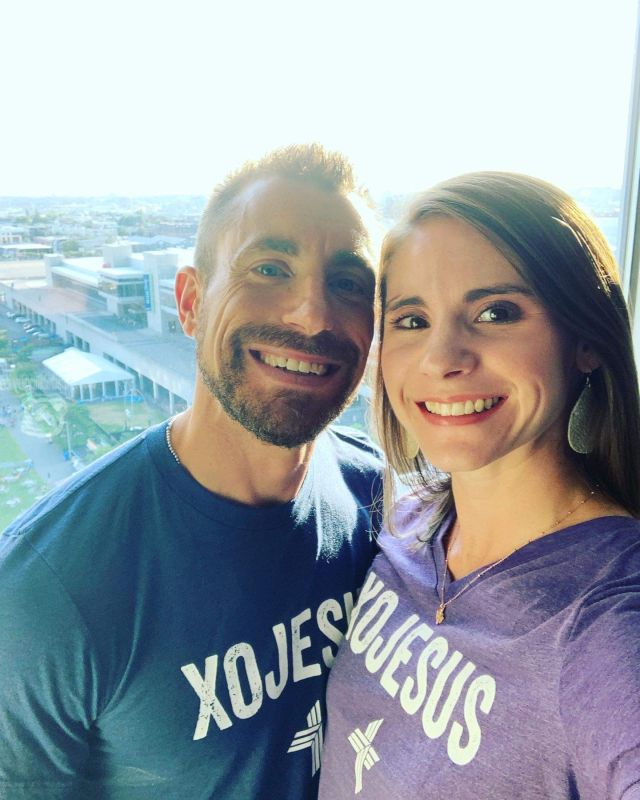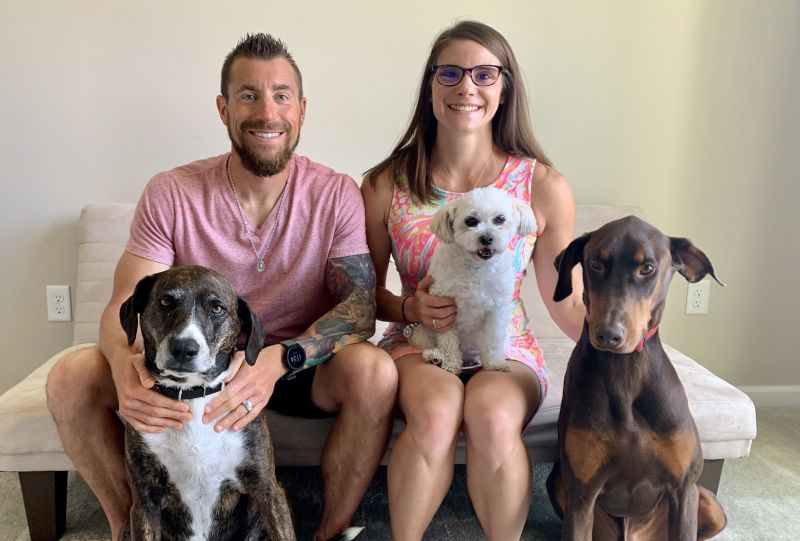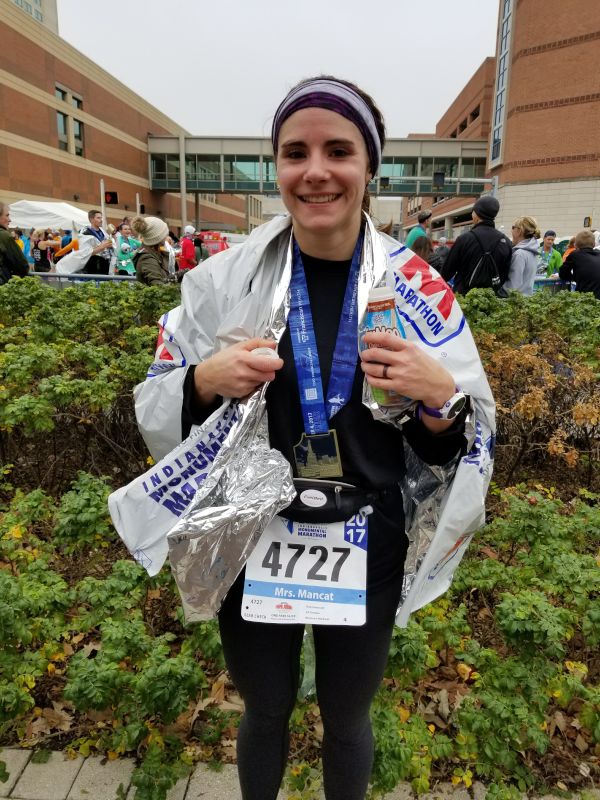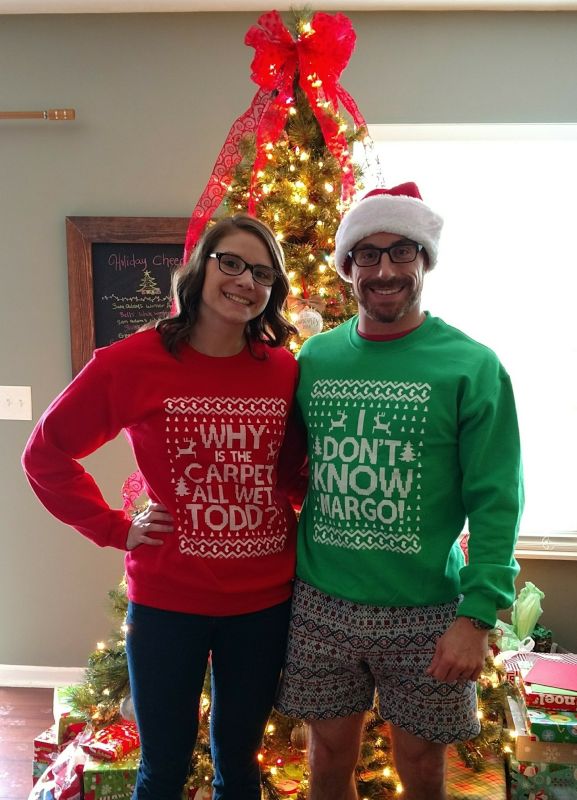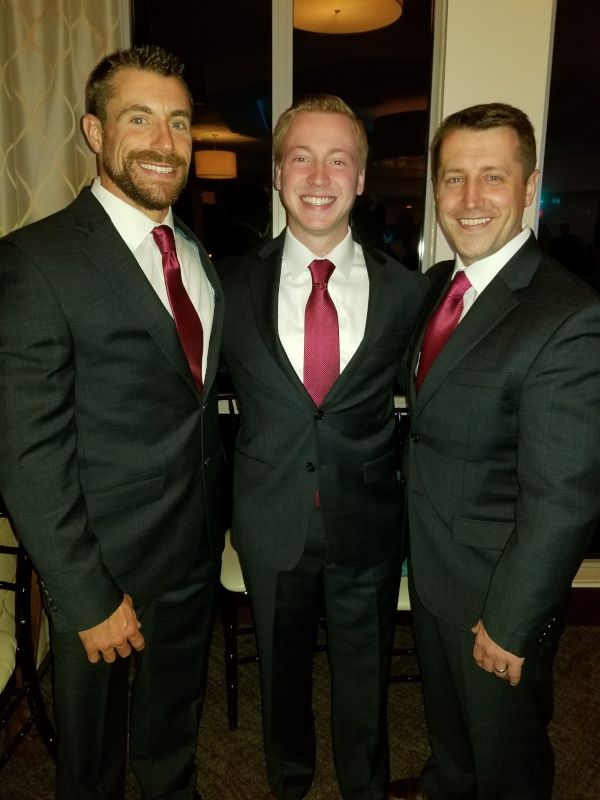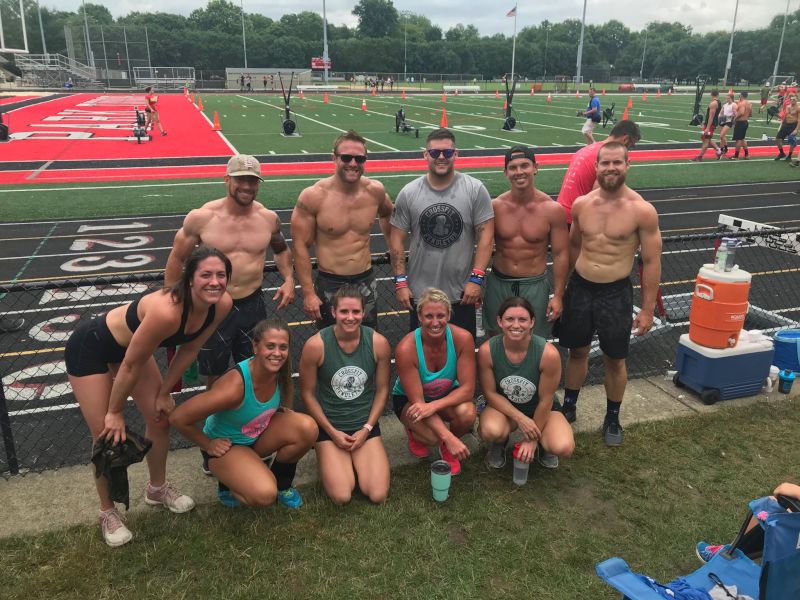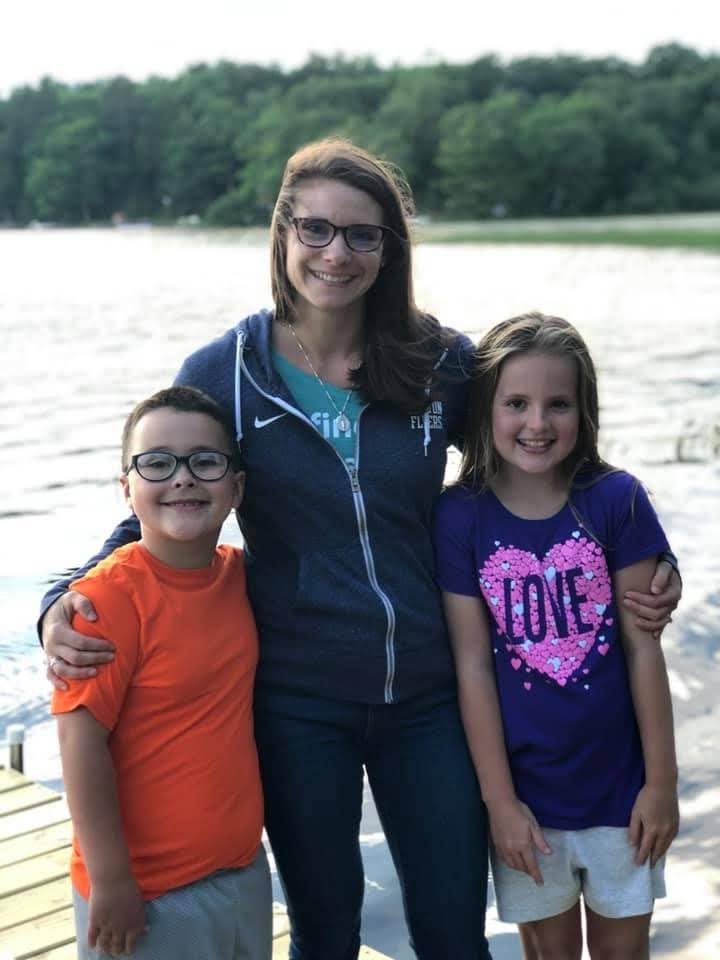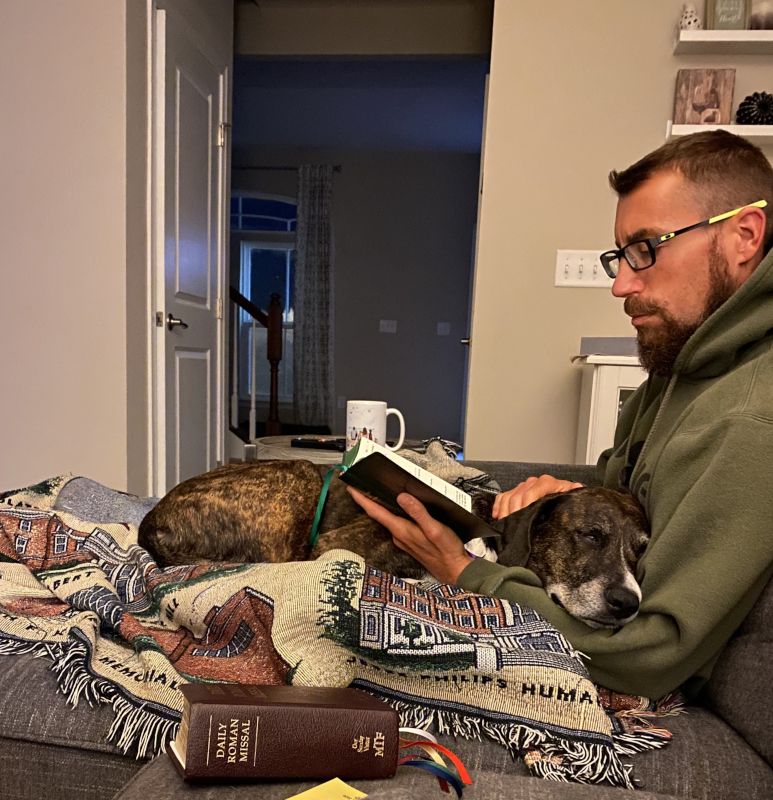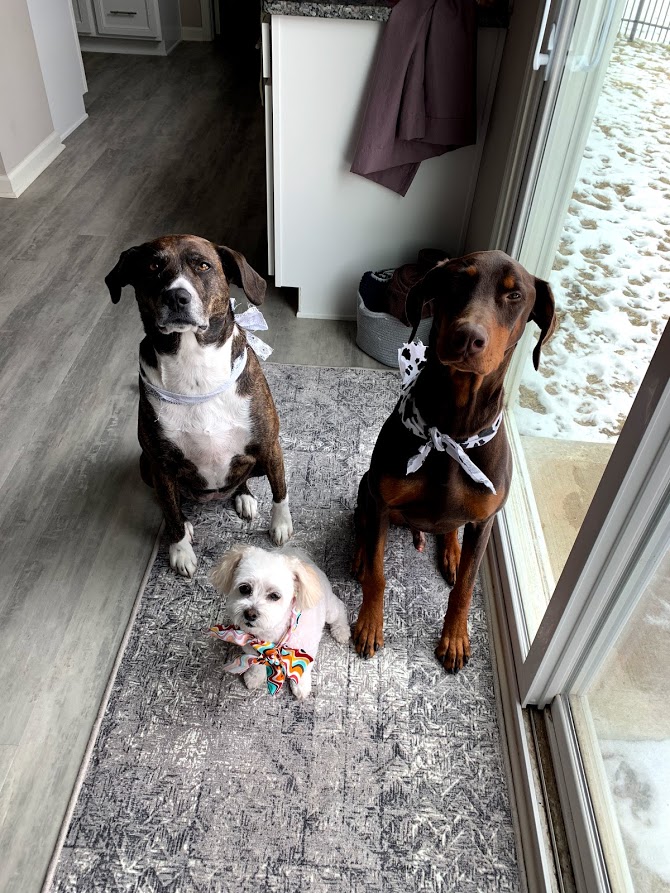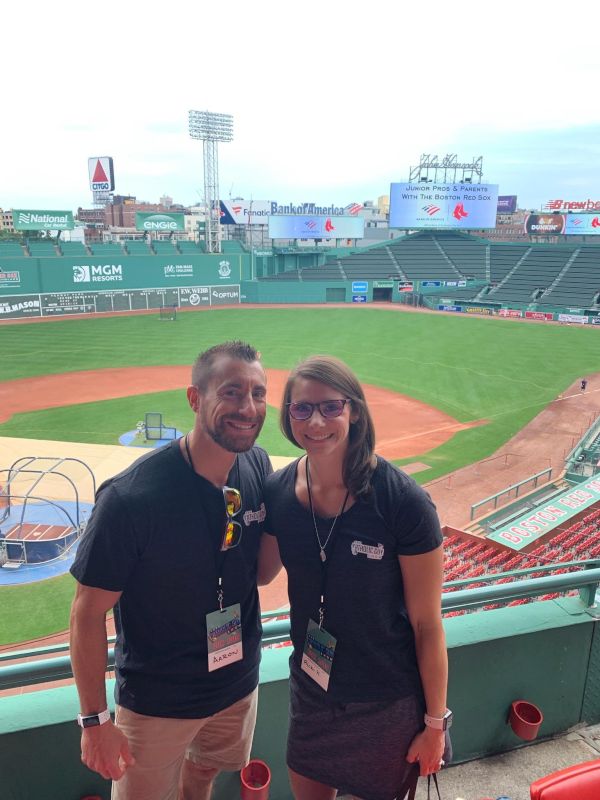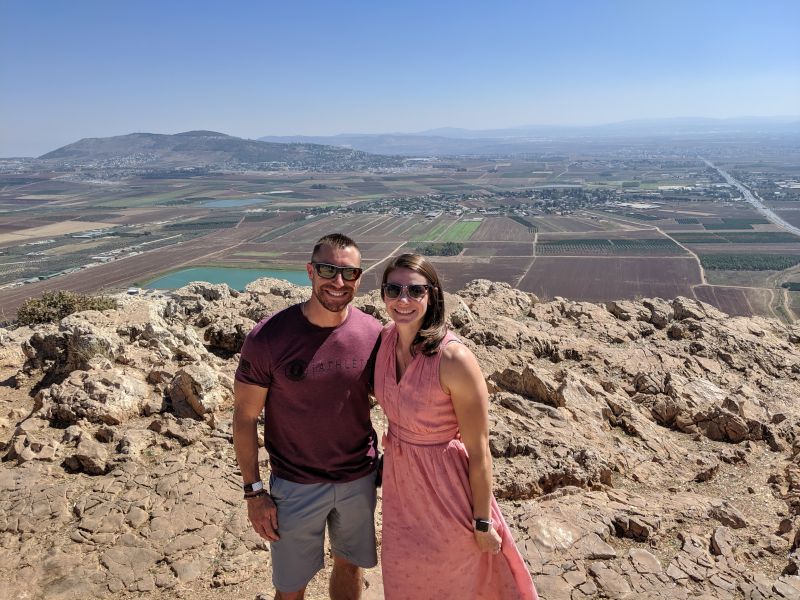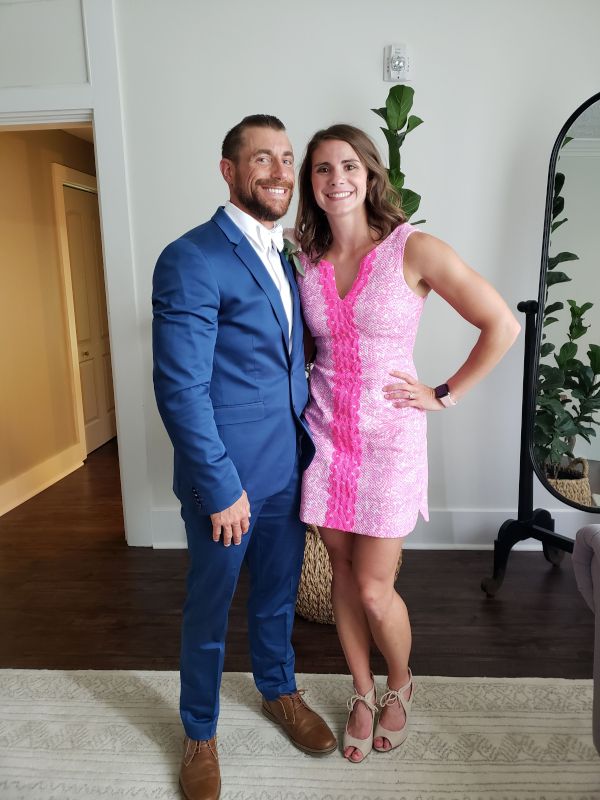 ×
1 / 12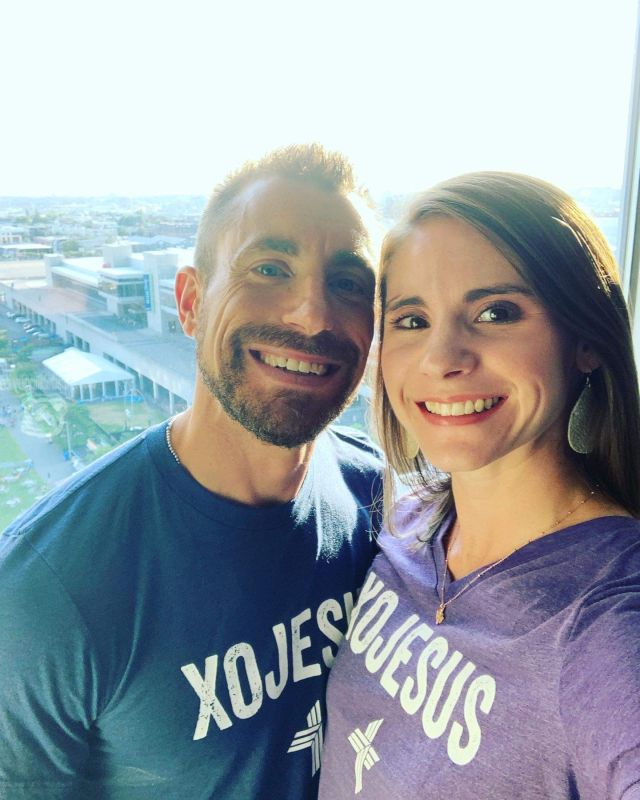 2 / 12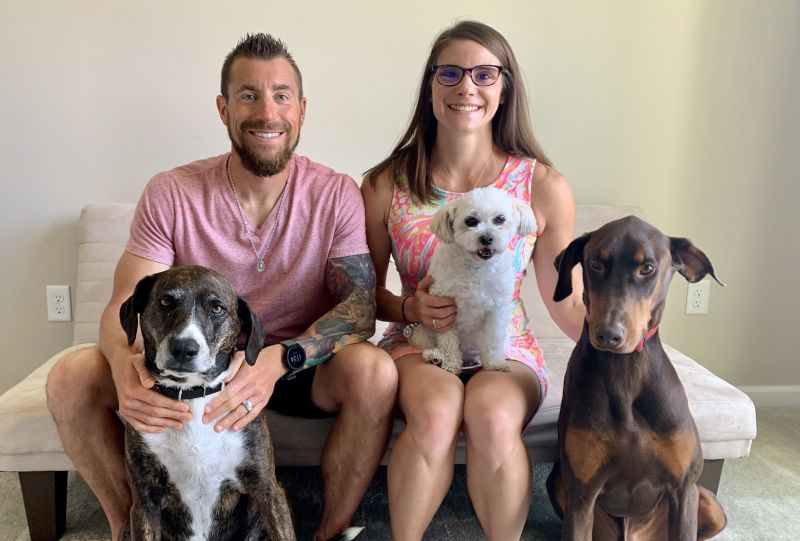 3 / 12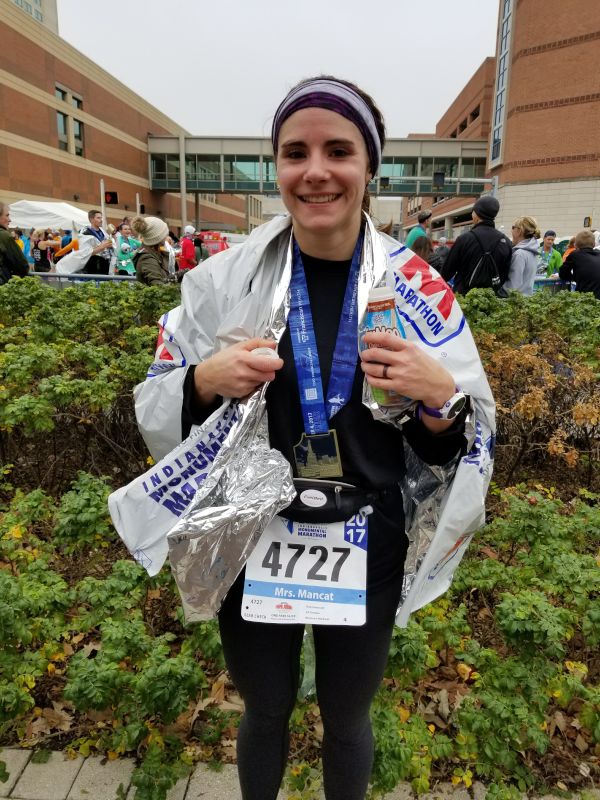 4 / 12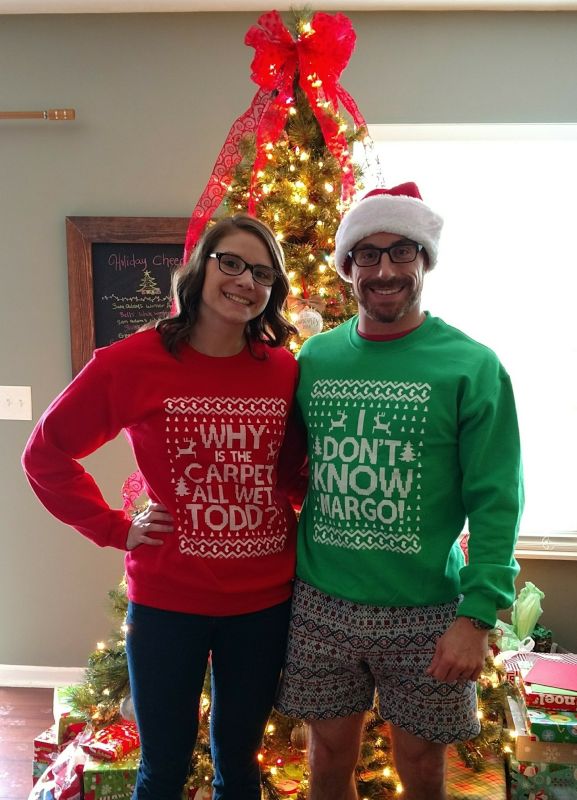 5 / 12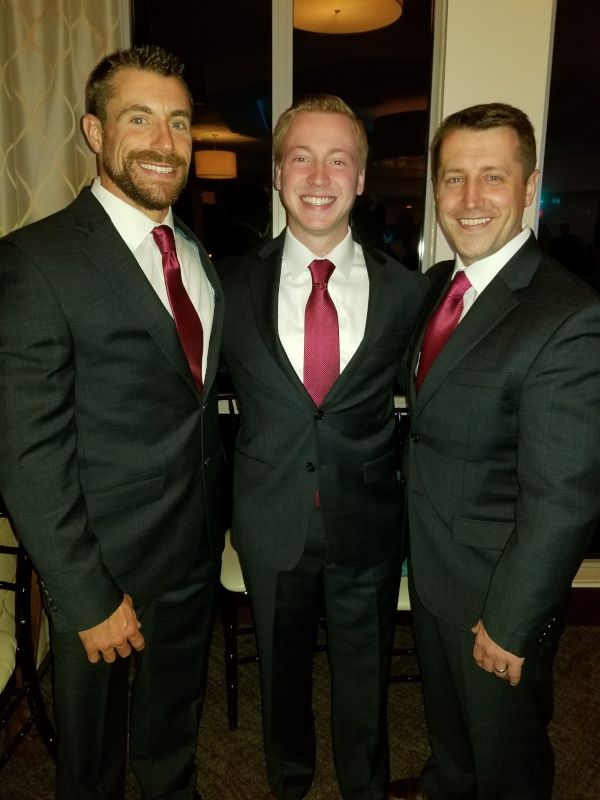 6 / 12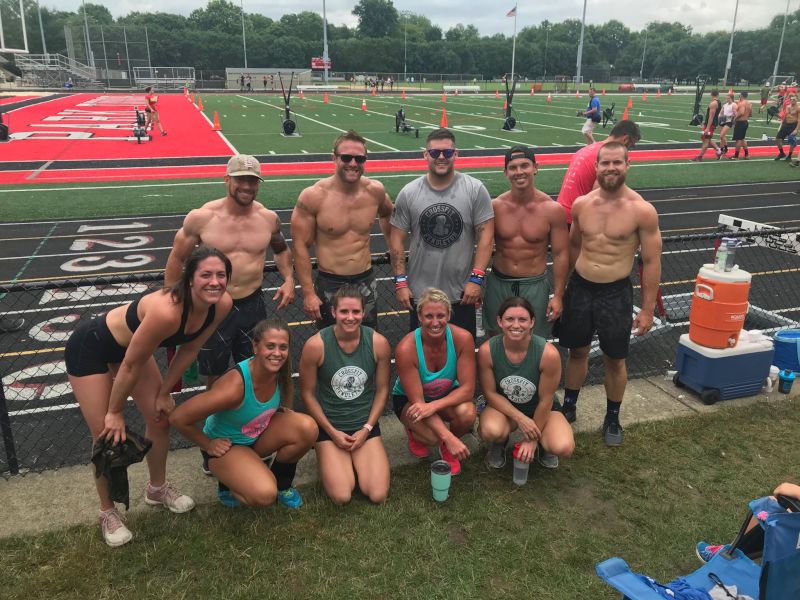 7 / 12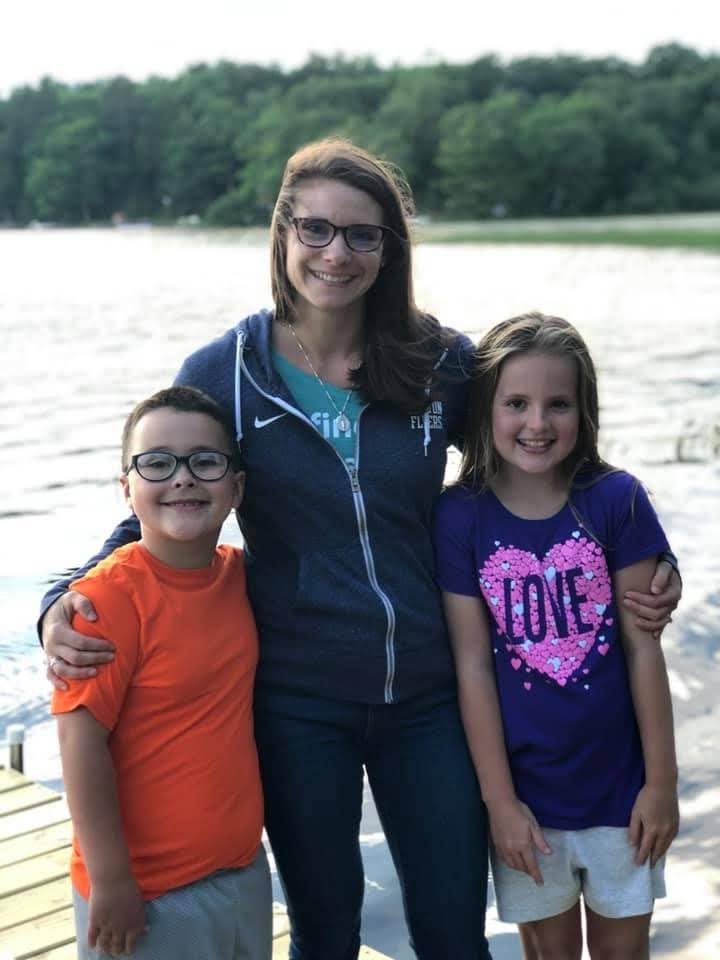 8 / 12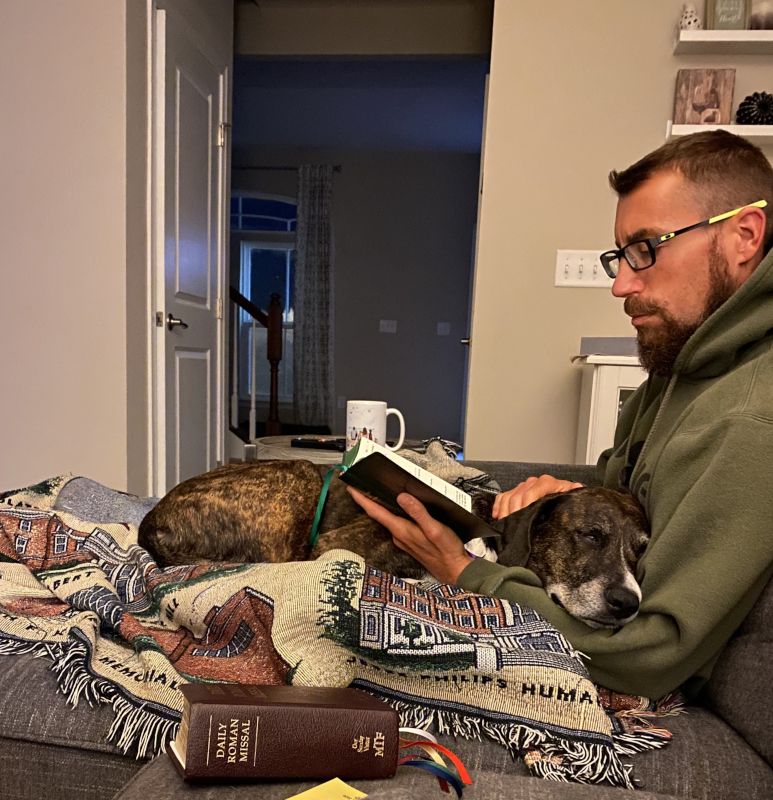 9 / 12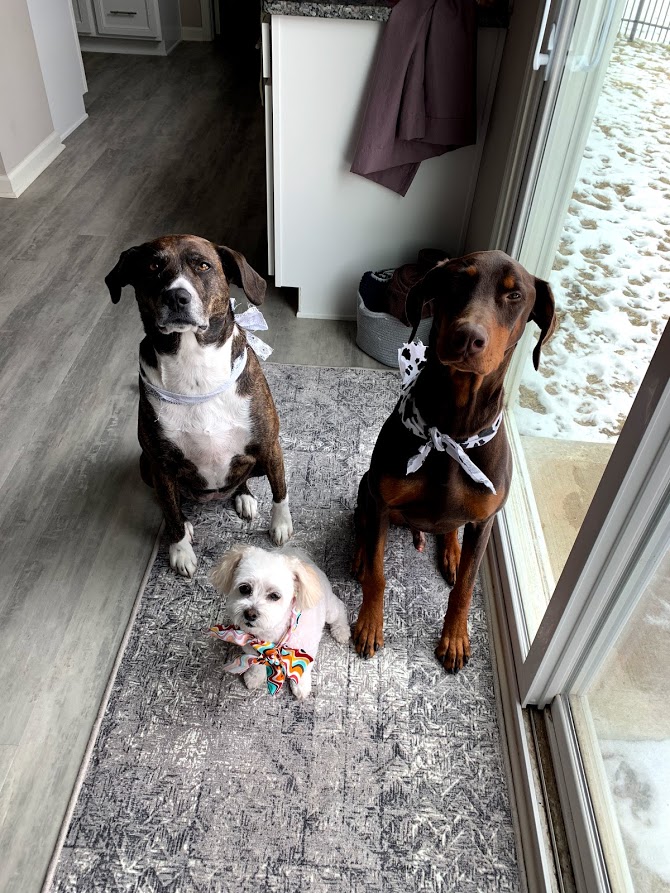 10 / 12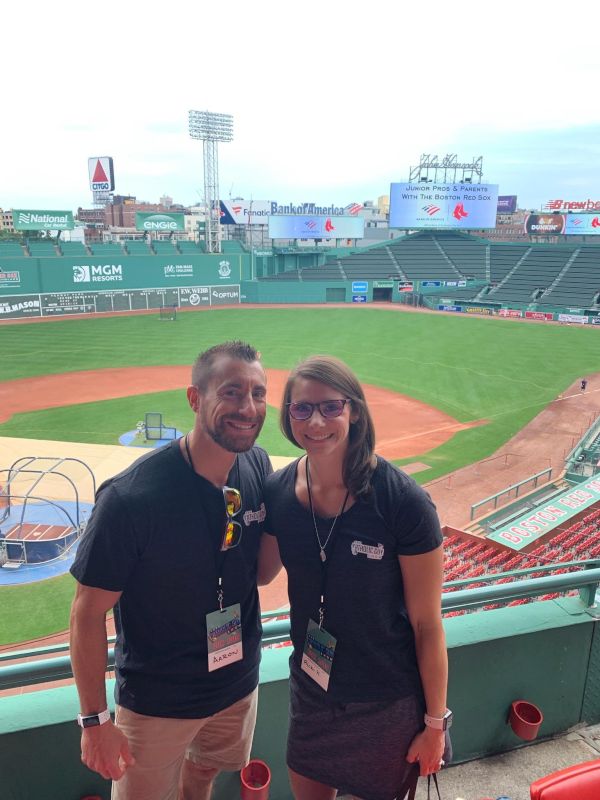 11 / 12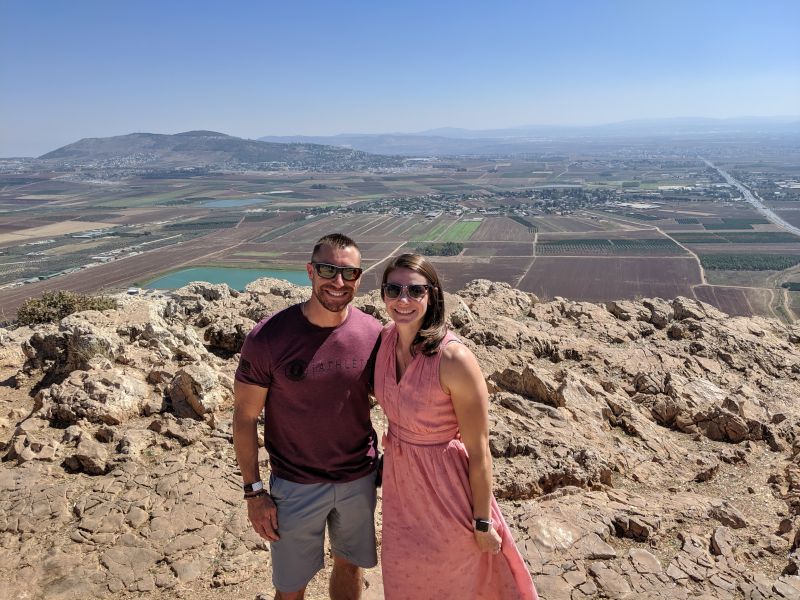 12 / 12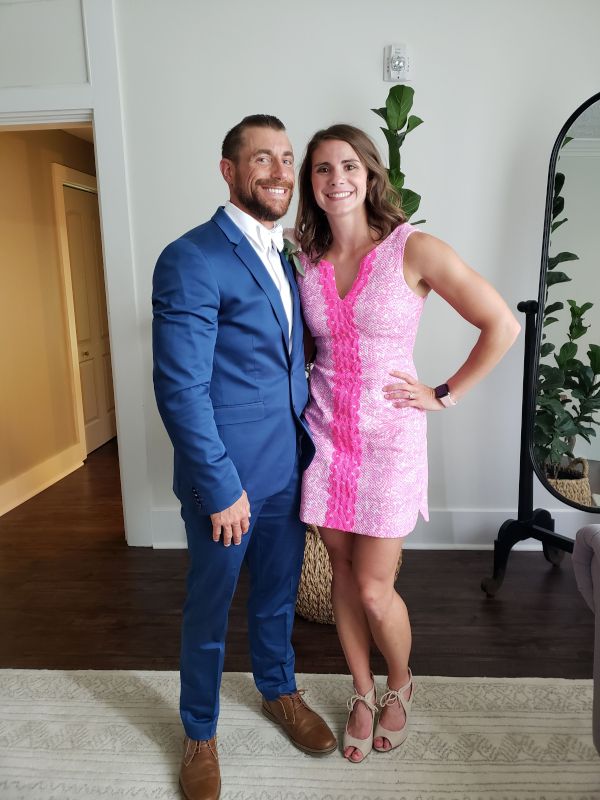 ❮
❯
Our House and Neighborhood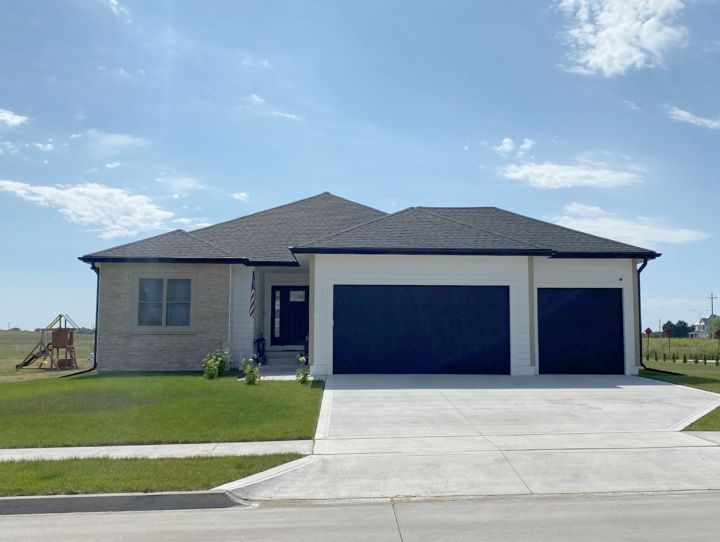 We live in a large, diverse and vibrant neighborhood, in a growing community. We have a variety of families in different phases of life-- some with infants and toddlers and others with middle-school and/or high-school age children, so there are definitely lots of children around that a child would be able to grow up with!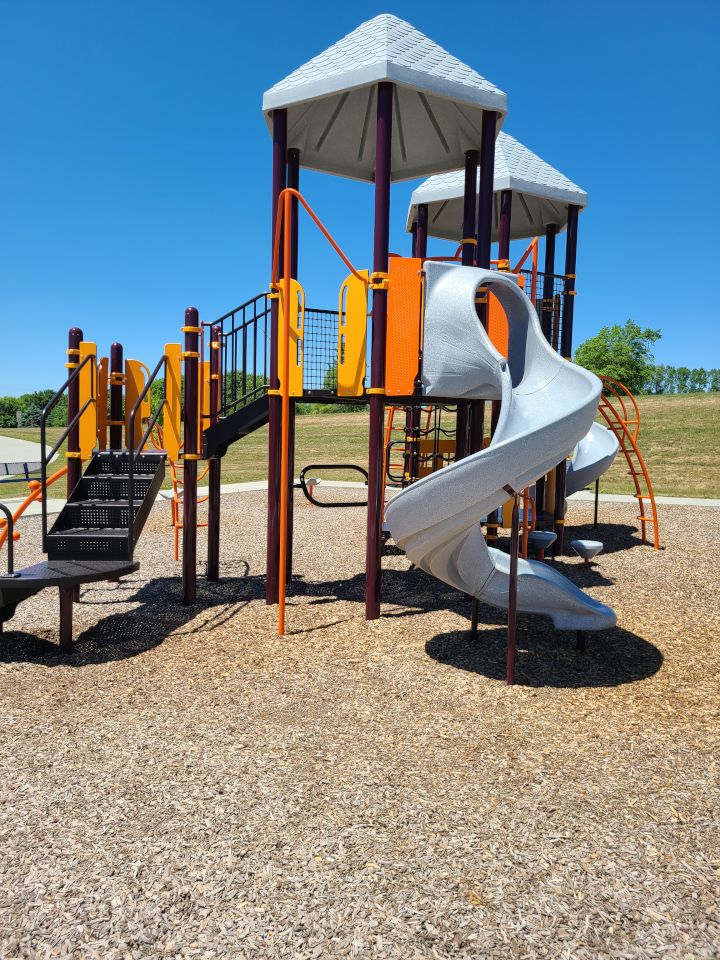 Our part of the neighborhood is newly developed but is connected to a couple other larger neighborhoods and is still growing. We feel especially lucky that our backyard looks out over a farm field, giving us the right amount of privacy in a suburban neighborhood. We are very close to almost everything a family could need, including a very large park just down the road, complete with a playground, disc golf, and huge biking, running, and walking trails. We are also not far from a very large lake, where we can spend time together at the beach, rent paddle boats, or even go fishing!
We have really great neighbors who are always including us in fun events with their children, including camping trips, grilling out, and campfires!
We live in a five-bedroom ranch home, with a fully finished basement where we love to entertain friends and watch movies. We have a fenced in year with a great covered deck to sit outside and enjoy the nice weather, grill out and play with our three dogs. When it gets cooler outside, we love to snuggle inside by the fireplace in our family room.
Our Extended Families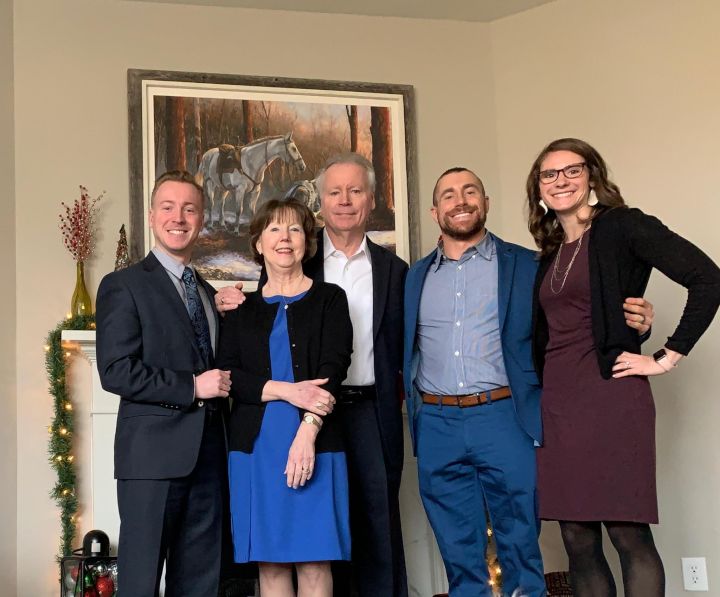 We have pretty large families, Aaron with two brothers and Ricki with one sister. Ricki also has two step-brothers and one step-sister. In total, we have nine nieces and nephews that we love getting to spend time with. Both of our parents come from large families as well, so we have many aunts and uncles that live across the country, and too many cousins to count! We enjoy every opportunity to get together with both of our extended families whenever possible.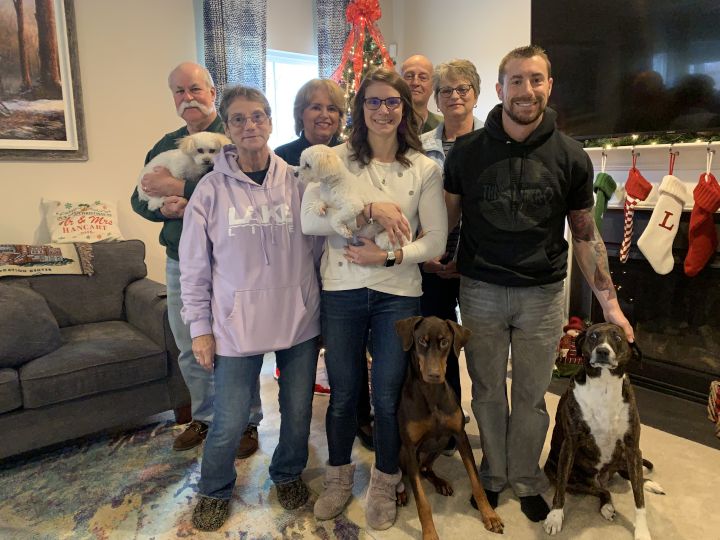 Both of our families live in different states right now, but we take every opportunity to visit with them, whether it's over the holidays, celebrating birthdays, or planning a special outing to do together, like the annual baseball trip that Aaron and his dad, uncle, best friend, and brothers all go on together. When Ricki's family visits, we love to play cards, dominoes, and lots of lawn games. Ricki's parents love to camp and we are lucky to occasionally visit with them at their campsites.
Both of our families are so excited for our family to grow through the adoption of a child and are looking forward to sharing all the love and support they have with all of us!
From Us to You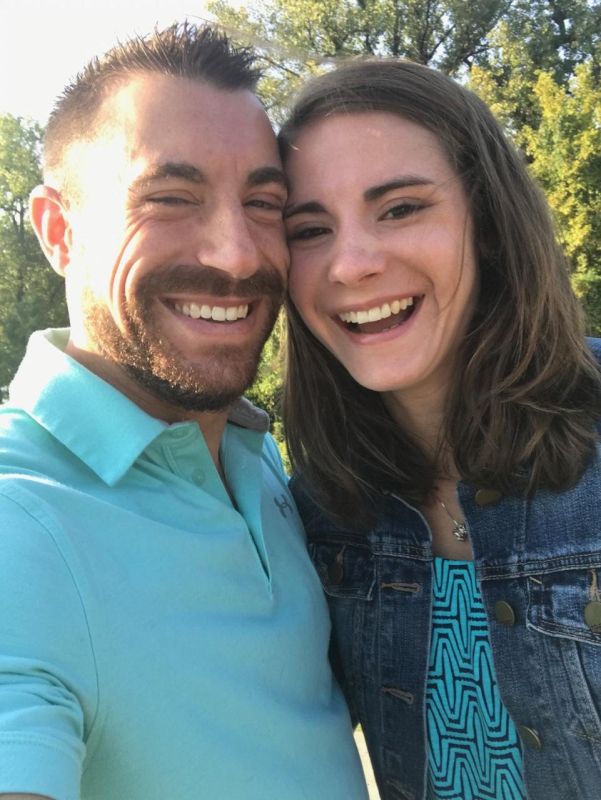 Our names are Aaron and Ricki. Thank you so much for giving us the opportunity to share who we are and for taking the time to consider our family. We really admire you for choosing life and considering adoption.
We know this is a confusing and difficult time for you while you are trying to figure out the best option for you and your precious baby. We want you to feel supported and loved no matter where you are at in this journey, and that in the end you are proud of the choices you're making, whether that involves us or not.
We met almost 8 years ago through mutual friends we had made at a Crossfit gym. We immediately hit it off, bonding over our mutual love for fitness, dogs, and baseball, to name a few. We got married almost five years ago, and it has been one of God's greatest blessings. We are each other's best friend, biggest fan, and source of comfort. We have had our fair share of trials and tribulations in life, but truly believe that God knew what he was doing when He put us together.
It wasn't long after we were married that we started to try to grow our family. We both had always known we wanted to be parents, but after three years of trying with no results, seeing different doctors, having several tests done, taking different medications, and even one surgery, we still had unexplained infertility. It wasn't until we met a couple at our church that shared their adoption journey for their two children, that we started to have some hope again for our dream of being parents. We spent a lot of time in prayer, asking God if this was the plan He had in mind for us. When we sat down together, we both felt like this was placed on our heart and was the path we were meant to walk.
Ricki's parents divorced when she was just three years old, and unfortunately contact with her birth father stopped after that. Growing up without any kind of relationship with him was really hard for her. There are a lot of unexplained things and unanswered questions for her. This life experience is one of the main reasons when we talked about adoption, we both agreed that we wanted to make sure that not only would you receive letters and pictures, but we want the child to know who you are, your story, and give them the chance to talk and get to know you if they want. We don't want them to feel like there is a part of them that is missing or unexplained, but rather feel extra love from all of us.
Ricki currently works from home, while Aaron has a quick twenty-minute commute to work each day, but both have very flexible schedules. Aaron's office actually offers on-site childcare, so we feel like we have some great options for your child that allow for us to be with them as much as possible. We currently live in a great area with nationally recognized school systems and are so close to a lot of fun activities, including the children's museum, the zoo, and a splash park! We also live minutes from a great playground, park, biking, running, and walking trail. Our neighborhood has so many great families with children that we just know your child would be thrilled to grow up with.
When it comes down to it, we have been dreaming about having a child for so long and we just want to raise them to a be loving, generous, forgiving, kind, and humble human being. One that loves to learn, play sports, paint, draw, play a musical instrument, whatever their heart desires! We want to see and experience life through their eyes and help them accomplish whatever dreams or goals they may have. We have so much love to share and would be honored to share that love with you and your child.
Aaron & Ricki
Favorites
Actress
Scarlett Johansson
Author
Scott Hahn
Scott Hahn
Book
The Fourth Cup
Bram Stoker's Dracula
Candy Bar
Butterfinger
Reese's Cups
Childhood Memory
Baseball Games
Boat rides & other lake activities
Childhood Toy
Stuffed animals
Children's Book
Where the Wild Things Are
Classic Movie
Field of Dreams
Caddyshack
Day of Week
Saturday
FriYAY!
Dessert
Black Raspberry Chip Ice Cream
Cupcakes
Disney Movie
The Lion King
The Great Mouse Detective
Dream Job
Professional Golfer
Travel Show Host
Family Activity
Cookouts
Hiking
Form of Exercise
CrossFit
Running
Hobby
Working Out/Running
Reading
Holiday
Christmas
Christmas
Holiday Song
Last Christmas by Wham!
Silent Night
Holiday Tradition
Watching Christmas Vacation on Christmas Eve with entire family
Christmas Movies
Ice Cream
Black Raspberry Chip
Black Raspberry Chocoloate Chip
Leisure Activity
Netflix
Watching netflix
Memory with Spouse
Wedding
Our wedding!
Movie
The Other Guys
Forrest Gump
Movie Munchie
Popcorn
Popcorn
Movie Quote
"I'm a peacock! You gotta let me fly!"
Movie Type
Action/Comedy
Drama
Nursery Rhyme
Mary had a little lamb
Personal Hero
Jesus Christ
Quality about my Spouse
She is Intelligent and Quick Witted
His Dedication
Quote
"Do whatever he tells you." - Mother Mary in John 2:5
Restaurant
Local Pizza place
Sandwich
Chicken Schwarma Wrap
BLT
Scripture
"I believe the sufferings of this life are nothing compared with the glory that is to be revealed to us." Romans 8:18
Romans 5: 3-4
Sport to Watch
Football
Baseball
Sports Team
Green Bay Packers
Thing to Cook
All baking is my favorite
Tradition
Cooking/Baking Thanksgiving dinner while watching football with the whole family
Sunday family dinner