1-800-ADOPTION
Thank you for viewing our profile
If you would like to learn more about us, please call 1-800-ADOPTION (2367846), fill out the form at the bottom of our on-line profile page, or email us at bp_information@americanadoptions.com.
To revisit our on-line profile page and view our profile video at American Adoptions, simply use your mobile phone to scan the QR code on the right. We are looking forward to hearing from you!
Josh & Michelle
Hello and thank you for taking the time to get to know us! We are excited to be on this journey of growing our family through adoption. We are an energetic and social couple, dedicated to sharing our life experiences, laughter and love. We truly appreciate this opportunity and your consideration.
About Us
Job
Director of Account Services
Customer Care Specialist at a Veterinarian Clinic
Education
Bachelor's Degree in Art History
Some College - General Education Courses
Relationship
Legally Married
What It Means to Become Parents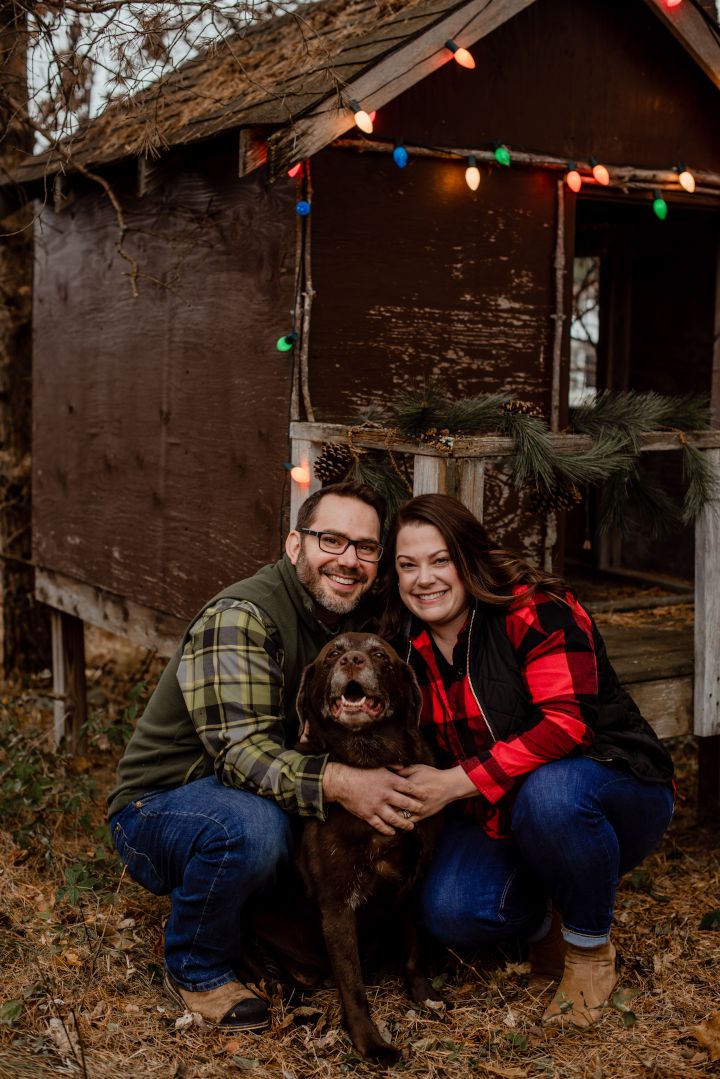 We are overjoyed with the notion of becoming mom and dad. We look forward to experiencing all the facets of life with this child and to provide guidance through the ups and downs.
We want to share all the things we love with this child. Josh can't wait to play outside, throwing a ball and building a tree fort in our woods. Michelle is excited to share her favorite pastimes, like decorating Easter eggs, playing the piano and reading stories before bed every night.
Through love and guidance, our hope for this child is to grow into a well-rounded individual, who is confident, hardworking, compassionate and respectful of others.
What Made Us Who We Are Today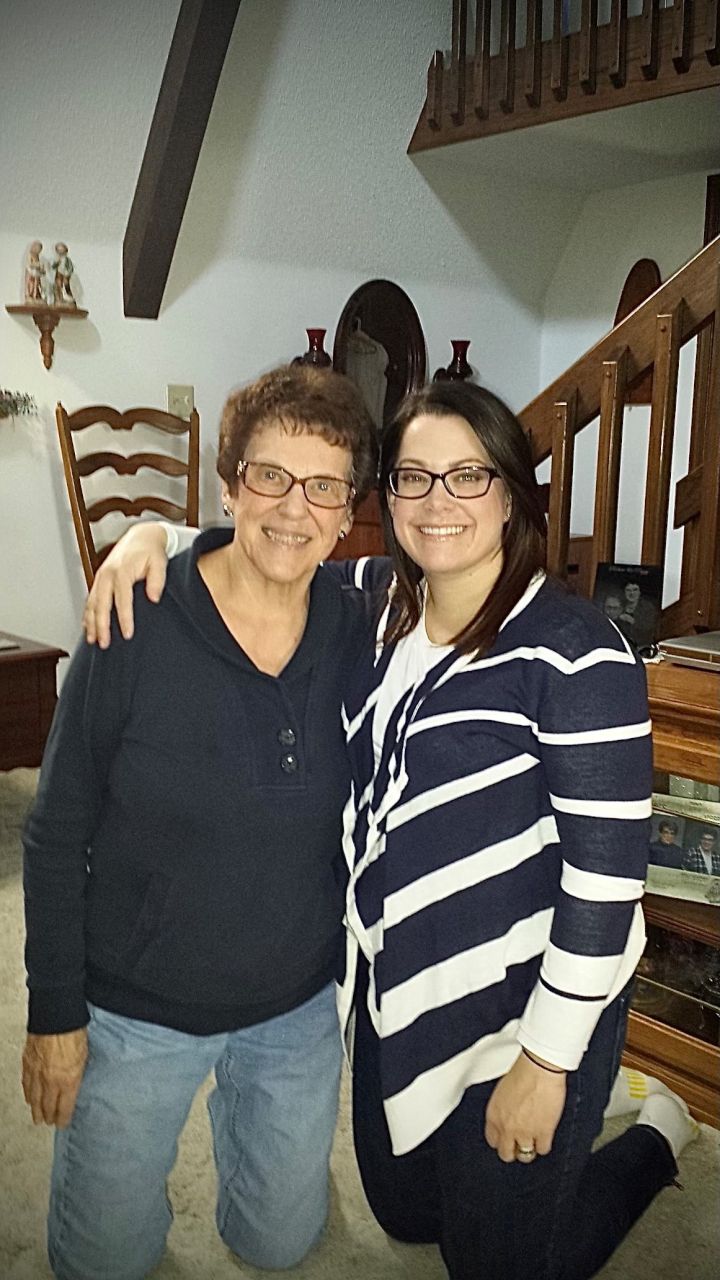 We were raised with similar family principles. We learned from and are very close to many family members, but each of us has one that stands out in molding us into who we are today.
Michelle is extremely close with her grandmother, who she spent summers with learning how to play the piano and performing shows at local nursing homes. Her grandmother has also played a key role in Michelle's faith walk, which they continue to discuss and grow in today. Their time spent together has taught Michelle to be compassionate and selfless, always putting others first.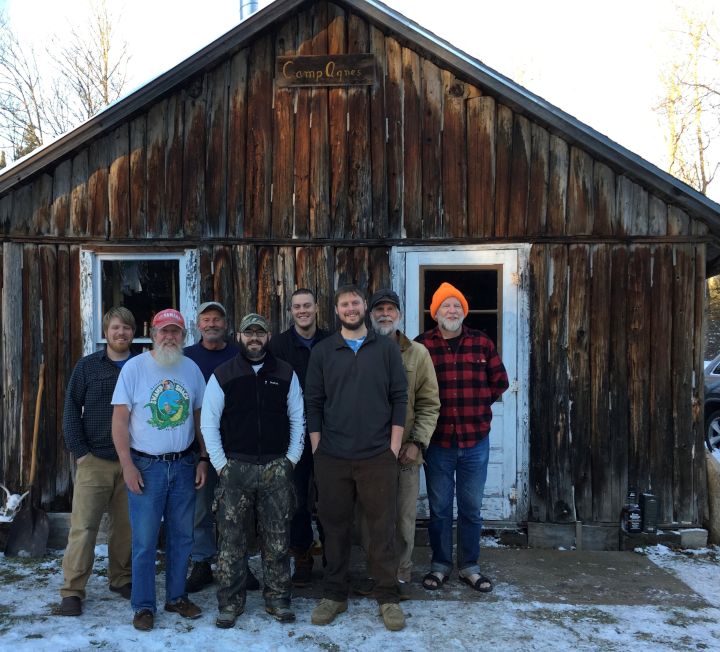 Josh had a very special bond with his grandfather. Over the years when spending time with grandpa, Josh noticed his dedication to family, work and faith. As the years passed, Josh made sure to always stay connected with his grandfather and chat about everything under the sun - the good, the bad and the ugly. Looking back, it was through these interactions that shaped Josh into someone who has a playful and energetic view of life, focused on family, faith and a strong work ethic.
We are excited to pass along these experiences and traits to our child.
We Welcome an Open Adoption
You hold a special place in our hearts and through this child, we are excited to share a connection with you. We have numerous families in our life that were blessed by adoption and have shared with us the positive experiences of an open relationship. Because of this, we are excited for the opportunity to have an open adoption relationship with you. We look forward to sharing letters, e-mails, phone calls and planning future visits. We can't wait to tell a child all about the day they were born and how strong and brave their birth mom is. When they are old enough to understand, we plan on telling him or her that they are adopted and what that means. They will grow up knowing how special that makes them and what a blessing they are.
Photos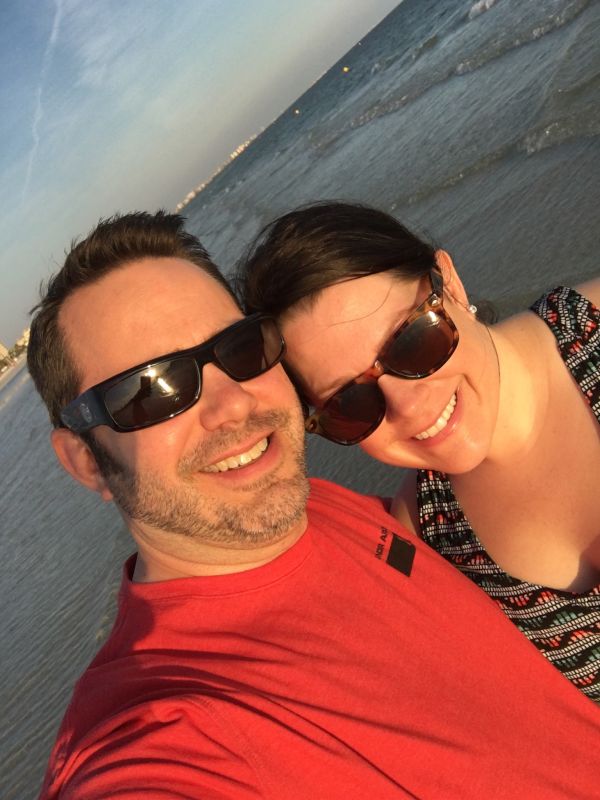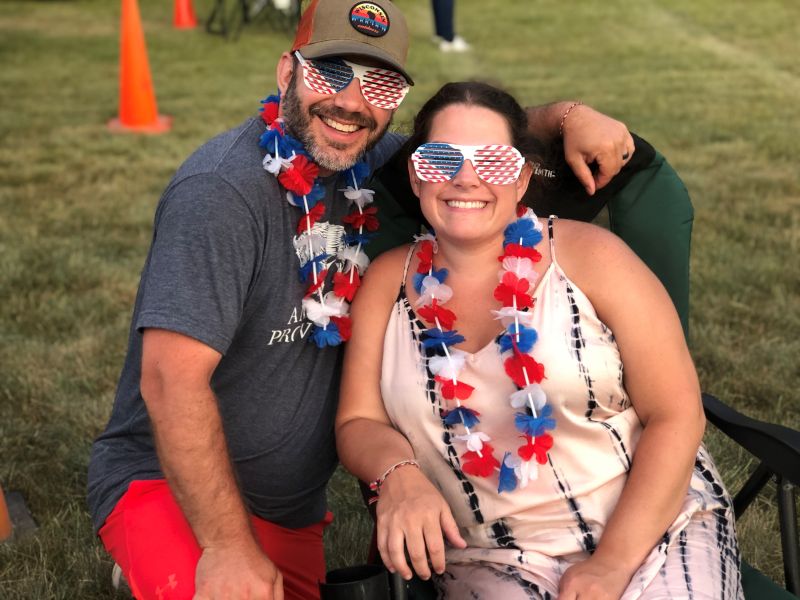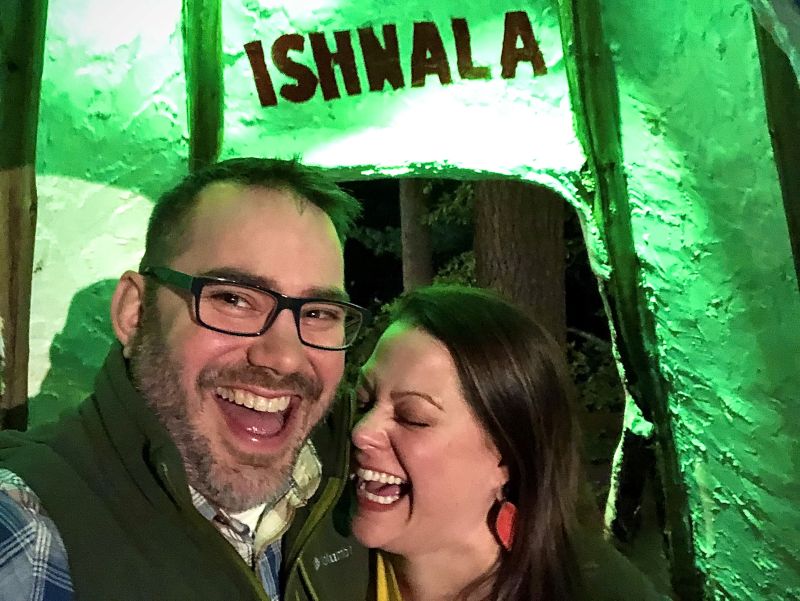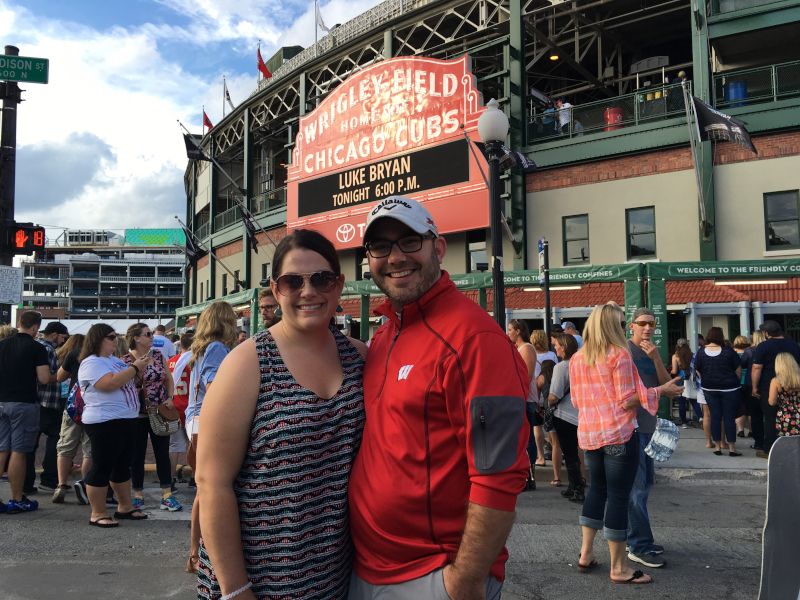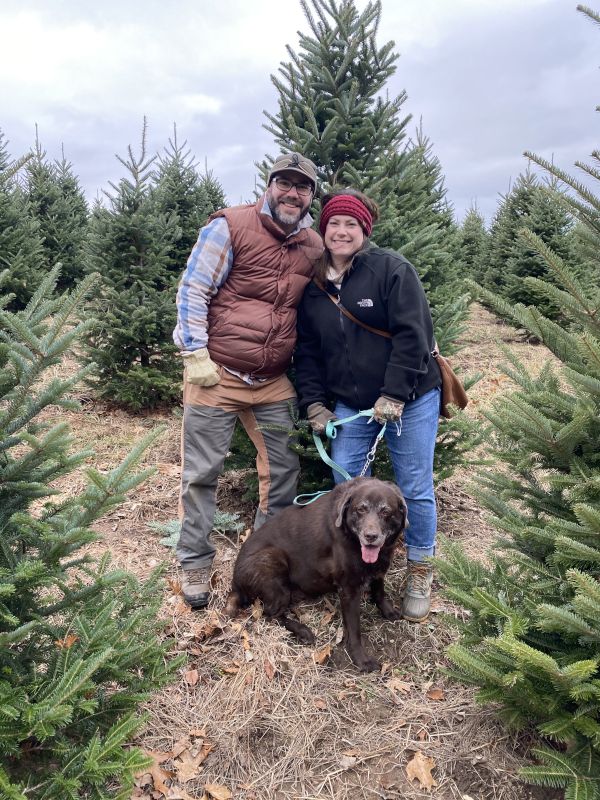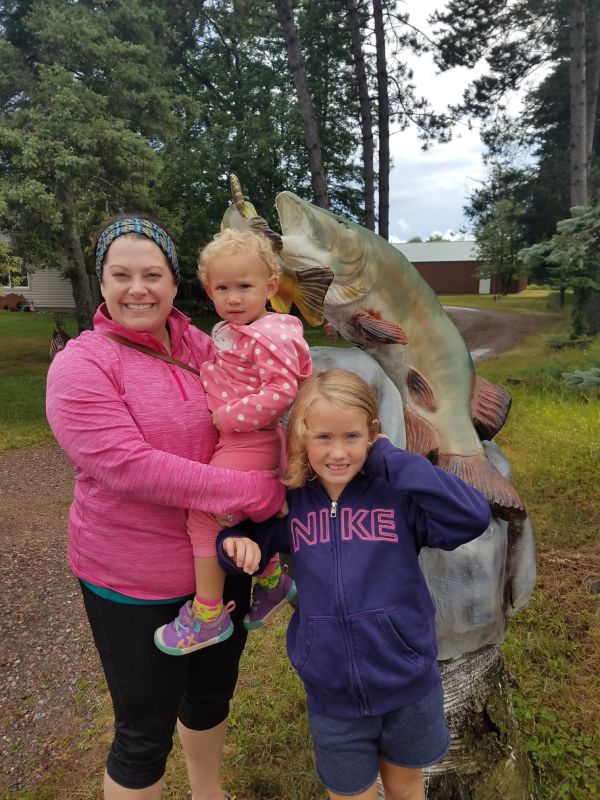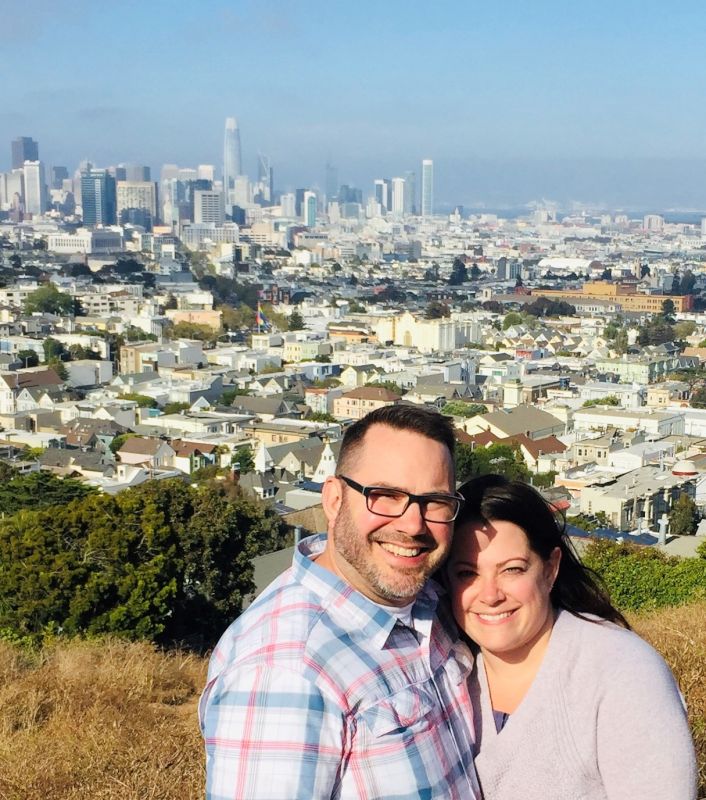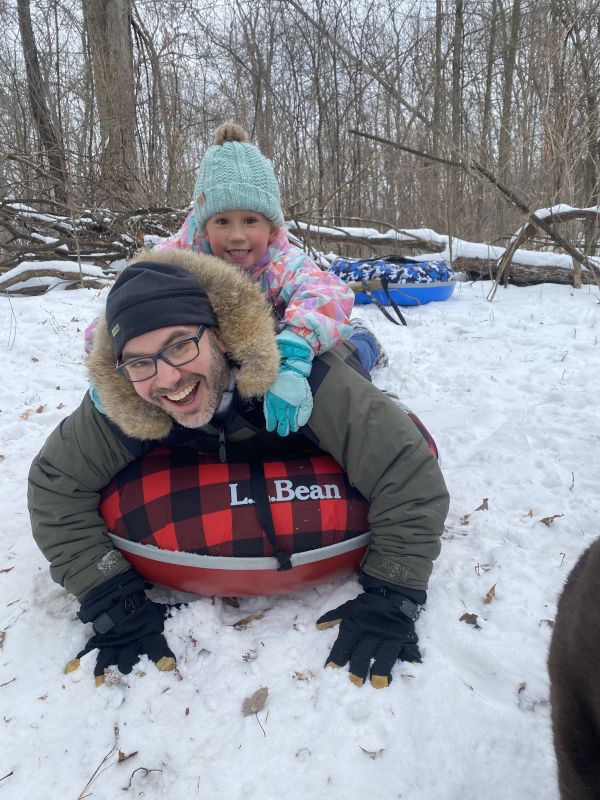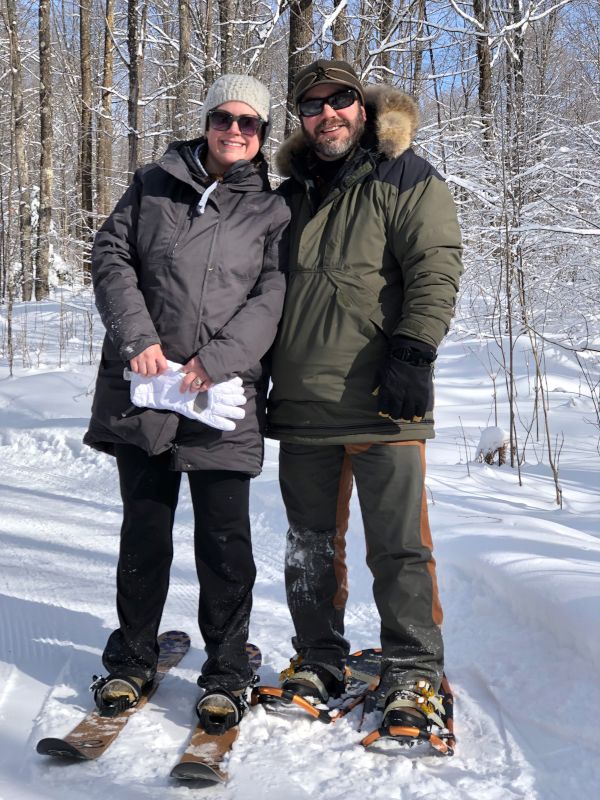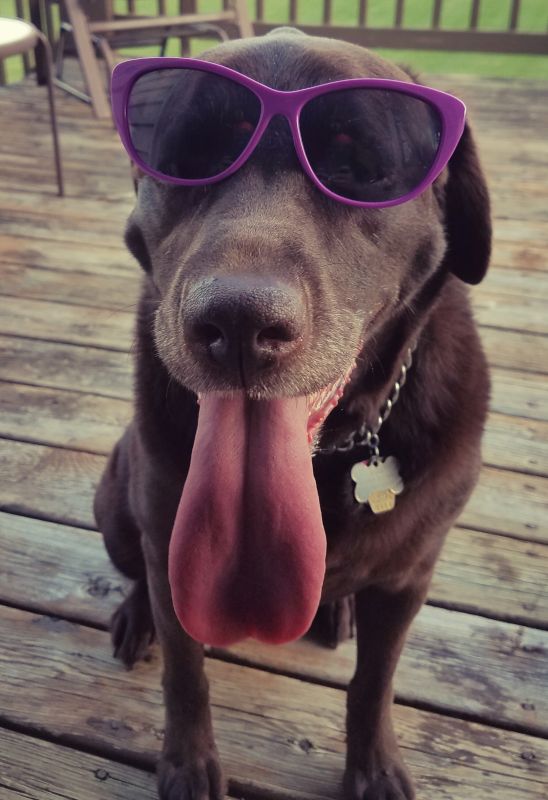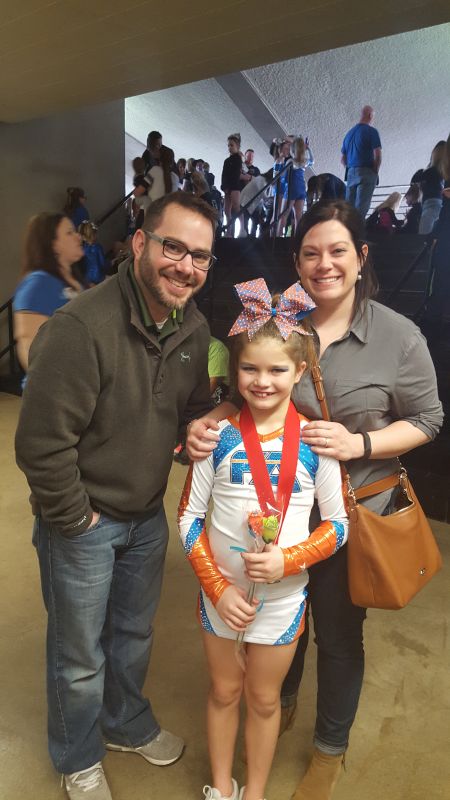 ×
1 / 12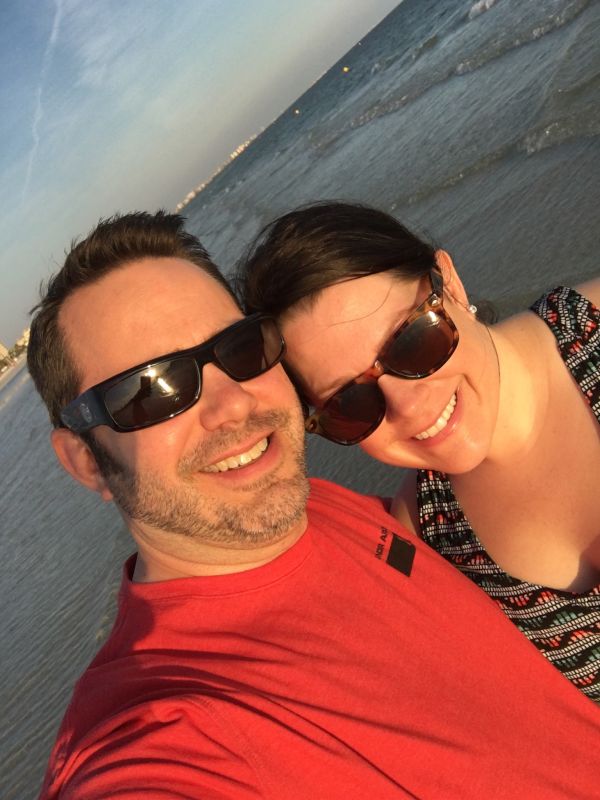 2 / 12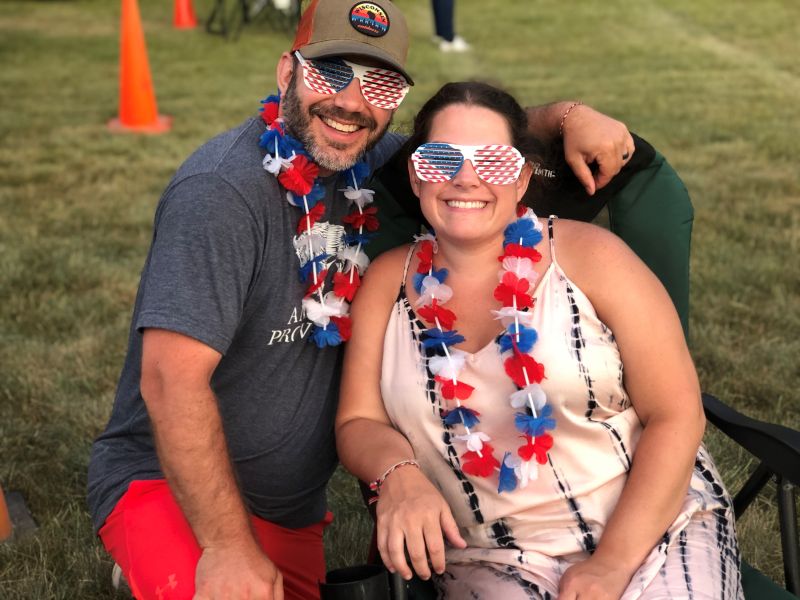 3 / 12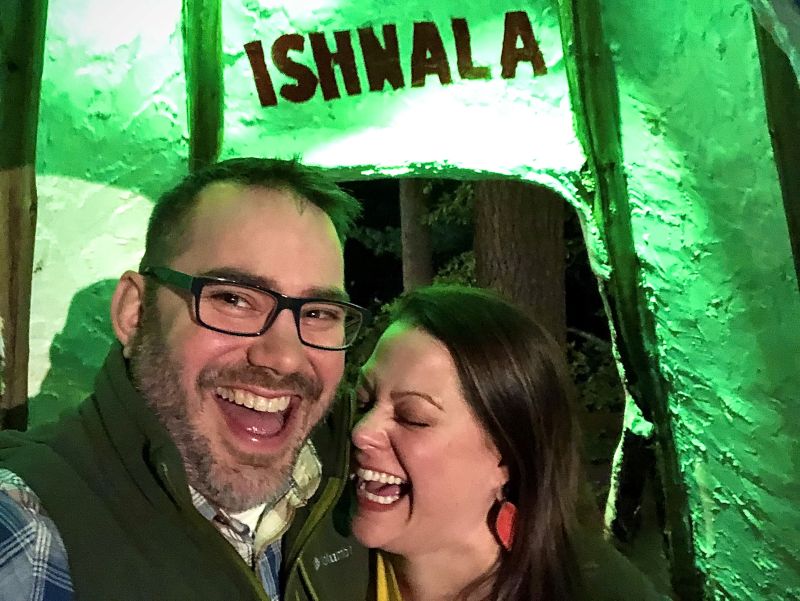 4 / 12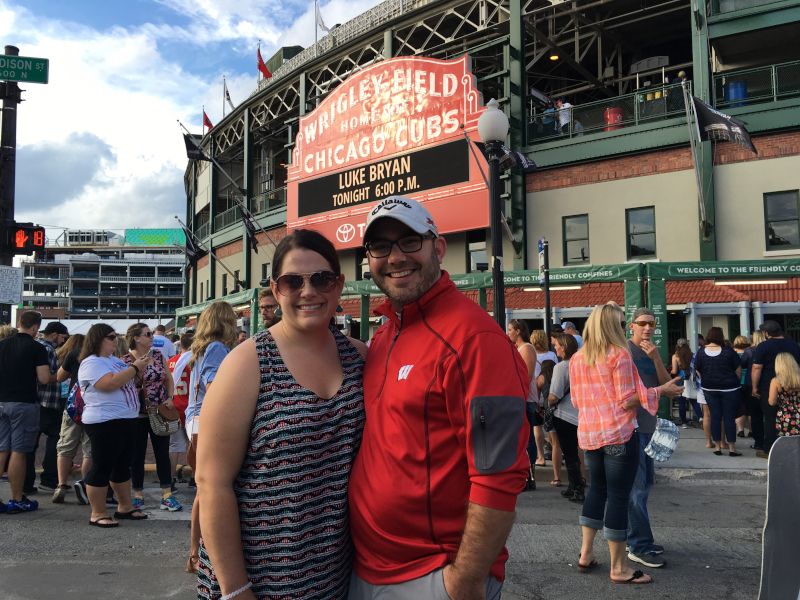 5 / 12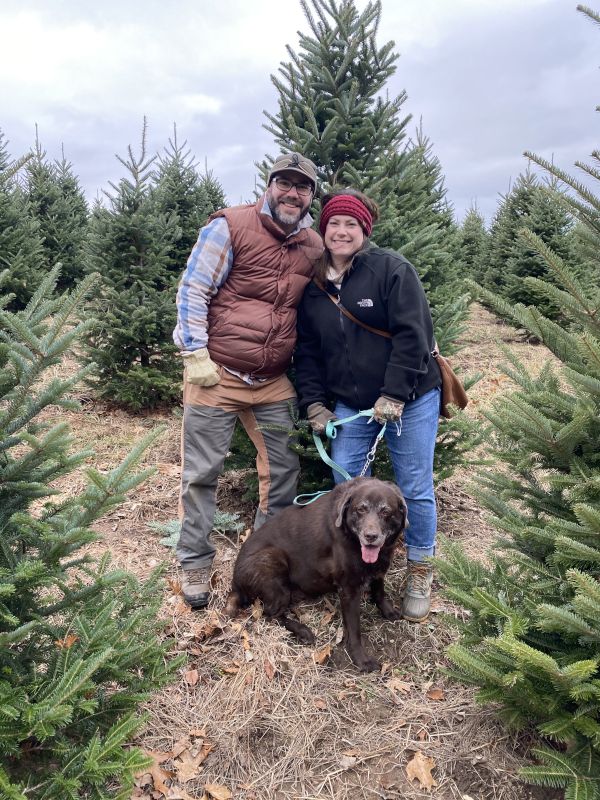 6 / 12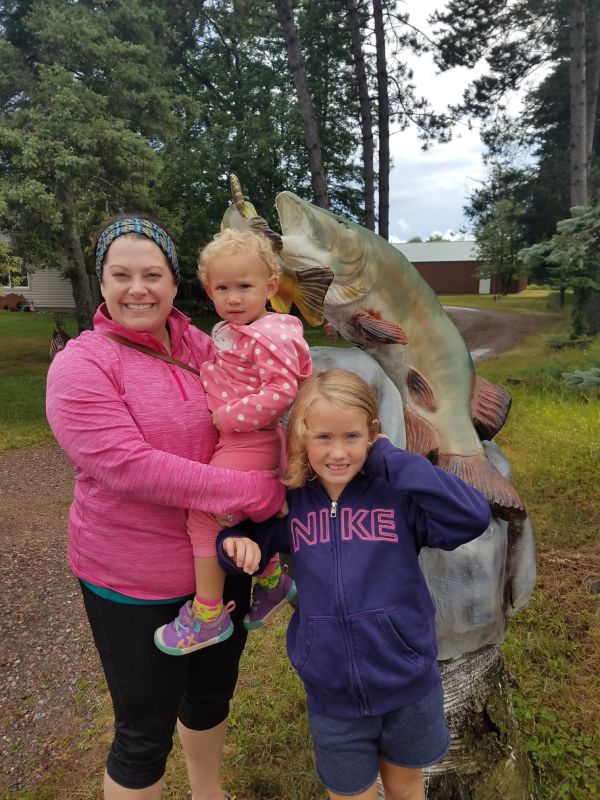 7 / 12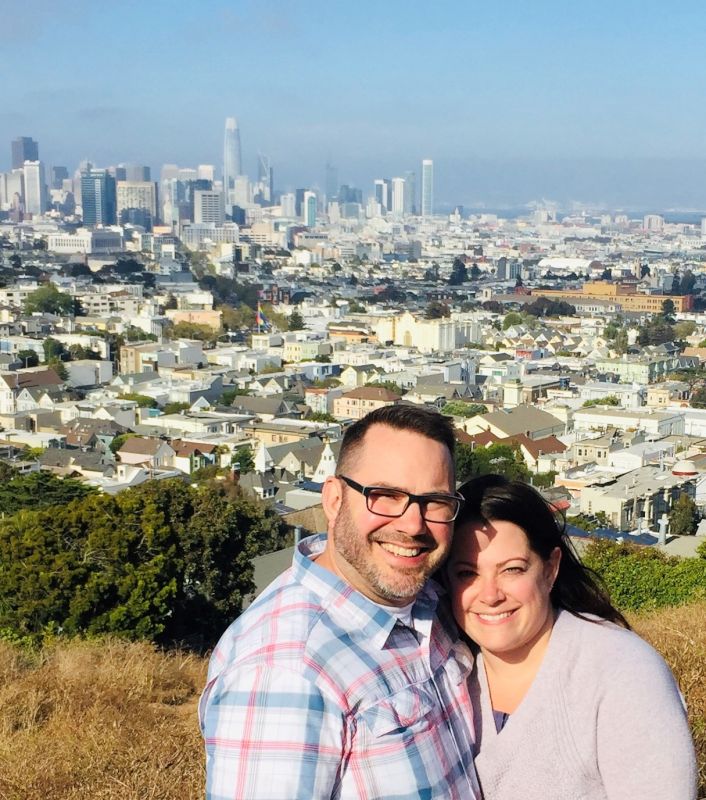 8 / 12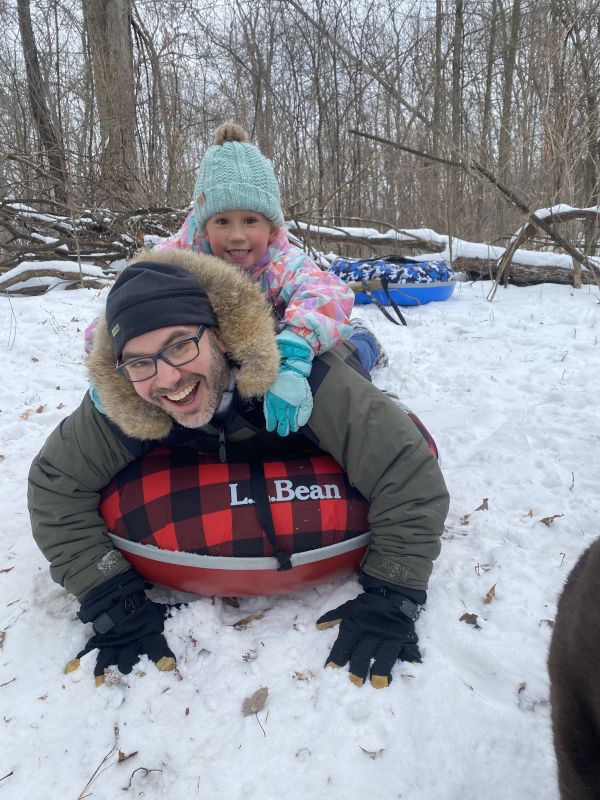 9 / 12
10 / 12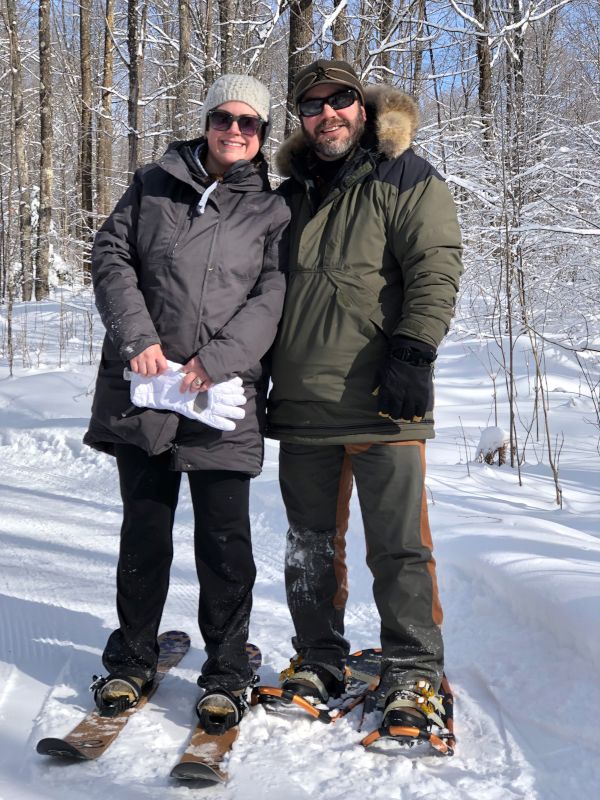 11 / 12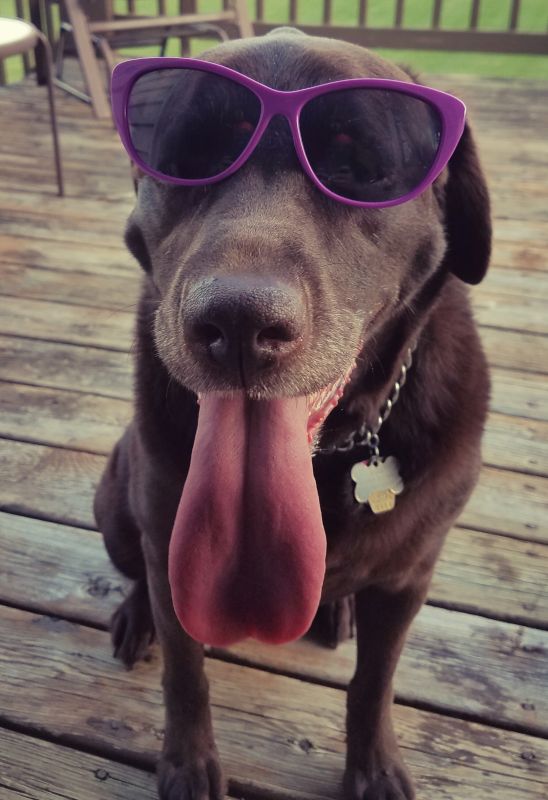 12 / 12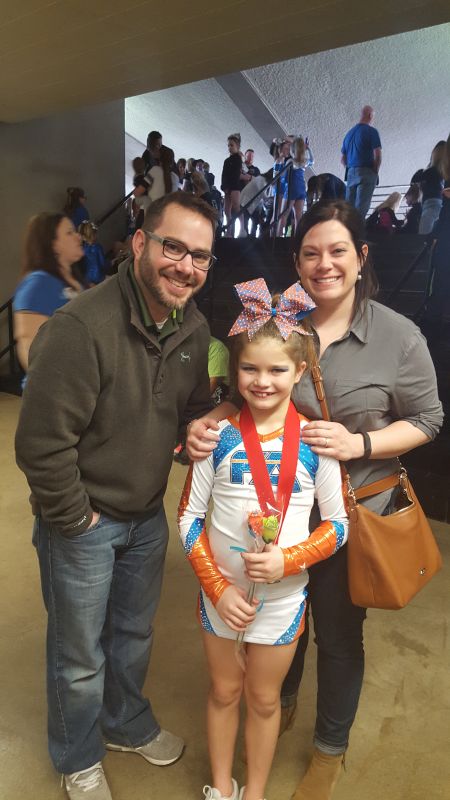 ❮
❯
Our House and Neighborhood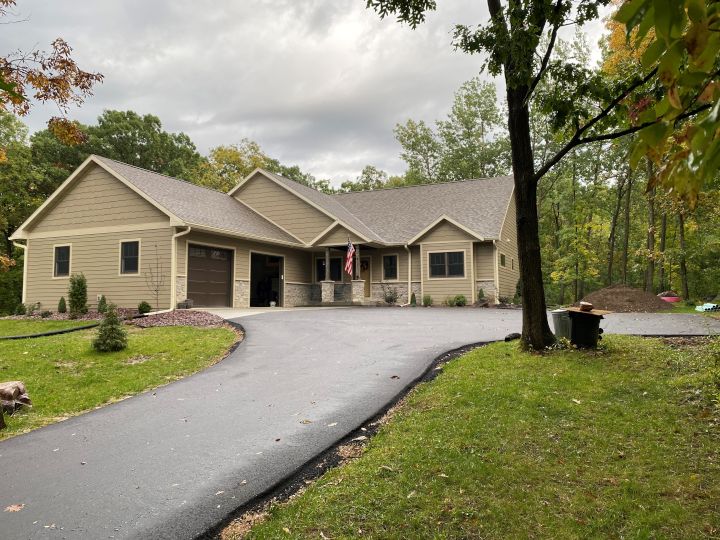 Our community is very family oriented and offers a variety of fun activities. There are a multitude of parks, a community zoo, an outdoor swimming pool and a new splash pad is also in the works. It recently added an awesome children's museum that has quickly become a hot spot for all the local little's.
During the summer, we enjoy visiting the circus in town, which is very close to our house! There is also a beautiful state park five miles from us that offers great hiking, swimming and beautiful panoramic views. Our downtown area is loaded with places to eat, coffee shops, live music and holds various farmers markets and fairs. The local apple orchard is our go to spot for the best caramel apples ever!
The winter months offer beautiful snow shoeing trails, ice skating and sledding hills. Josh has even made a snow tubing hill in our backyard/woods that the nieces and nephews look forward to every year. One of our favorite traditions is to bundle up and enjoy some hot cocoa, while attending the annual Holly Jolly Light Parade around the Downtown Square.
Two years ago, we were blessed to be able to build our dream home. It's tucked away on five acres, surrounded by peaceful woods and wildlife. We built our home with the hope of it being a gathering place for our family and friends, and for it to be filled with laughter, comfort and memories.
Our Extended Families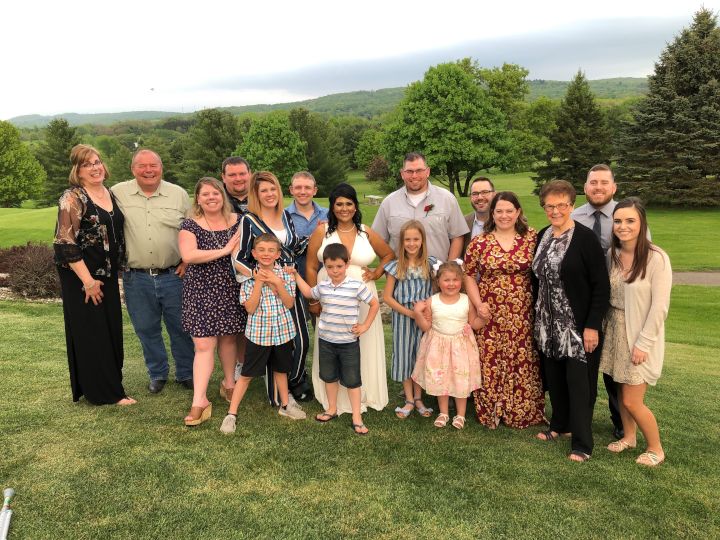 We are very lucky to have all our family living close by. Between the two of us we have seven siblings and nine nieces and nephews, plus another on the way, who can't wait to meet their new baby cousin.
We enjoy spending time with family at the lake to boat, swim, fish and have a cookout.
Josh, his brothers and dad look forward to going up North to deer camp for hunting season. They love the family camaraderie of uncles, cousins and friends at the "shanty" that his great grandfather built over 100 years ago.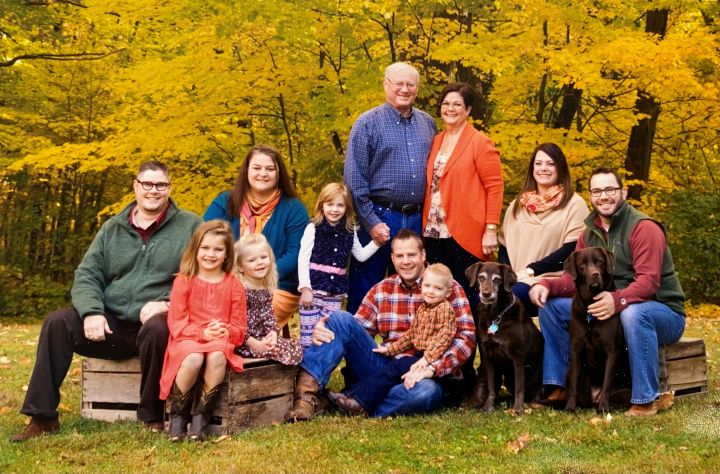 Michelle relishes the frequent opportunities to get together with good friends, family and their kids to play games, work on art projects and make up silly songs.
Our favorite memories are always centered around our family, whether it be last minute get-togethers, special occasions or our favorite, holiday traditions.
We are so thankful for a very supportive family during our adoption experience. They have been by our sides throughout the entire process, learning right along with us. This child will have no lack of love and acceptance into our family.
From Us to You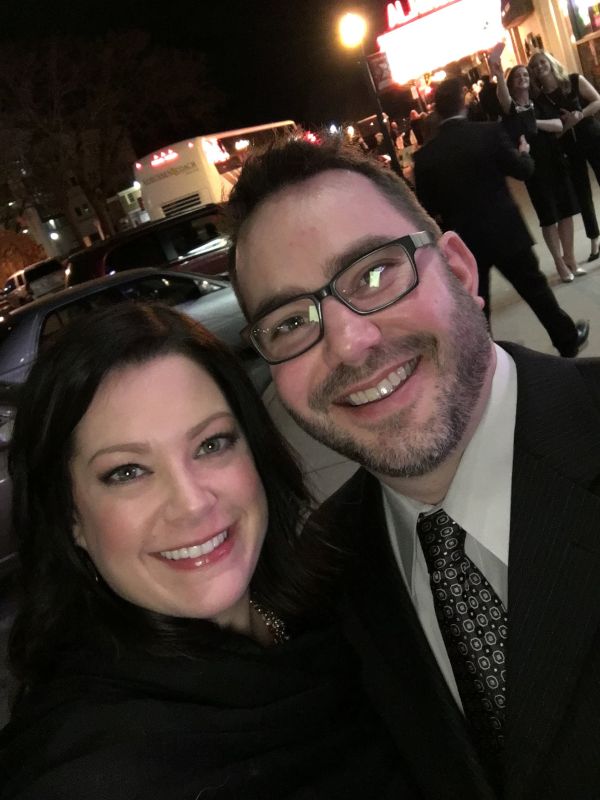 How do you write to someone who you haven't met yet, but already feel an overwhelming sense of connection and love for? It begins with letting you know that you are so important to us. You are giving us a gift and opportunity that we are unable to achieve on our own... YOU are making us parents! Thank you doesn't even scratch the surface of our gratitude. We have longed for a child to join our family and after being together for over 13 years and married for 10 we thought that life may just be us and our sweet dog. We were learning how to be okay with this; however, God put it on our hearts to prepare for adoption. We knew immediately after starting the adoption process this is how we were intended to grow our family. We recognize that this is a very difficult and emotional time for you. We want you to know that we are here to support you through it all. You are the bravest woman we know and are making the most selfless decision for the well being of your child.
We have prayed for you nightly. We've prayed for your health, safety and comfort and for you to know that this is going to be okay. We can't wait to get to know you better and share with you all of the special moments of this child's life. They will learn about their adoption from the beginning and we know they will have questions as they get older, but we intend to share everything. We can't wait to take them back to where they were born to connect them to their roots. We would love the opportunity to stay in touch with you and are wide open to discussions about future visits. We can't wait to send you pictures and letters throughout the years of where they are growing up, what their favorite toys are and all the new friends they're making. We want to be the kind of parents who encourage their children continuously, love them unconditionally and give them as many opportunities as possible.
We can't promise that we will be perfect, we'll make mistakes. But, we do promise that we will always work through every situation in the best interest of our family. We will be no different than any other parents who are learning what works and what doesn't in their home. We will raise this child to the best of our abilities. We have learned through this process that family isn't just built from blood, it's from love and you will forever be part of our family.
Our world is about to change. There will be sleepless nights, loads of dirty diapers, scraped knees and arguments over eating broccoli. We will relish in every moment remembering you and the ultimate sacrifice you made for your child. We are so thankful you have taken the time to get to know us and we look forward to many conversations and memories to come in the future!
Love,
Josh & Michelle
Favorites
Actor
Morgan Freeman
Mark Wahlberg
Actress
Julia Roberts
Katherine Heigl
Author
James Patterson
I read too many, I can't pick just one!
Book
DaVinci Code
The Great Alone
Childhood Memory
Summers at the cottage
Making a pretend circus with siblings
Childhood Toy
Lincoln Logs
Barbie
Children's Book
Cat in the Hat
Goodnight Moon
City
Denver
Boulder Junction
Classic Movie
It's a Wonderful life
A Christmas Story
Dessert
Creme Brulee
French Silk Pie
Disney Movie
Swiss Family Robinson
Lady and the Tramp
Dream Car
International Scout
Red Convertible
Dream Job
Bed and Breakfast owner
Stay at home Mom
Dream Vacation
Alaska
Hawaii
Family Activity
Camping
Camping
Flower / Plant
Wild Flowers
Sunflowers
Form of Exercise
Hiking
Walking
Fruit
Oranges
Frozen Grapes
Holiday Song
White Chrismtas
Silent Night
Holiday Tradition
Cutting down the Christmas Tree
Sleeping by the lit Christmas tree
Ice Cream
Vanilla, so Kona (dog) can lick the bowl
Mint Chocolate Chip
Junk Food
Dots Pretzels
Flavor Blasted Goldfish
Leisure Activity
Fishing
Watching a Movie
Magazine
Cabelas
Magnolia Journal
Memory with a Child
Teaching my nieces and nephews how to water ski
Being at my Nieces birth
Memory with Spouse
Moving into our first home together
Wedding
Movie
National Lampoons Christmas Vacation
Hocus Pocus
Movie Munchie
Popcorn
Buttered Popcorn
Movie Quote
"I feel the need...the need for speed"
"Why is the carpet all wet Todd, I don't know Margo"
Movie Type
Action
Romatic Comedy
Musical Group
Harry Connick Jr.
Little Big Town
Nursery Rhyme
Humpty Dumpty
Humpty Dumpty
Olympic Event
Down Hill Sking
Gymnastics
Personal Hero
Grandpa Bud
Dad
Play
A Christmas Carol
A Christmas Carol
Poet
Robert Frost
Shel Silverstein
Quality about my Spouse
Selfless
Dedicated
Quote
"Play like a champion today"
"Everything happens for a reason"
Restaurant
Ishnala Supper Club
Jimmy's Del Bar
Sandwich
Cuban
Turkey, avocado and pepperjack cheese
Scripture
Proverbs 3: 5-6
Philippians 4:6-7
Shopping Store
Cabelas
Hobby Lobby
Song
Changed by Jordan Feliz
Somewhere Over The Rainbow by Iz
Sport to Play
Baseball
Tennis
Sport to Watch
Baseball
Football
Sports Star
Robin Yount
Aaron Rodgers
Sports Team
Badgers
Badgers
Subject in School
Science
English
Superhero
Spiderman
Superman
Thing to Cook
Anything on the grill
Tacos
Time of Day
Morning
Evenings/Sunset
Tradition
Deer Camp
Summer up-north trip with our best friends
TV Show
The Last Alaskans
Greys Anatomy
TV Show Character
Leroy Jethro Gibbs
Joey from Friends
Type of Music
Country/Christian
Country/Christian
Vacation Spot
Fishing in Canada
Anywhere near a beach or lake
Video Game
Duck Hunt
Mario Kart