1-800-ADOPTION
Thank you for viewing our profile
If you would like to learn more about us, please call 1-800-ADOPTION (2367846), fill out the form at the bottom of our on-line profile page, or email us at bp_information@americanadoptions.com.
To revisit our on-line profile page and view our profile video at American Adoptions, simply use your mobile phone to scan the QR code on the right. We are looking forward to hearing from you!
Adam & Alysia
We feel lucky and grateful to you for checking out our profile. We understand that this decision does not come lightly. We hope that by viewing our profile you can get a greater understanding of the life we could give a child. We look forward to getting to know you and starting this new relationship together.
About Us
Job
Buyer
Salon Owner/Stylist
Education
High School
High School
Relationship
Legally Married
Adoption in Our Lives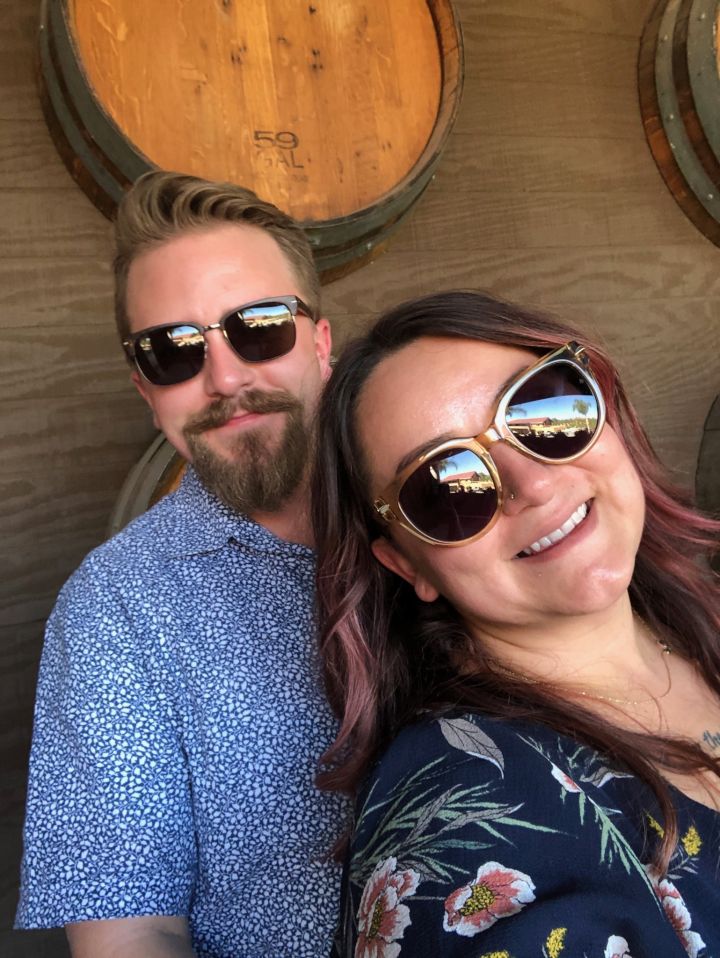 Alysia: Adoption has affected me personally in so many ways. When I was 5 years old I was placed to be eligible for adoption through the state. My three siblings and I were each placed separately into adoptive homes. We were so lucky to have adopted parents or guardians that kept us in communication. I grew up down the road from my oldest brother. We saw each other often and even went to rival high schools. My two other siblings and I had visits together all the time because our families believed that communicating with our biological family was important to our wellbeing and identity. I was adopted by a single mom and was able to have two additional brothers who were also adopted. With my three biological siblings, our adoption family tree has even extended into each other's families. We often spend time with each other's families and consider each other's families our own.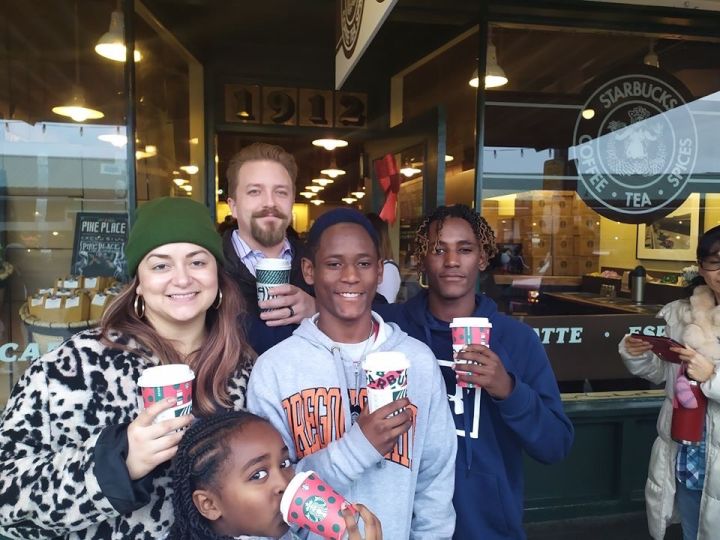 Adam: From the time I was born until the time I was around 13 my parents opened our home to foster care. We would take in kids from all ages and situations. I also have two adopted siblings and three adopted nephews and nieces. By being exposed to foster care and adoption at such a young age, I think it helped me develop empathy and open mindedness to humanity as a whole. I was able to have a broader view of what love / family is and not the narrow definition that so many experience.
Qualities We Love, Admire and Respect in Each Other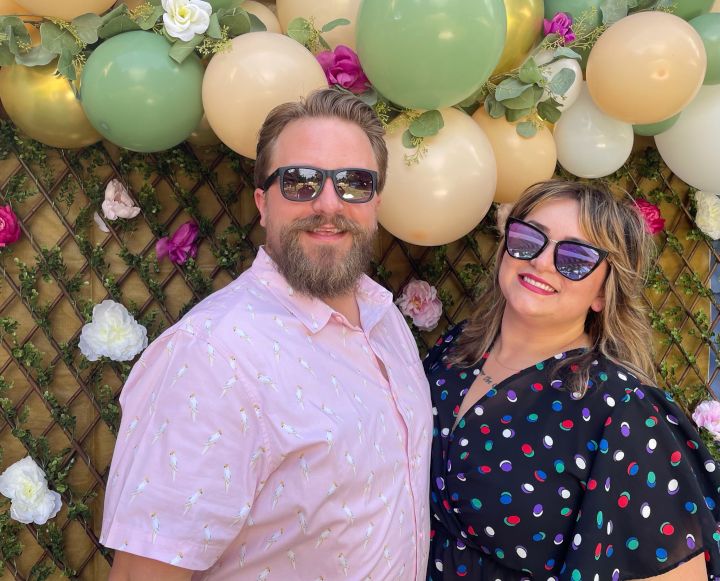 Alysia About Adam: Adam is one of the most genuine people you will meet. I admire his ability to walk into a room and be social and kind to anyone. I love that he can always be seen joking and singing even if it's right before bed. His cheesy jokes about his bobble head dog on his car dash is still one of the reasons I fell for him while we were on our first date. I respect his ability to get the things accomplished in life that he sets forth to do and in a timely manner. I've never known a more dedicated man to his family and job. I love that Adam puts so much thought and time into what kind of parent he wants to be. Adam's ability to acknowledge and empathize a person's circumstance is one of the many reasons I love this man so much.
Adam About Alysia: As Alysia already mentioned, the fact that she laughed at my dog bobble head joke was one of the reasons I instantly loved her. I never have believed in love a first sight, and maybe I still don't, but I came awful close to that with Alysia.
Alysia has one of the most caring and wonderful souls that you can ever meet. She is truly genuine and cares deeply about those she chooses to let in her life. She has an ability to connect to people on a deep level and can light up the room with her smile. Those closest to her know how special she is and we all strive to try and do what it takes to ensure she stays in our lives.
Cultural Diversity
We live in a very accepting and culturally diverse community allowing us to be exposed to different customs, foods, traditions, arts and social settings. We believe that people should be able to experience their culture in a safe manner while being supported by their community. We feel lucky to be a part of a community that is constantly lifting and showcasing different cultures through supportive events while showing respect. On the subject of adoption, we understand that providing access to one's culture is essential to a person's identity and self-esteem. We plan to learn as much as possible to expose our child to their families culture while integrating our own culture into their life. We enjoy travel and the cultural exposure that can come with it, and plan to expose the child to as much cultural diversity as possible allowing them to be accepting of everyone.
Photos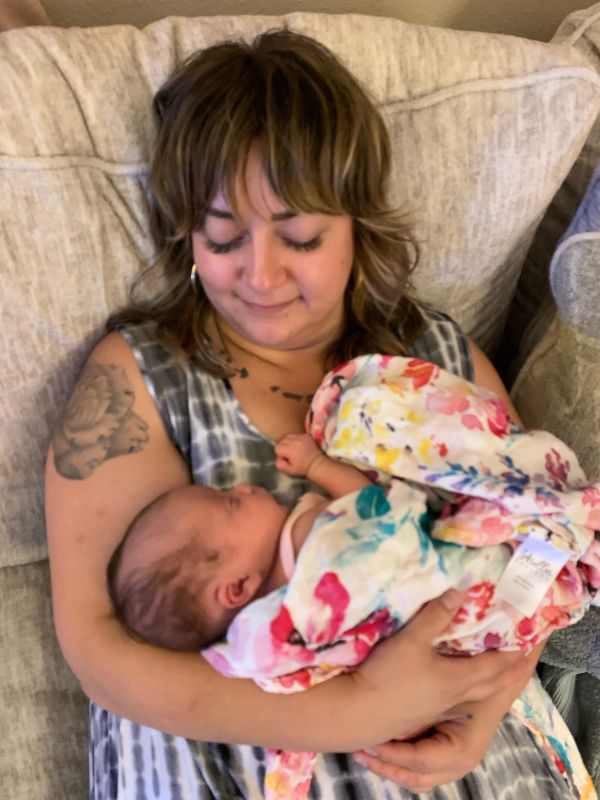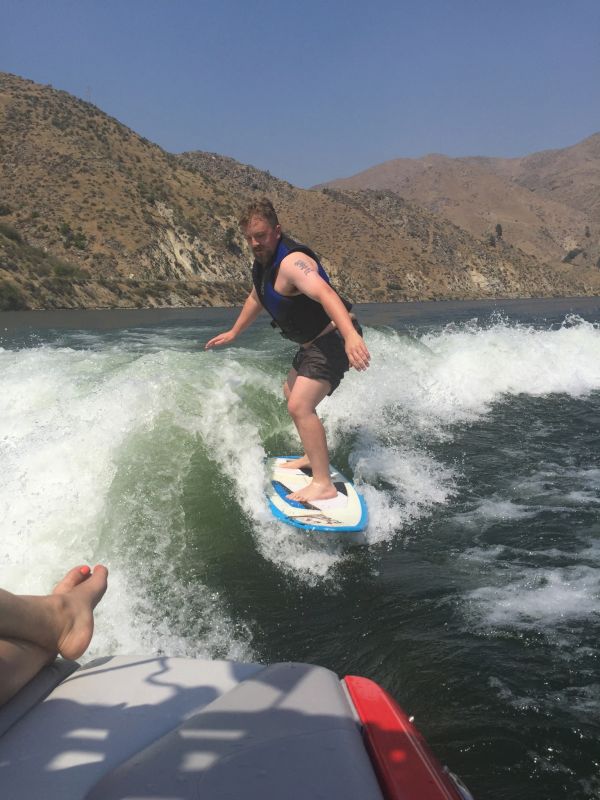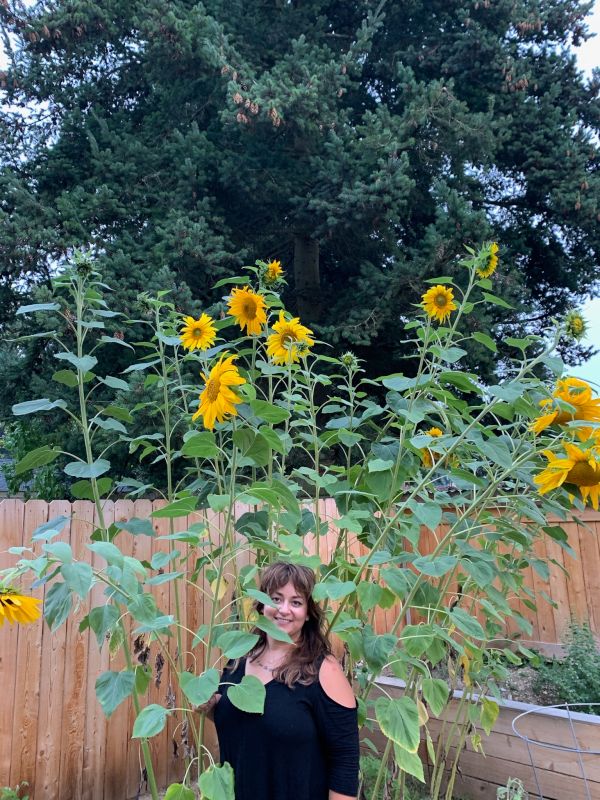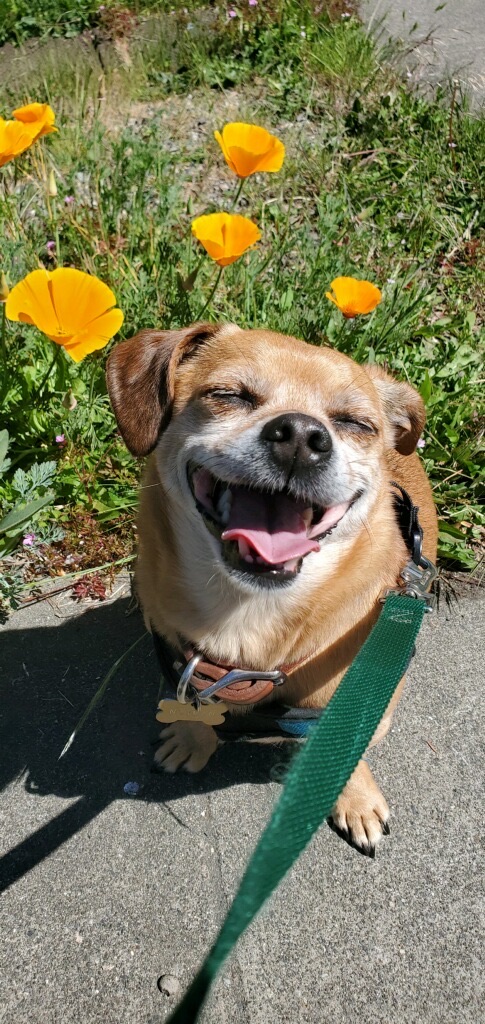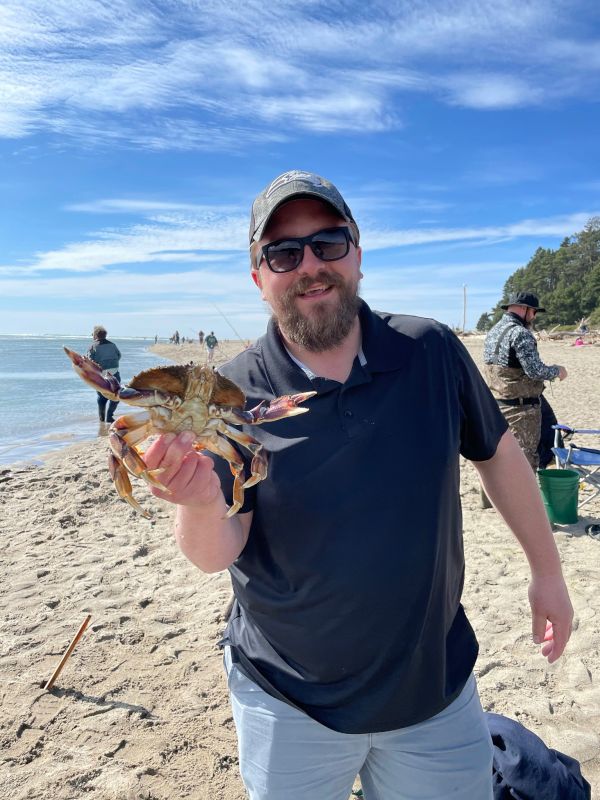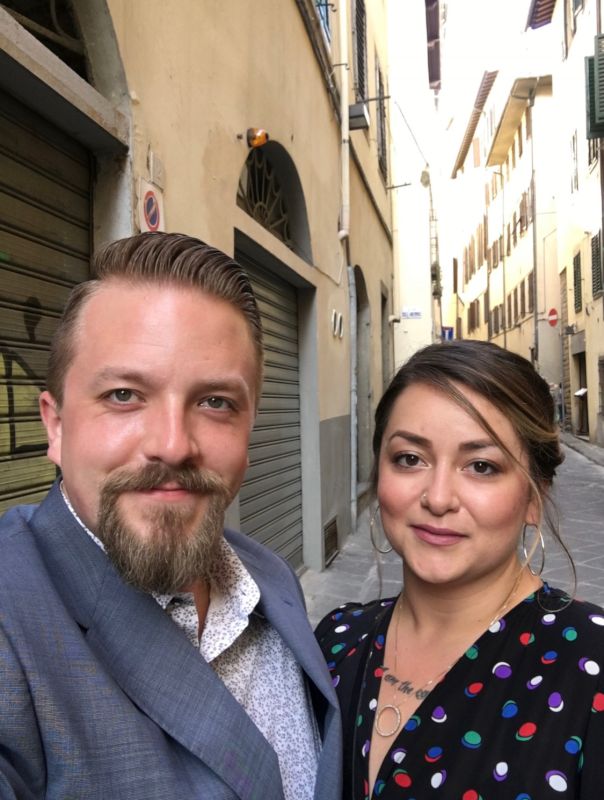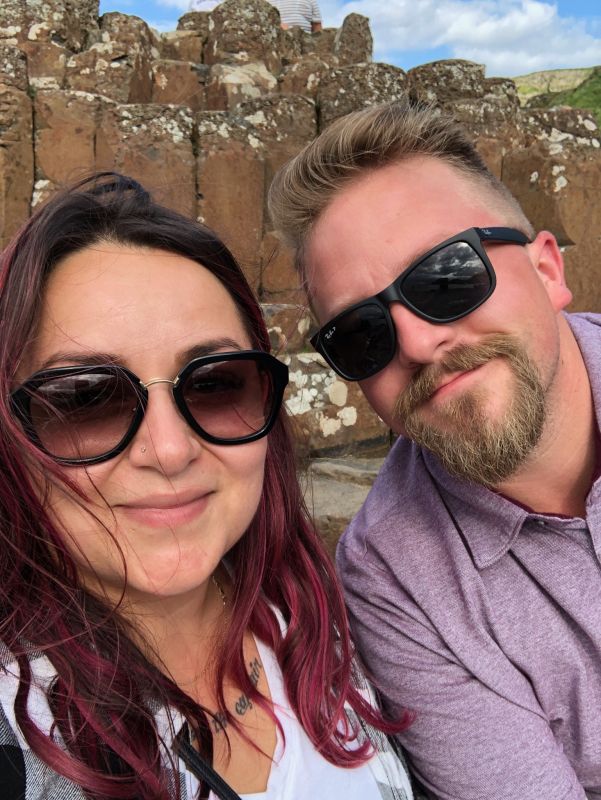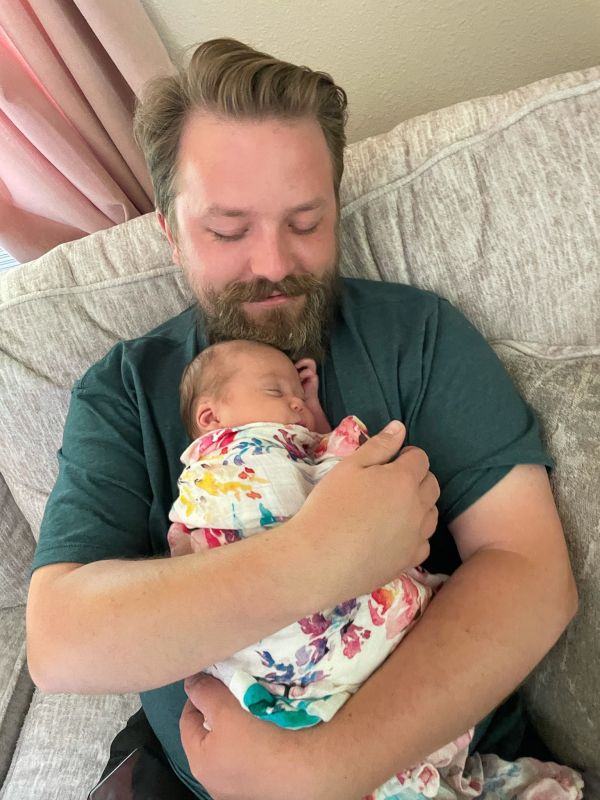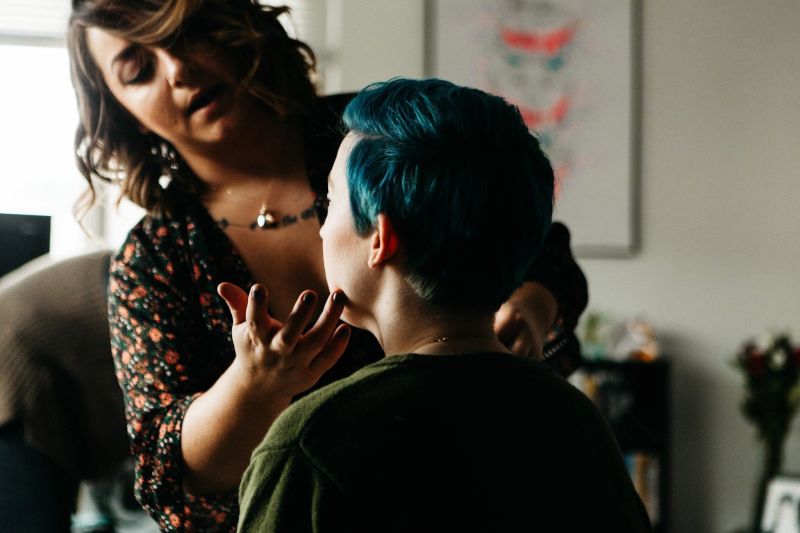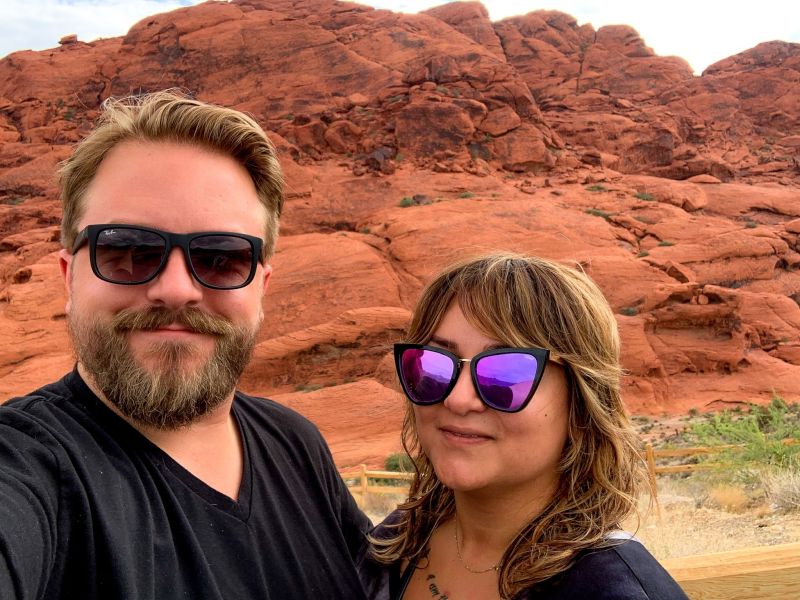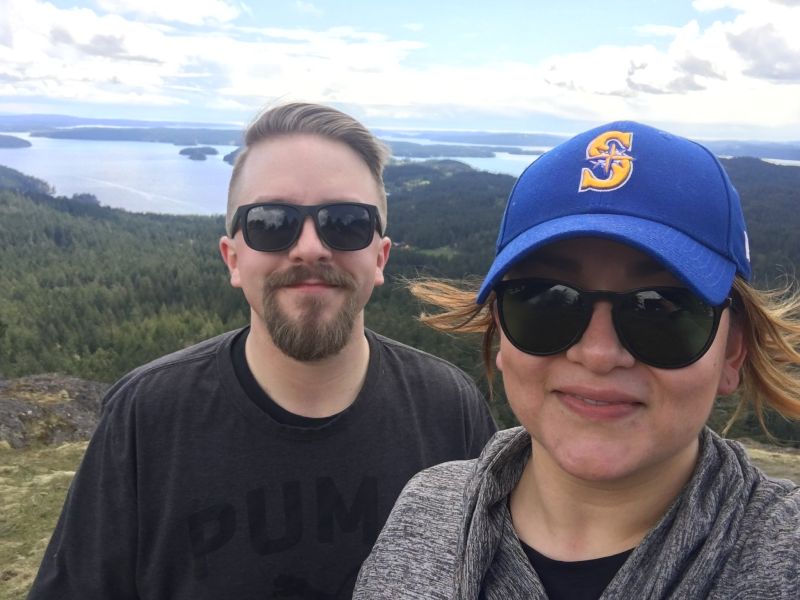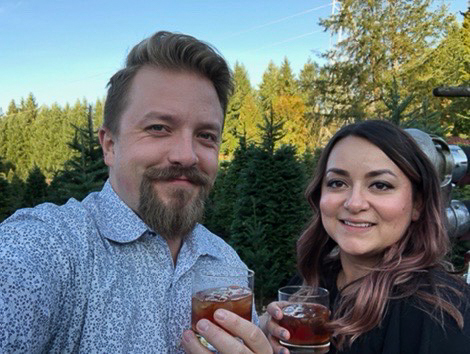 ×
1 / 12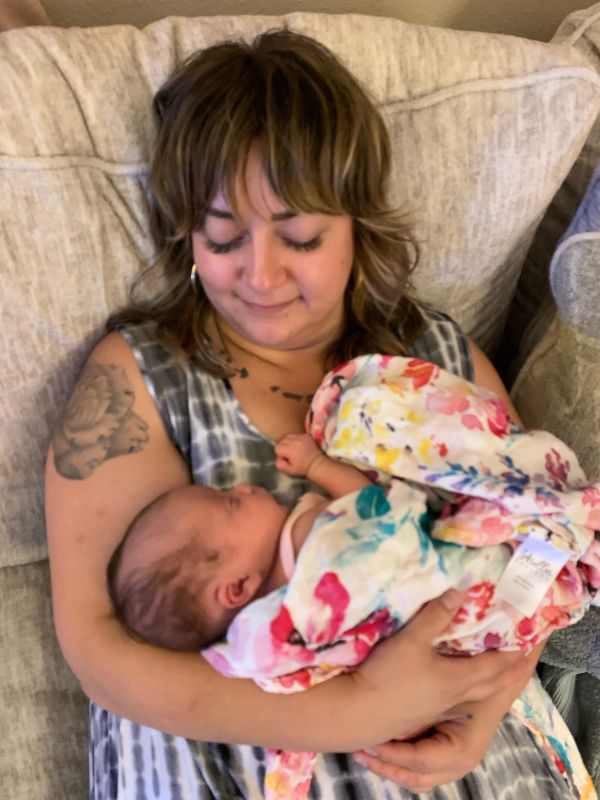 2 / 12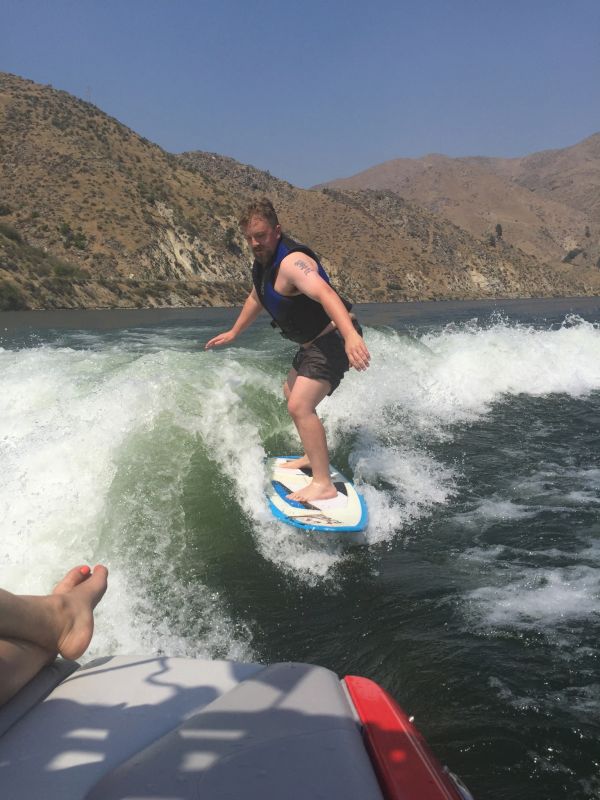 3 / 12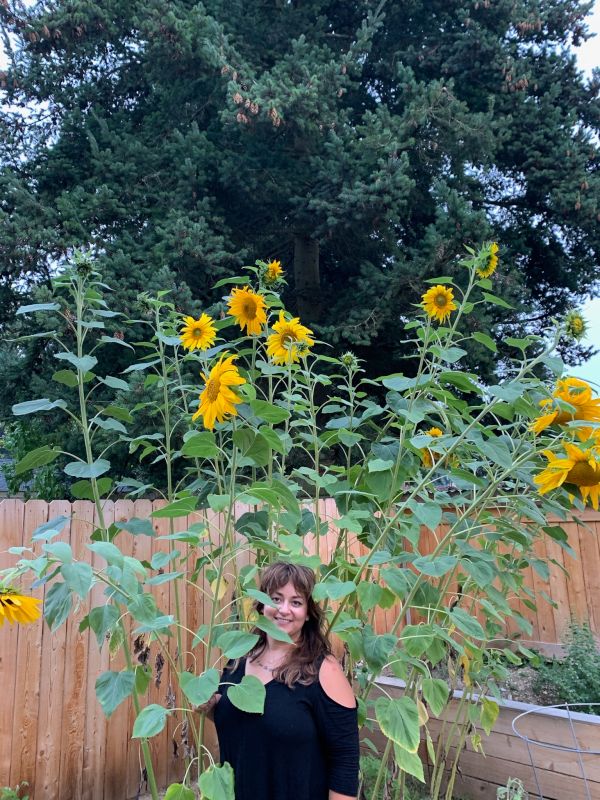 4 / 12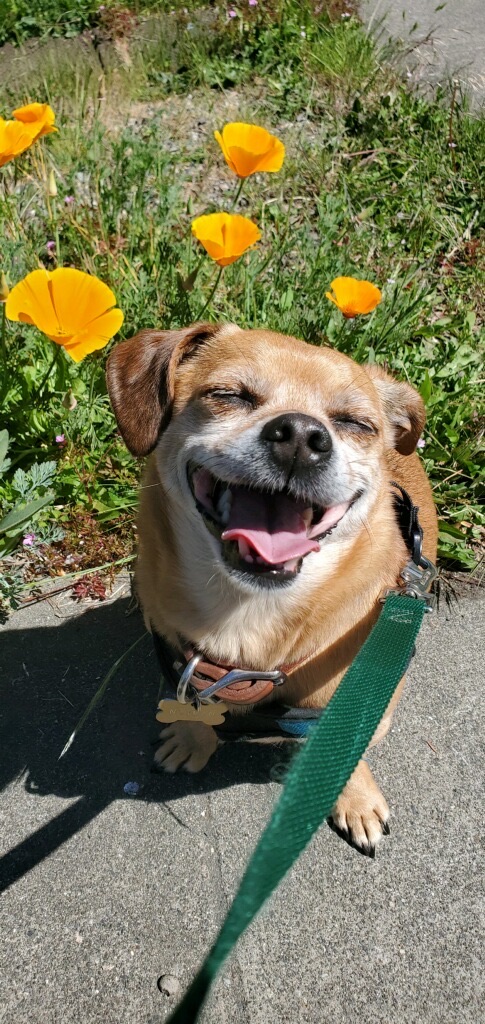 5 / 12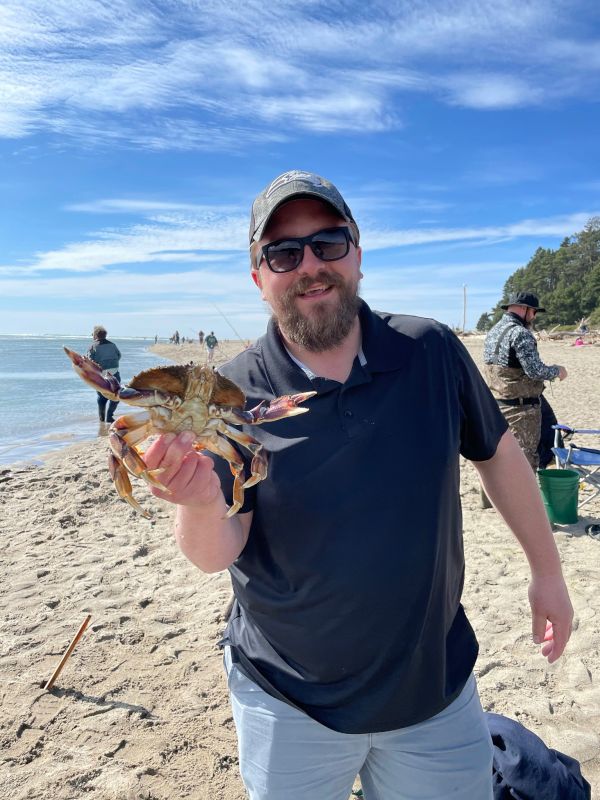 6 / 12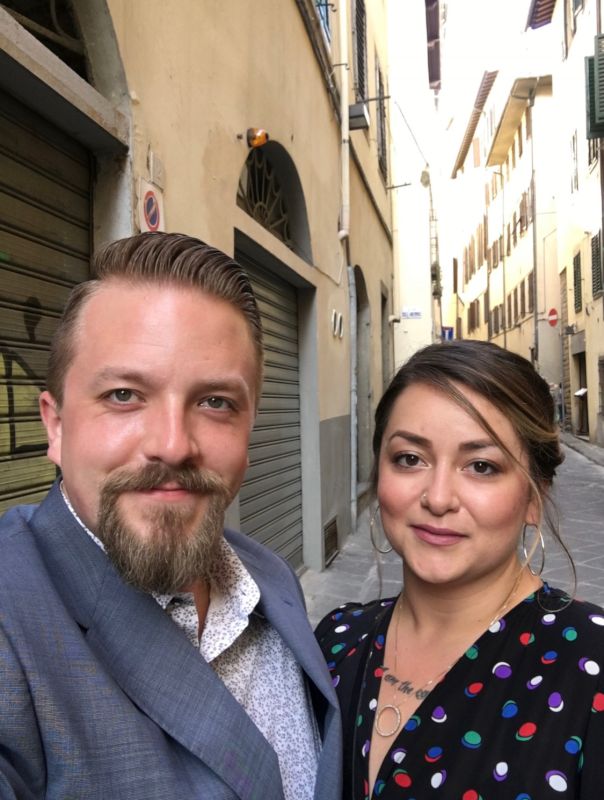 7 / 12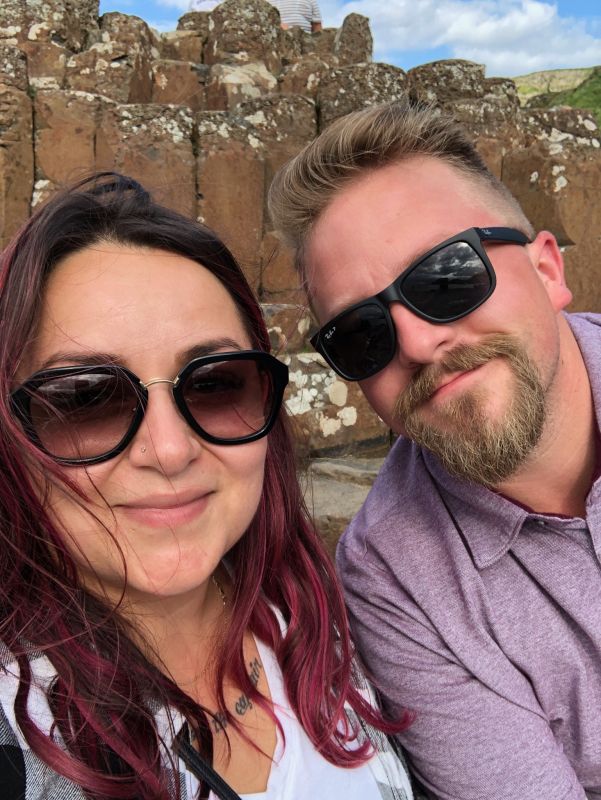 8 / 12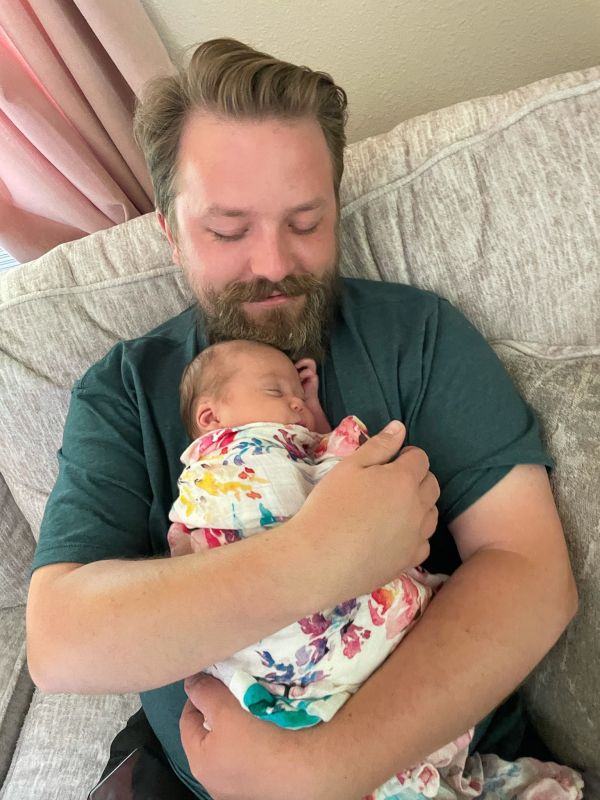 9 / 12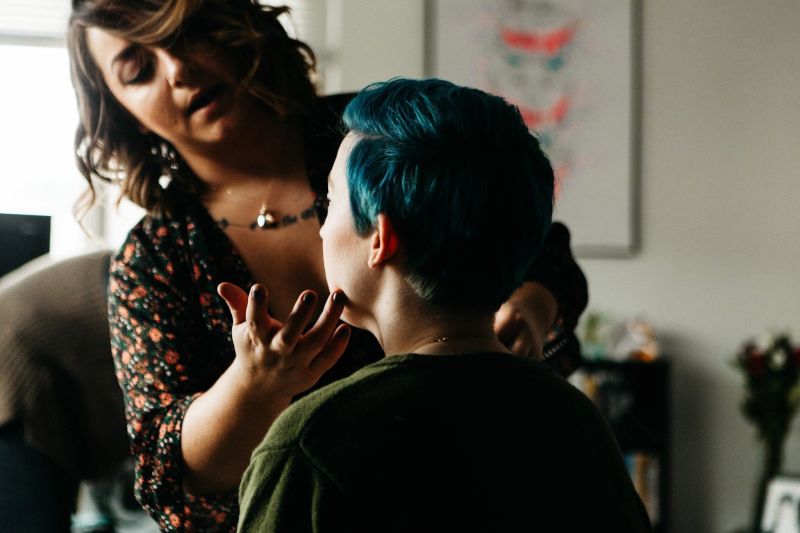 10 / 12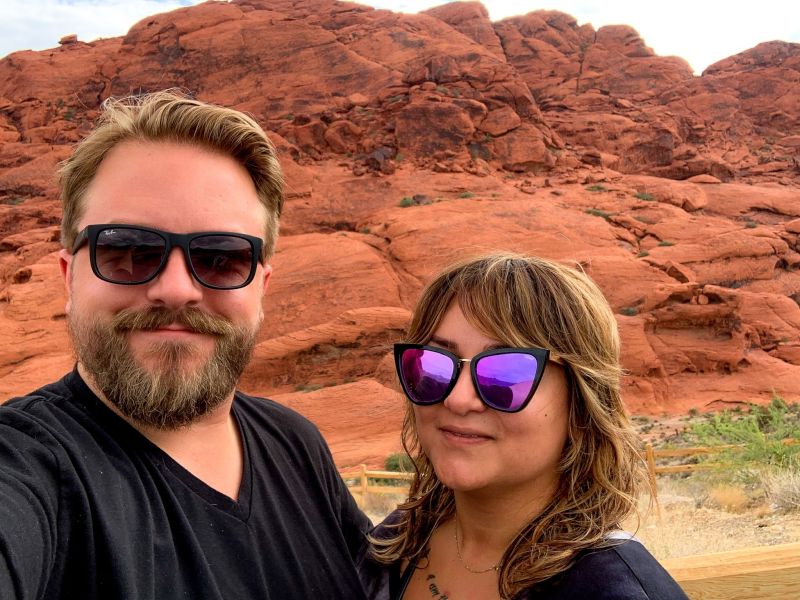 11 / 12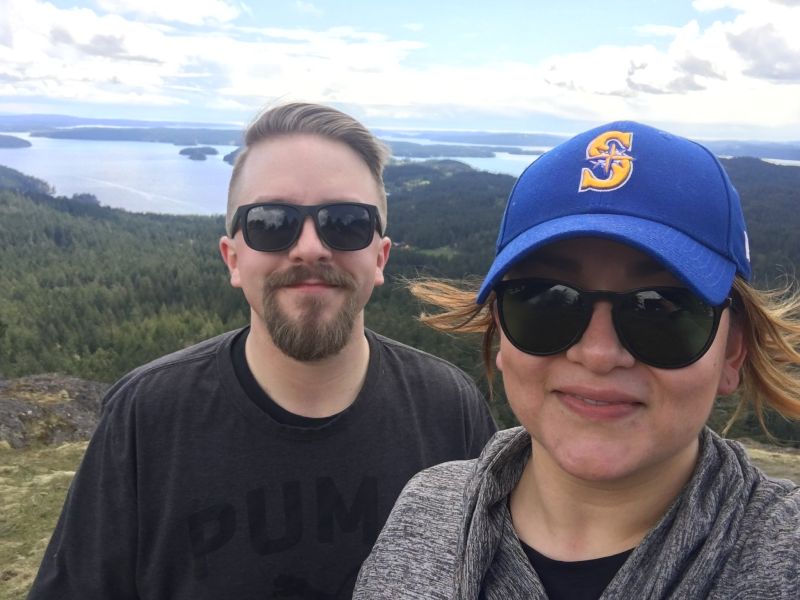 12 / 12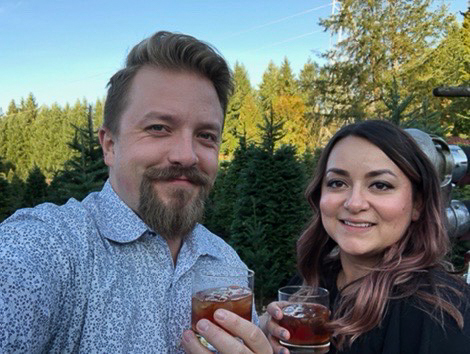 ❮
❯
Our House and Neighborhood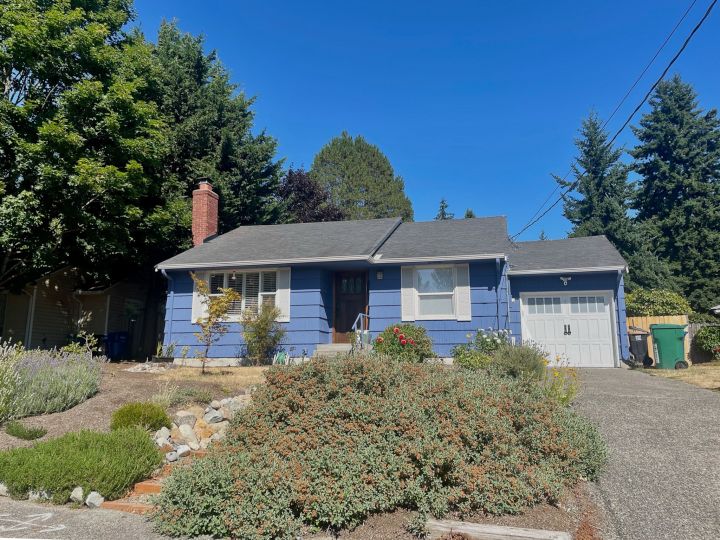 We live in Washington state where it is beautifully green all year. Living in an urban setting, we feel so lucky to have a humble two-bedroom home with a huge yard and a diverse and supportive community.
We have an adorable blue craftsman home that is very minimalistic. We believe we can live with less things so we choose to fill our home with purpose and things that bring us happiness. The house has a garage and Adam enjoys making wood items in there with our nieces and nephews. He is excited to share this space with the child. The child would have their own room and a family room to hangout in. We have a dining room where we sit for a quick bite or expand the table for a sit down dinner together.
We have worked hard to add a large garden area where we grow our own produce in the spring and summer months. There is plenty of room for a child to enjoy playing outside at our house and in the neighborhood. We live two blocks from a highly rated K-8 school where the child would go until entering high school in any one of three nearby. We are excited about walking with the other community members to school. There are three parks in the neighborhood all within walking distance that are community maintained. There are community events throughout the year that showcase crafters and makers, several get-to-know-you gatherings and even a dog parade.
Our Extended Families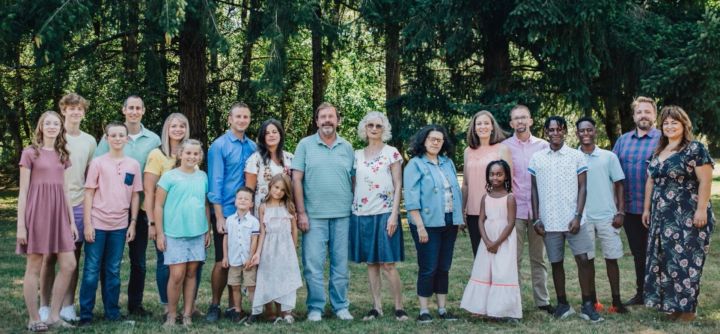 Alysia is adopted and has a large blended family, including biological and other adopted family members. Most of Alysia's family lives very close to us and we see each other often. Alysia's aunt is in Nevada so we visit there a couple times per year.
Adam has five siblings (two of which were also adopted) and even two nephews and one niece adopted from Ethiopia. Adam's side of the family is more spread out amongst the states and he even has a brother who lives primarily in China. This leaves us the opportunity to visit many places in the U.S. and internationally.
We all gather to celebrate each other's birthdays and holidays. There are several cousins and some future cousins who would be at roughly the same age as this child. We love to eat food, and just enjoy being around each other. We sometimes play games like badminton and croquet, go to concerts, and vacation together. For living in the city we have a larger sized yard that hosts family barbecues and outdoor games. We take turns spending holidays with different parts of our families and they come to visit us as well.
When we told our families about our adoption plan they were all very excited for us. Because adoption has played such an integral role in our lives our families are very supportive of the news. They even have helped us to emotionally prepare for this process and we know they will care and love the child deeply.
From Us to You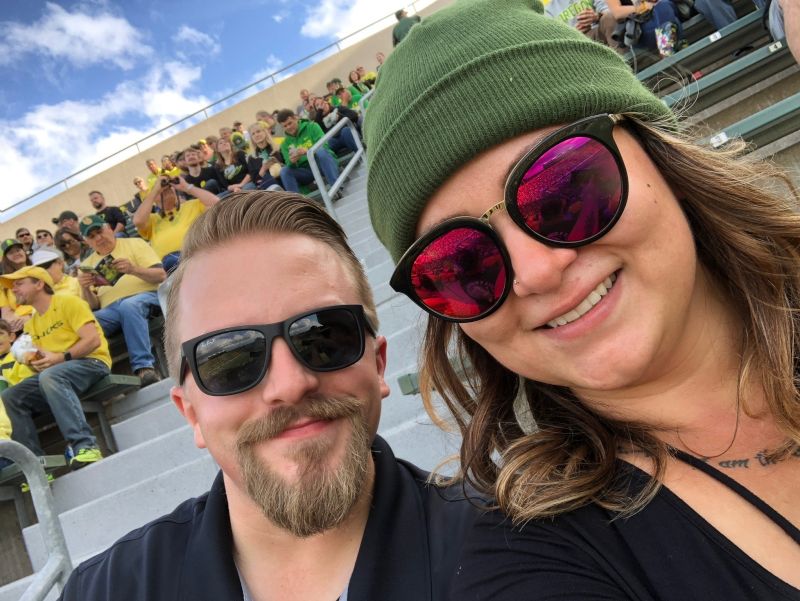 We would like to thank you for taking the time to view our profile. We hope it gives you an idea of the family we already are and the family we would like to be while showing you how much love and care we have to offer your child.
Both of us are from small towns in Western Washington and Western Oregon, but eventually made our way to a large city where we met via blind date. Our first date was the best first date either of us had ever been on. We both knew it was special and we were instantly smitten. The first date went so well that after we often spent many days together any chance that we could. Our love evolved quickly, and we were engaged after only six months of knowing each other. We soon eloped after only one year together and now we have been married for six years.
Our marriage has been amazing, even during the hard times. Soon after we were married, Alysia was diagnosed with a medical condition that led us to make the decision of not having biological children in order to ensure Alysia's health. Luckily, adoption has always been on the forefront of us wanting to start a family. The love, care, communication and admiration for one another has only grown with the struggles we have faced together. Although we will never be able to understand what you are going through, we do understand loss and hardships and we do understand what it's like to make selfless, yet difficult life-changing decisions.
With our own personal experiences with adoption (Alysia being adopted through foster care with adopted siblings and Adam having adopted siblings and other adopted family members), our deep understanding of adoption helped us to know that adoption would always be a part of our lives and that it has always just been a matter of when. Because of our life experiences around adoption, we want you to know that you will be honored and praised in your child's story and that your child will know who you are. We would gladly keep communication with you through emails, photos, letters and as the child ages, we would be open to seeking other means of communication or keeping in touch. We want to respect any boundaries you might have while still empowering what it means to be adopted with two sets of parents that love a child equally. With Alysia being adopted, she understands how important it is to be able to know and identify with one's family and their culture while hopefully establishing relationships if that is what both sides want. With Adam having adopted siblings he has seen and been able to support his family as they figured out their identity through their birth families and their cultures. We plan to talk and speak openly about how our family came to be in all aspects of life and not just in the home. Adoption is a beautiful thing for a child and this should never be shadowed or hidden.
Choosing us would mean you are entrusting us to honor your decision for us to raise your child. This would be our greatest gift and responsibility and we would not take this lightly. We promise to do our very best to cultivate a loving, fun and adventurous home environment where our child is open and free to self-expression. Home would be a place where they feel loved, safe, stable and supported following their passions and dreams. We want to them to know and feel strong in their ability that they can be heard and seen by adults and their peers. We promise to expose them to a good education while still teaching them from a real world perspective so that they can be the best versions of themselves for themselves and others. We promise to teach them to be kind and generous while advocating for themselves and others. We also promise to continue to improve ourselves as a married couple, as fellow humans and as parents. We consider the roles of mom and dad to be the most important of our lives and thank you for potentially giving us that opportunity.
Adam & Alysia
Favorites
Actor
Steve Carrell
Chris Pratt
Actress
Amy Poehler
Traci Ellis Ross
Book
The Alchemist
Where the Crawdads Sing
Candy Bar
Twix
Dark chocolate with almonds ( any kind)
Childhood Memory
Going to the Oregon Coast with my family
Camping
Children's Book
Goodnight Moon
Where the Wild Things Are
City
Florence, Italy
Florence, Italy
Classic Movie
The Godfather Part 1
Mrs. Doubtfire
Disney Movie
Toy Story
Lion King
Dream Car
Rolls Royce Phantom
Dream Job
Restaurant Owner
Family Activity
Playing in the backyard
Watching a movie or activities outside
Flower / Plant
Tulips
I love all plants and flowers
Form of Exercise
Walking and Biking
Walking / Playing badminton
Hobby
Smoking meat
Taking care of my plants
Holiday
Christmas
Halloween
Holiday Song
Here comes Santa Claus
Holiday Tradition
Fondue on Christmas Eve
Easter weekend getaways
Ice Cream
Ben and Jerrys
Cookie dough
Leisure Activity
Sitting by the water
Memory with a Child
Taking my nephews fishing for the first time
Memory with Spouse
The first time I saw her on our wedding day
Traveling or experiencing something new with Adam are a few of my favortie memories
Movie
Dumb and Dumber ( I know I know)
Movie Munchie
Popcorn
Popcorn and milk duds
Movie Quote
Well ain't this a geographical oddity, two weeks from everywhere
Movie Type
Comedy or Drama
Comedies
Nursery Rhyme
Humpty Dumpty
Olympic Event
Curling
Ice skating
Personal Hero
My Grandfather
Quality about my Spouse
Her kind spirit
Ability to make people laugh
Quote
If you aim at nothing, you will hit it every time
I am the master of my fate, I am the captain of my soul
Restaurant
Shambles in Seattle Washington
Don Luchos Peruvian
Sandwich
Rib meat sandwich
BLT
Shopping Store
Costco
Target
Sport to Play
Badminton
Softball and Basketball
Sport to Watch
Football
Basketball
Sports Team
Seattle Seahawks
Seattle Storm
Subject in School
Foods Class
English
Thing to Cook
Biscuits and Ribs
Pasta
TV Show
The Office
The Office
TV Show Character
Michael Scott
Vacation Spot
Gig Harbor
Beach