1-800-ADOPTION
Thank you for viewing our profile
If you would like to learn more about us, please call 1-800-ADOPTION (2367846), fill out the form at the bottom of our on-line profile page, or email us at bp_information@americanadoptions.com.
To revisit our on-line profile page and view our profile video at American Adoptions, simply use your mobile phone to scan the QR code on the right. We are looking forward to hearing from you!
Jonathan & Allie
Thank you so much for checking out our profile and considering us as adoptive parents. Our family life is full of laughter, LEGOs, and love. Parenting is very important to us and growing our family through adoption is our greatest wish. We hope you will consider us!
About Us
Job
Electrical Engineer
Stay-at-Home Mom
Education
Master's Degree in Electrical Engineering
Bachelor's Degree in Divinity
Relationship
Legally Married
Our Child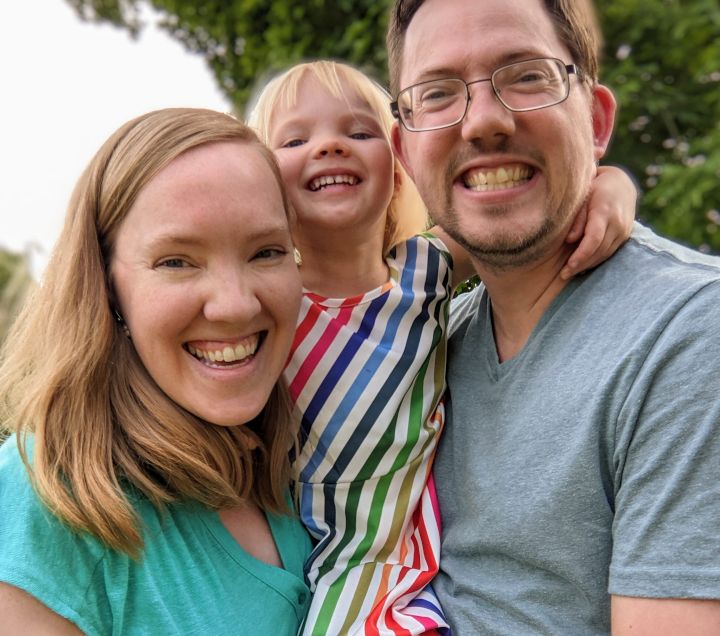 Our daughter Kate is four years old. She is chock-full of energy and loves to be outside, running in the yard and playing on our swing set. She's a mud puddle jumping, barefoot-loving, water splashing, adventure-seeking little human. Jonathan is currently teaching Kate to ride her bike without training wheels!
Since Jon and Allie are both creative, Kate has picked up a love of art and drawing. She is so good at it! Kate almost never turns down an opportunity to draw or paint. She has also been taking gymnastics classes since she was a toddler and absolutely loves it. Kate practices her tumbling skills by turning our living room into an obstacle course.
Why would you just sit on a couch, right?!
Kate is a caring and affectionate child. She loves to snuggle up with us on the couch and gives lots of spontaneous hugs. When we told Kate of our plans to adopt, she was SO excited! She said that she is an "excellent helper!" and will take care of the new baby. She practices by playing with her dolls; holding them gently and supporting their heads. She's learning to be gentle and to have a calm body around babies by spending time with our younger neighbors. She came home from preschool with a tiny bracelet and necklace she made for the new baby. She's a sweet kid and very ready to take on her new role as big sister!
Our Favorite Vacation Spot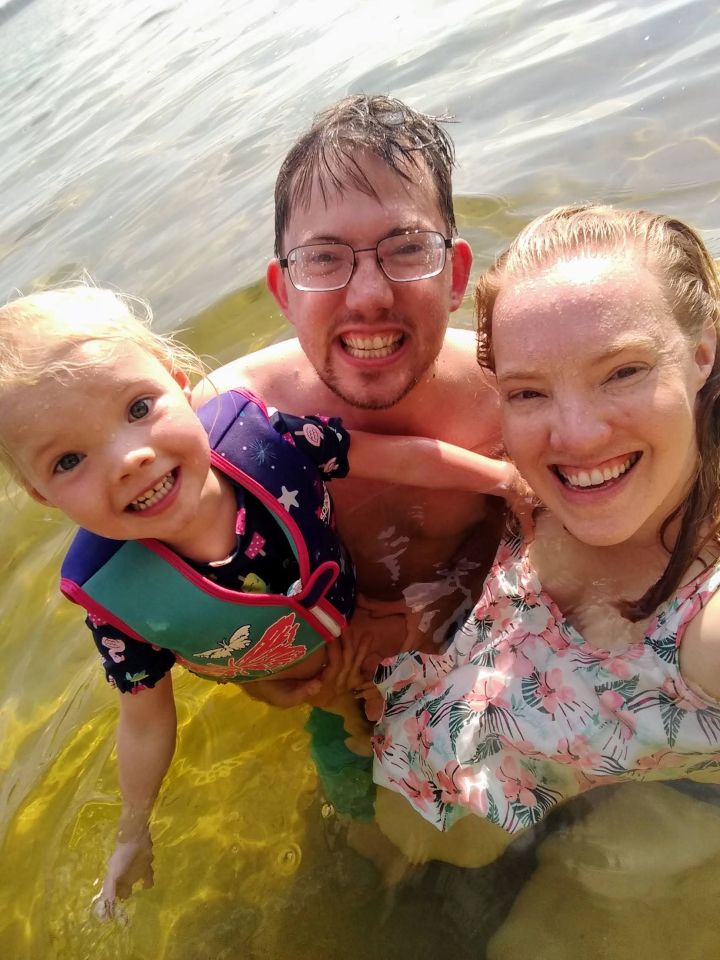 Allie's family takes a yearly vacation to a Lake Winnipesaukee in New Hampshire. Her father's extended family has been visiting the same location since he was a child in the 1960's!
We love spending a quiet week by the lake, relaxing, swimming and playing board games. We love the simplicity and the peaceful atmosphere. Jonathan loves to read, and will spend hours invested in sci-fi/fantasy novels while sitting by the shore. Allie likes to swim and enjoys sitting on the dock watching the evening sunsets. Kate wants to be in the water all day every day and always looks forward to campfires with s'mores. Last summer she enjoyed paddling her own canoe around with the help of her grandparents.
In recent years, Jonathan's parents have joined us at the lake. Our parents get along well and it is so much fun being all together.
Our Lifestyle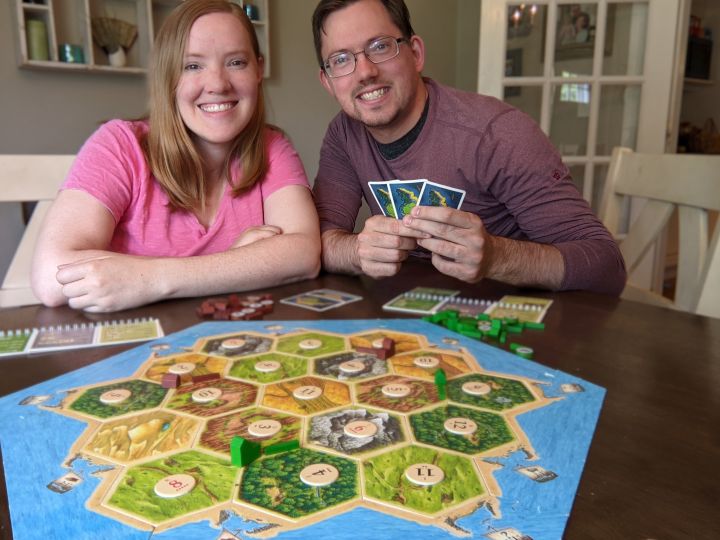 Family is important to us. After school and work, we spend a lot of time together playing in our neighborhood, or backyard. Caring for our daughter Kate is so much fun. We love to join Kate in her imaginary play and help her try new and exciting things every day. We prioritize family dinners where we talk about our days, and hear Kate's stories and songs from preschool.
Playing board games is a hobby we enjoy together. We love hosting game nights with our friends and our families. Jonathan usually wins when we play 'Settlers of Catan', but Allie is the undefeated 'Small World' champ! Music is also a big part of our lifestyle. We have a baby grand piano in our living room where Jonathan is constantly playing and practicing. Allie and Kate love to join Jonathan in Disney sing-alongs while he plays along on the piano.
We love to keep an "open door policy" in our home. We enjoy hosting and always make sure our friends and family know they are welcome to stay and eat, hang out or play games. We often have friends or family visiting on the weekends.
Photos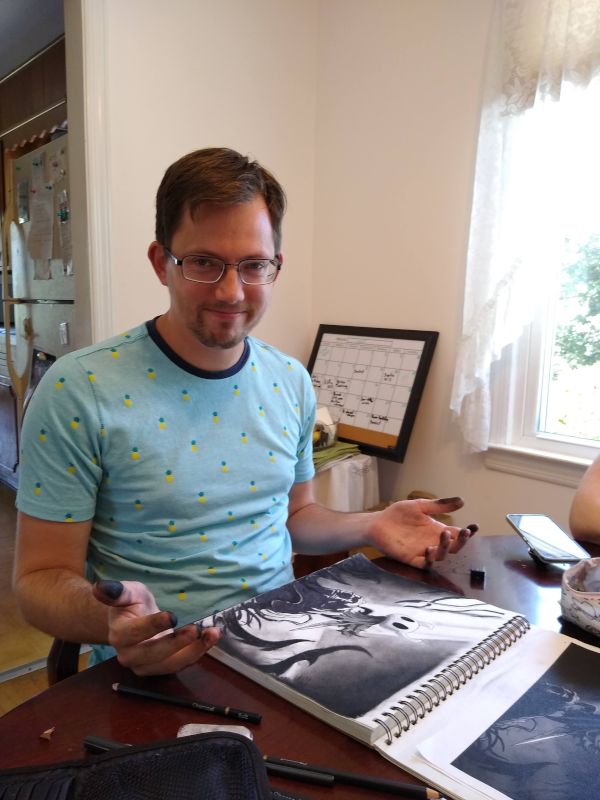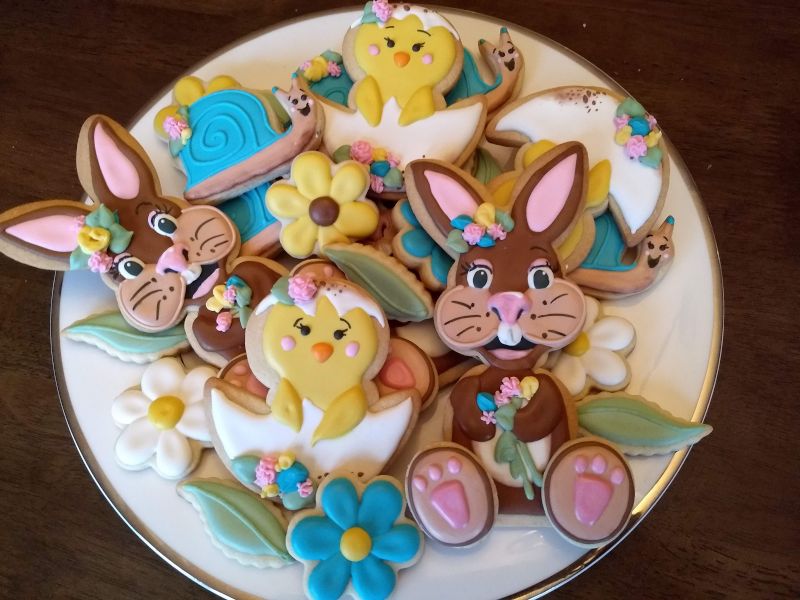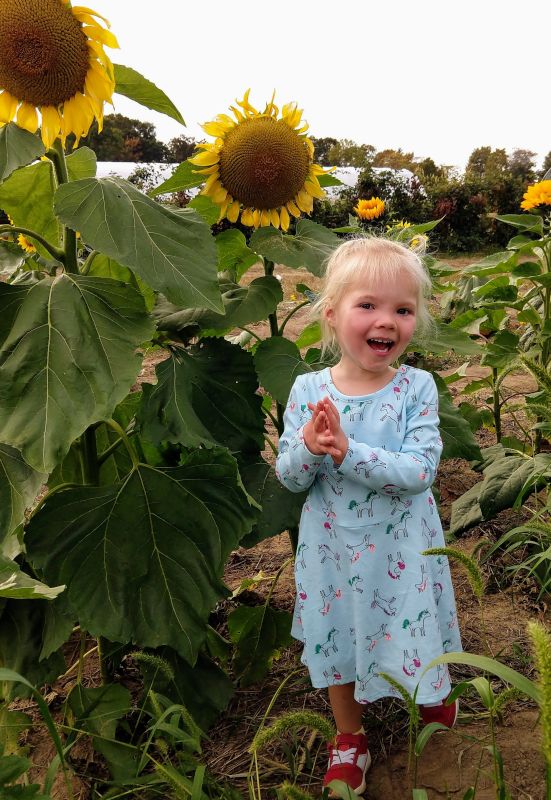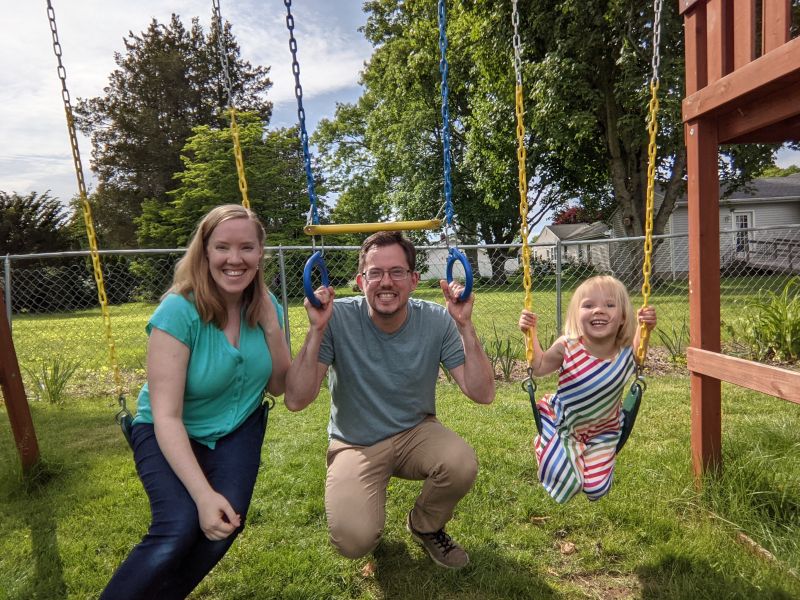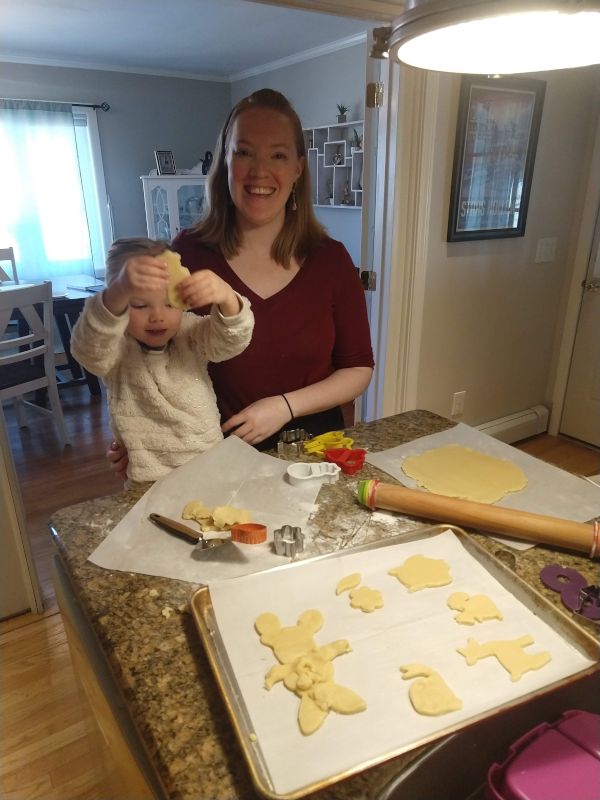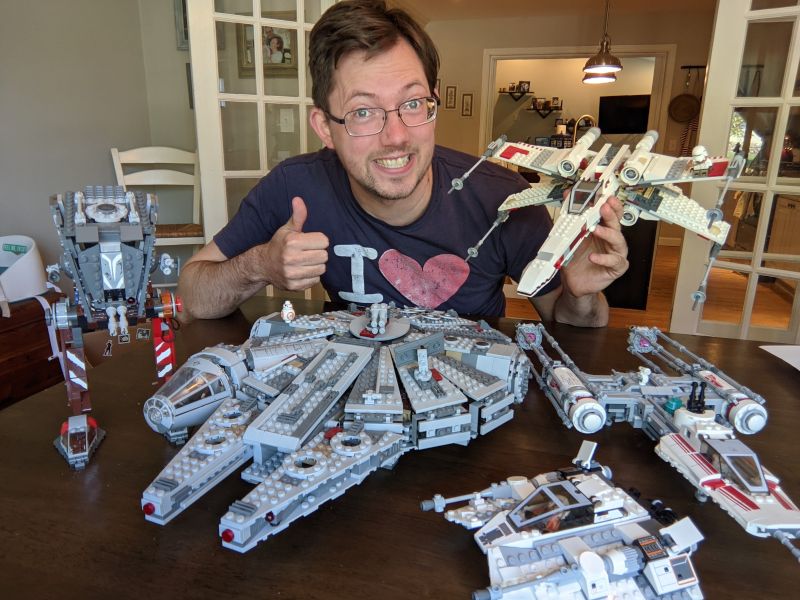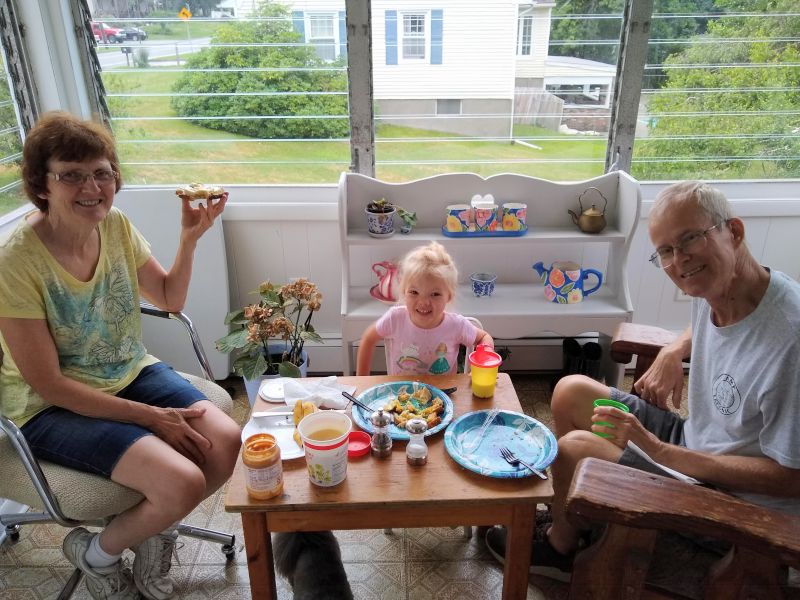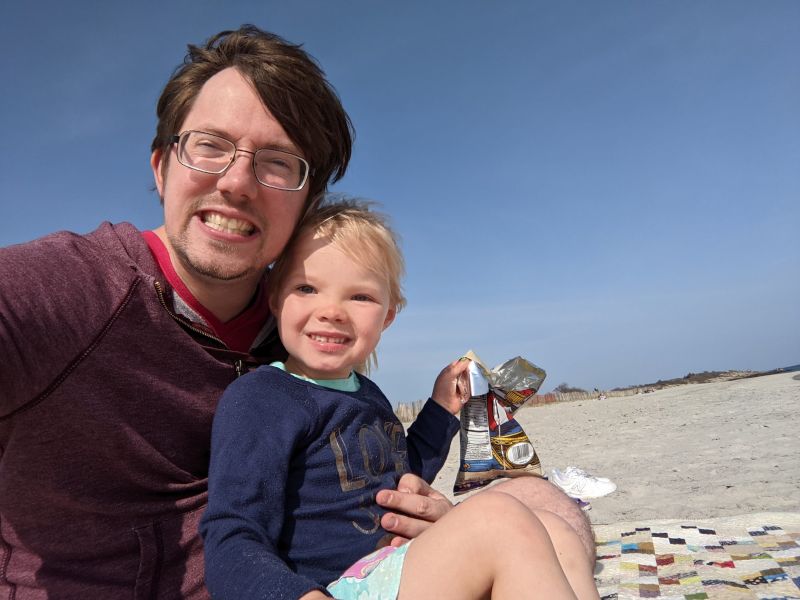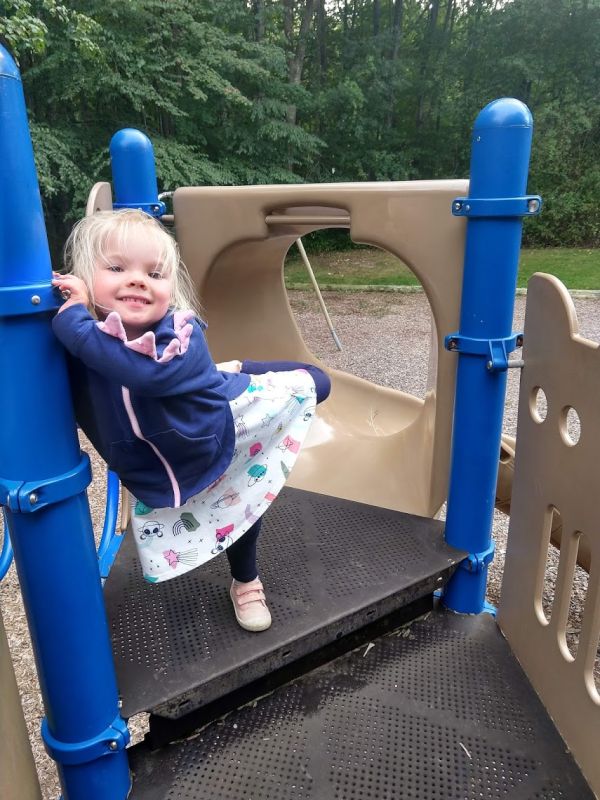 ×
1 / 12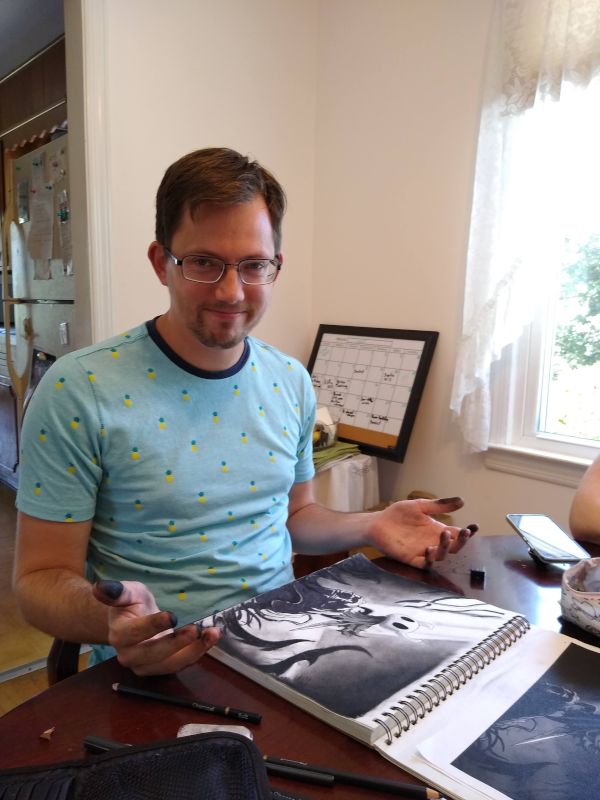 2 / 12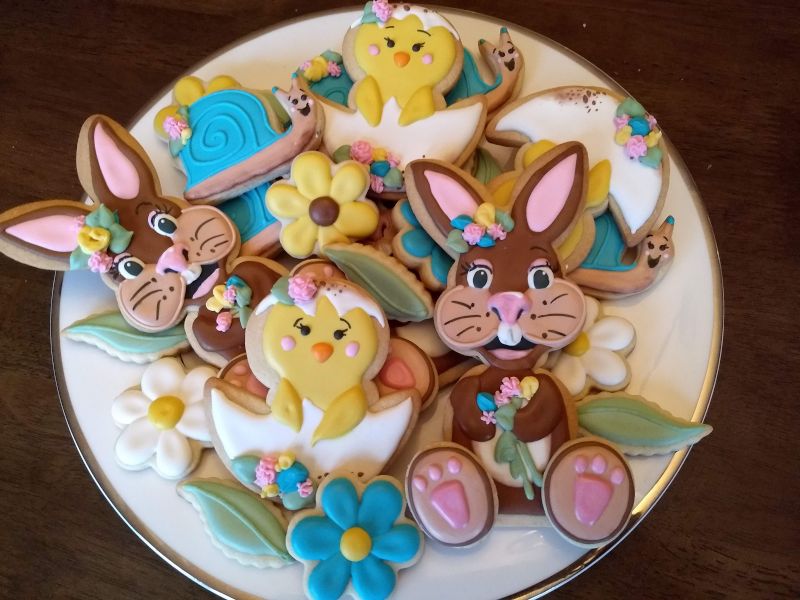 3 / 12
4 / 12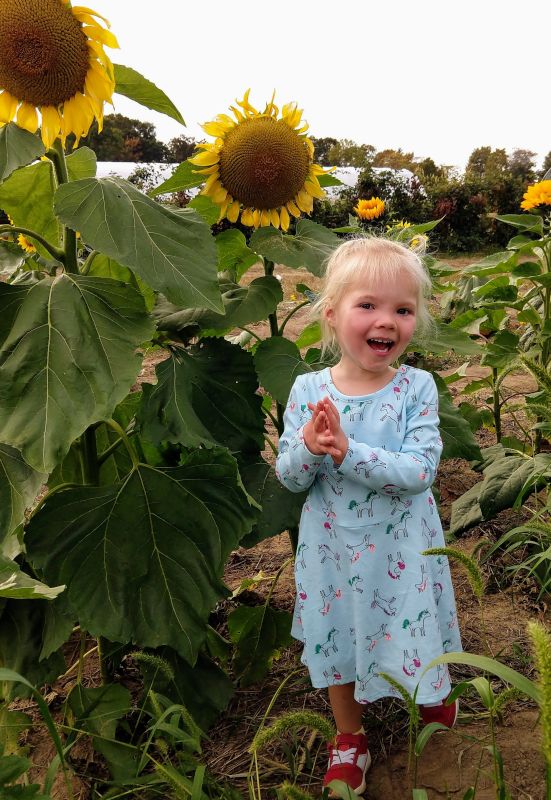 5 / 12
6 / 12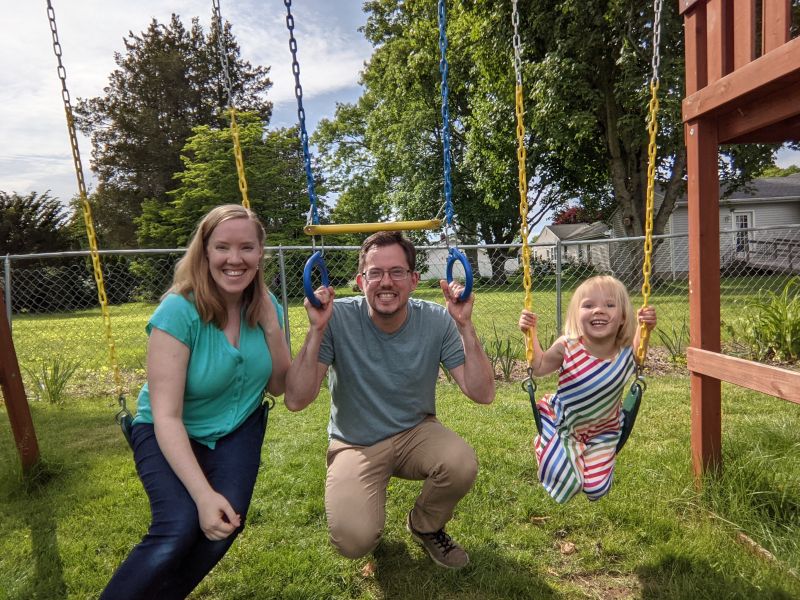 7 / 12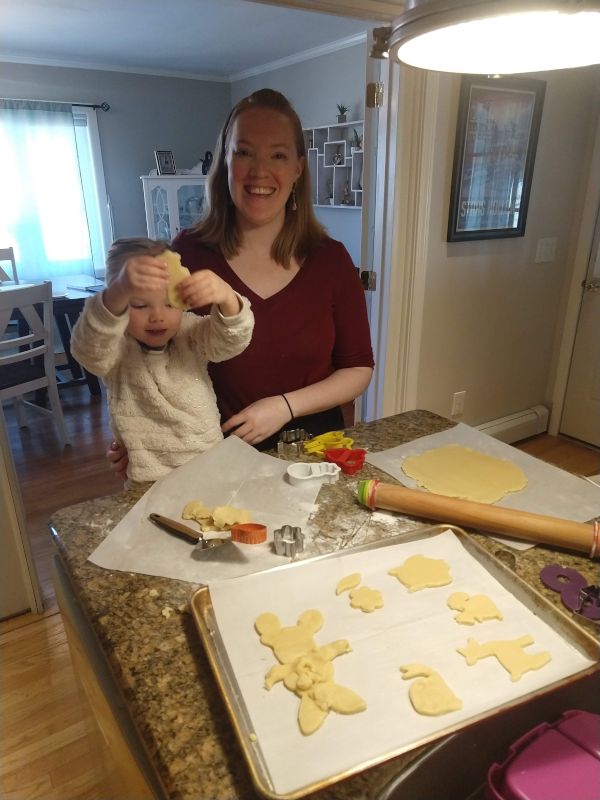 8 / 12
9 / 12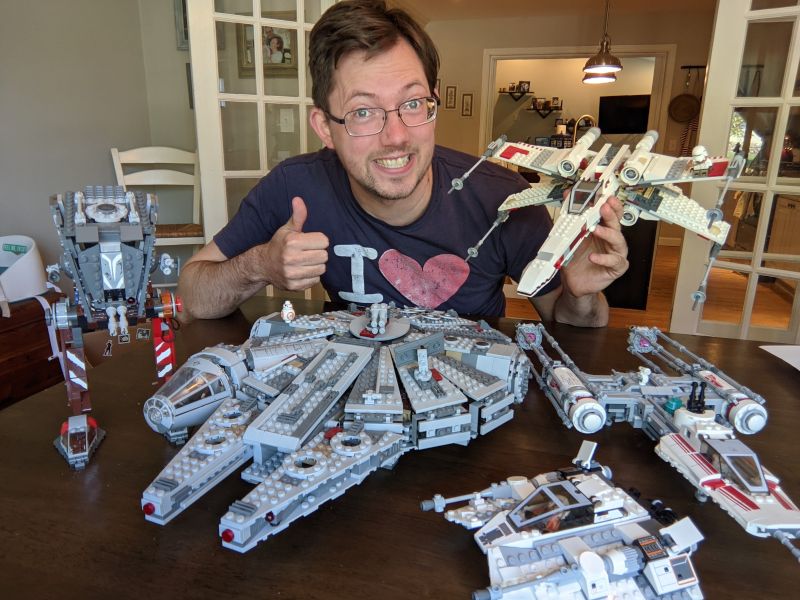 10 / 12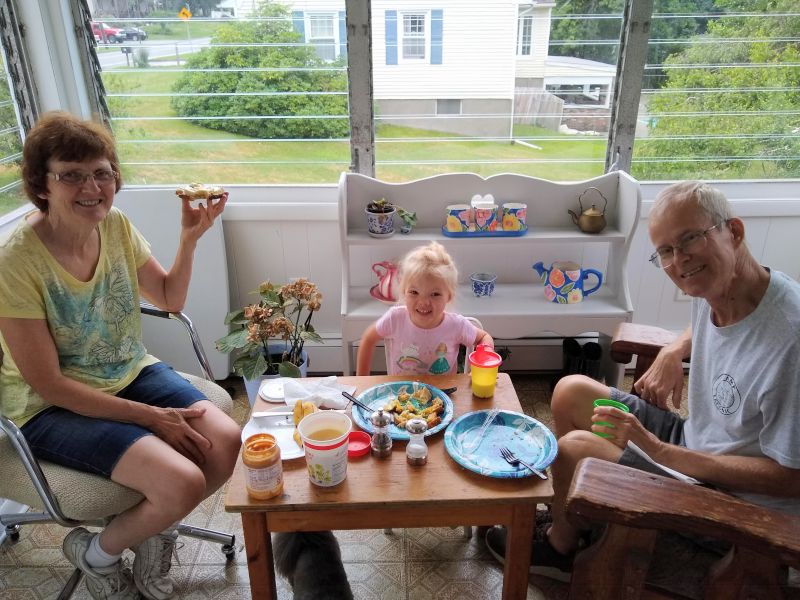 11 / 12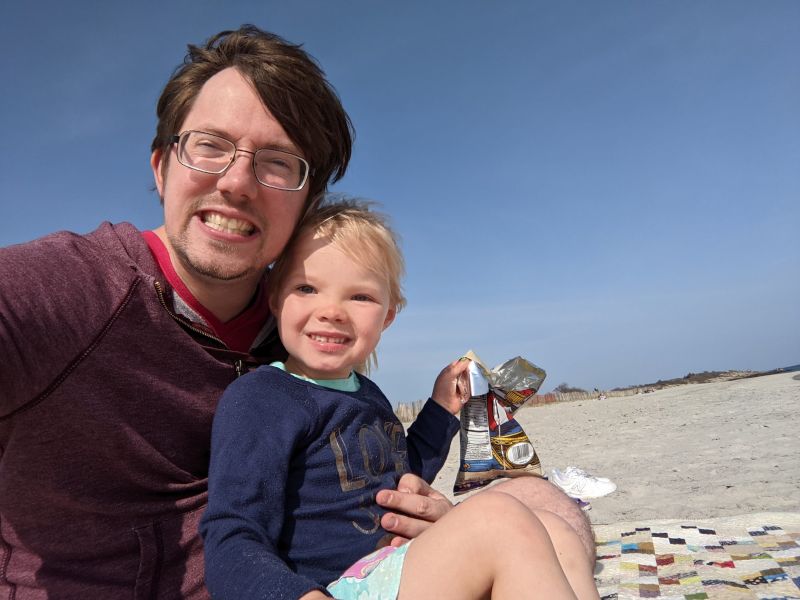 12 / 12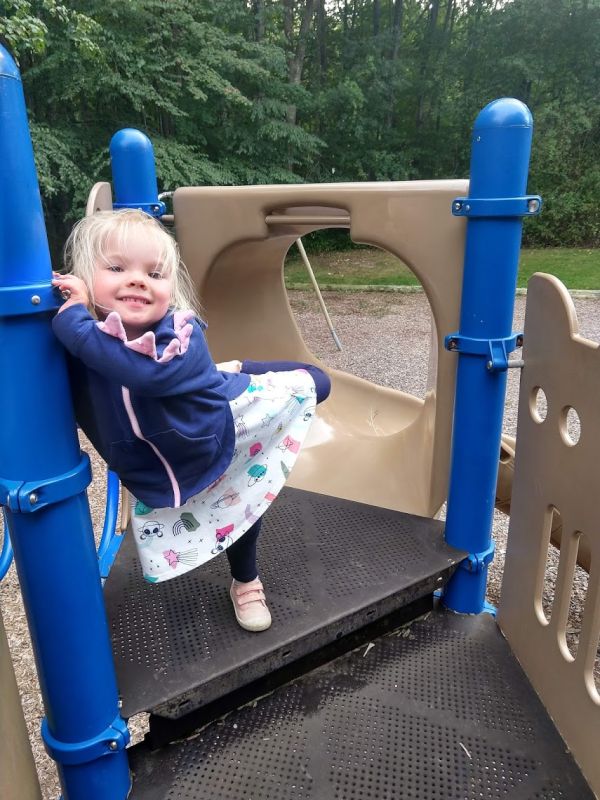 ❮
❯
Our Extended Families
Allie's family lives just a couple of hours away and visit often. Her parents love spending time with their first grandchild and are very excited to have another! Allie's sister and brother-in-law also live nearby and we see them for holidays and family celebrations. Her father's side of the family has an annual Christmas party and Santa (or is it Grandpa Joe?) ALWAYS makes an appearance. Allie's family enjoys games, and movie nights when they are all together. They're wicked awesome.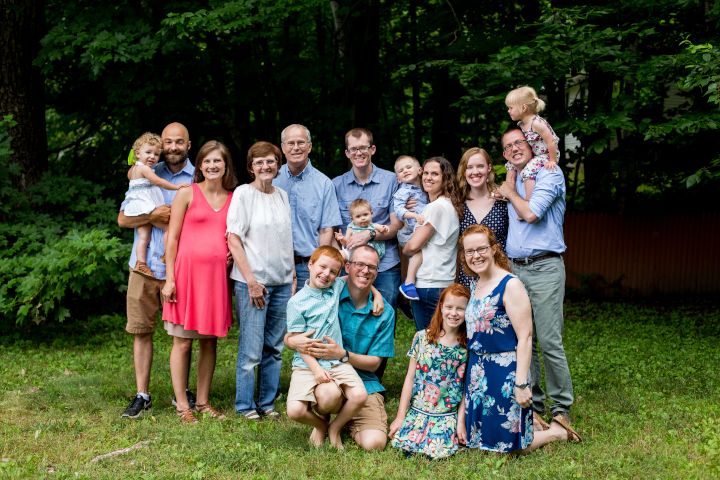 Jonathan's parents enjoy spending time with their grandkids (seven grandkids and counting!). They recently moved to live closer to Jonathan's younger sister; they are building a house together! We are looking forward to a big family get-together once the home is complete. Jonathan's three siblings live spread out across the country and we don't get to see one another a lot so those big gatherings are very special. It's so fun, meeting the new babies who have joined the family and watching all the cousins run around and play. The adults always look forward to staying up way too late playing board games once the kiddos are in bed. Since we can't be with them as often as we'd like, we video chat with Jon's family regularly.
Jonathan's parents recently spent a couple of weeks with us over Christmas. They often travel with their shih-tzu, Jack. Jack is a sweet dog and Kate adores having a puppy around.
Our House and Neighborhood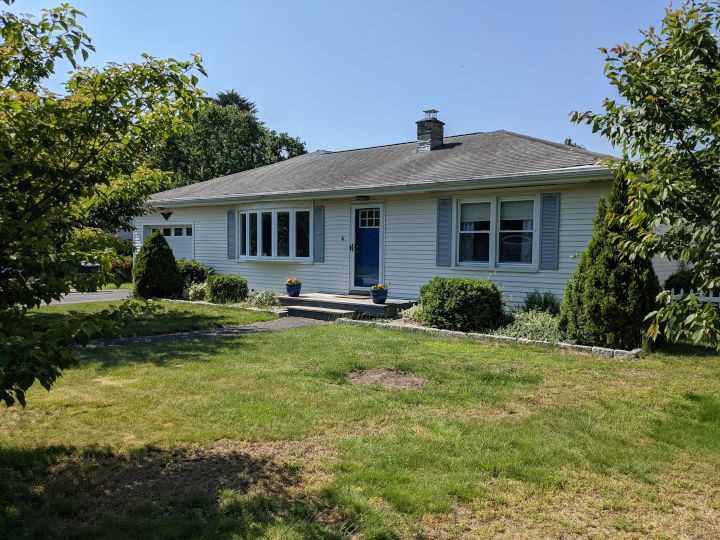 We reside in southeastern Connecticut, just a few short miles from the ocean. Our neighborhood consists of a couple quiet dead-end streets, and is the perfect set up for bike rides and family walks. There are lots of families with young children, and our daughter Kate loves to jump off her bike and join her neighbor friends in their backyards for spontaneous play dates.
We own a one-story single-family home and have a fenced-in backyard with a swing set. We love having outdoor space to play and often host our friends and family for barbeques and get togethers. Jonathan loves to lay on a blanket in the yard reading and Allie's favorite place is the walk-in closet she converted into an art studio. Kate loves it in there, and will sit and color or draw while Allie works on her art projects. We love to cook together so we spend a lot of our time in the kitchen, and we have nightly dinner together in our dining room.
Our neighborhood is centrally located, we are a quick drive away from libraries, playgrounds, a children's museum as well a world class aquarium. Our favorite aquarium activity is petting the stingrays! When its warmer, we enjoy going to the town beach and visiting a local college with a gorgeous arboretum.
From Us to You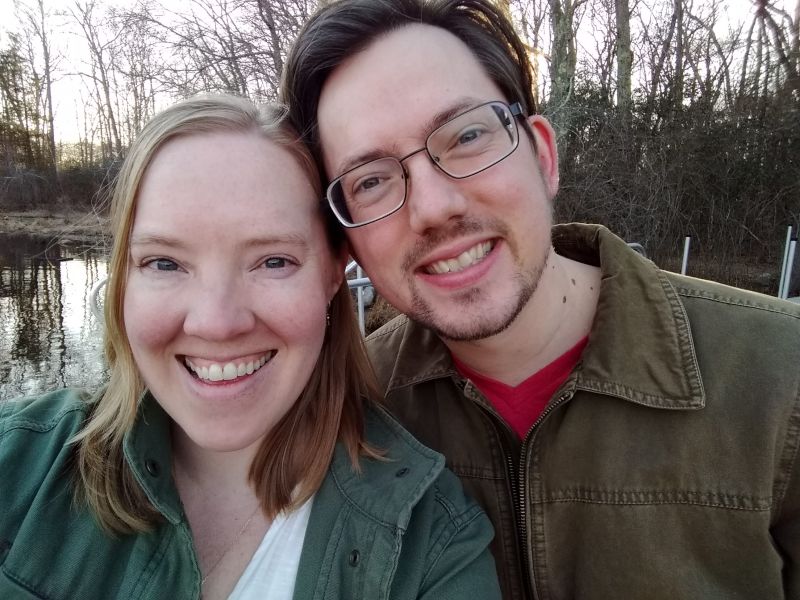 Greetings!
It is hard to imagine the journey that led you here where you are reading our profile. Whatever your situation, we are grateful we get a chance to reach out to you. We want to tell you about our strong desire to adopt and to grow our family, not only by welcoming a new child, but by welcoming their birth family as well.
Our relationship began in college - we started off as very close friends. After a few years we realized we were a great match, and should totally date. We've been married for 10 years, and to this day our marriage is the central pillar in our lives. We believe that a stable and healthy relationship with one another helps us to be better parents. In 2017 we had our daughter Kathryn (Kate) who is a true delight to be around. Kate is going to be an excellent big sister; she is so excited! She is such an affectionate and funny child we know she will fit into the role of big sister perfectly.
It is important to us that you know how much we value you. We intend to raise our adopted child to respect and value their birth family. Here are some promises we will make if you give us the honor of becoming your child's adoptive family:
• You will be cherished. You are important, and we will value you. You are an individual with hopes, dreams, goals and passions of your own. We will cheer for you, cry with you, support you, and befriend you.
• Your child will be loved completely without condition or exception. We believe in encouraging a child's own interests, and helping them grow into the best versions of themselves.
• Your cultural heritage will be valued. If your child is of a different cultural background than our own, we will celebrate that, and make it a central part of our family's identity. We will focus on educating and immersing ourselves in local communities so our child will have the resources they need to connect with their birth culture meaningfully as they grow.
• Parenting is our highest priority. Raising a child well is a massive undertaking and takes a lot of hard-work and dedication. We take this role seriously, and we always strive to do our best. We are thoughtful with our parenting strategies and are always willing to try something new to help our child thrive.
• We are SO. STINKING. EXCITED. to welcome a new child into our home, and for the prospect of an open adoption. Our home is full of fun, laughter and love and we hope this is something that you can share with us throughout the years as well.
If it is what you desire, we would love to have you be a regular presence in our child's life - we want you to be a part of this family! We are very happy to send pictures, emails and text updates as much as you want and are open to regular visits. That said, if you ever decide you need to step away for a time, we will respect that and honor your decision. The relationship will remain available to pick-up when you feel you are ready.
Our desire to pursue adoption comes from a place of hope and love. We truly believe that the family bonds we form will be the foundation of a wonderful life: for us, for our children, and for you if you choose us as your adoptive family. Thank you so much for your consideration and we wish you the best as you continue on your adoptive journey.
Sincerely,
Jonathan & Allie
Favorites
Actor
Nathan Fillion
David Tennant
Actress
Awkwafina
Olivia Colman
Author
JRR Tolkien/Brandon Sanderson
Stephen King
Book
Lord of the Rings Trilogy
'Enchantment' by Orson Scott Card
Candy Bar
York Peppermint Patty
Gummi Bears, Sour Patch Watermelons
Childhood Memory
walking to school with my Mom and sister
UNO Tournaments with my family
Children's Book
Maniac Magee
'Quackenstien Hatches a Family'
Classic Movie
Alien, The Matrix, Groundhog's Day, Ghostbusters
Singin' in the Rain
Color
Orange
Teal / Turquoise
Day of Week
Thursday
Saturday
Dessert
Brownies with Vanilla Ice Cream
Homemade Cinnamon Rolls with Cream Cheese Icing
Disney Movie
Aladdin
George of the Jungle
Dream Car
Tesla
Magical Self-Cleaning Car
Dream Job
Camp Director
Artist
Dream Vacation
10 weeks on the beach
Hawaii, relaxing on a beach
Family Activity
backyard picnics
walks around our neighborhood
Flower / Plant
un-killable house plants
Sunflowers
Food
pineapple wrapped in bacon
Cheese
Form of Exercise
hiking
Workout DVD's
Fruit
chocolate
Raspberries
Game
War of the Ring
Settler's of Catan: Cities and Knights
Hobby
Playing the Piano
Art
Holiday
Halloween
Christmas / Halloween
Holiday Song
What Child is This?
Bare Naked Ladies Holiday Album (esp. God Rest Ye Merry Gentlemen)
Holiday Tradition
Candlelight Christmas Eve Service / Christmas morning breakfast
Holiday Activities Advent Calendar / Making our Halloween Costumes
Ice Cream
CHOCOLATE
Rainbow Sherbert
Junk Food
chicken wings
Nachos
Leisure Activity
binge reading
Watching TV
Memory with a Child
Playing at the beach in FL with my daugher
Swimming together at the lake in NH
Memory with Spouse
Traveling to Italy
Biking through Tuscany on our vacation to Italy
Movie
The Prestige
10 Things I Hate About You
Movie Munchie
Popcorn
Popcorn
Movie Quote
"They've taken the hobbits to Isengard!"
"Doth Mother know you weareth her drapes?" -Tony Stark
Movie Type
Action / post apocalyptic
Romantic Comedies
Musical
Les Miserables
Rogers and Hammerstein's Cinderella (with Whitney and Brandy!)
Musical Group
Switchfoot
Switchfoot
Nursery Rhyme
Itsy Bitsy Spider
Twinkle Twinkle Little Star
Olympic Event
Curling (Canadian heritage)
Gymnastics
Personal Hero
Martin Luther King Jr
Jim Henson
Play
The Tempest
Midsummer Nights Dream
Poet
Shakespeare
Shell Silverstein
Quality about my Spouse
She's Creative
He's easy-going
Quote
"I reject your reality and substitute my own!" -Adam Savage from Mythbusters
"Books are a uniquely portable magic." - Stephen King
Sandwich
Sweet Onion Teriyaki Chicken from SUBWAY
Italian Sub
Shopping Store
Used book store
Target
Song
Only Hope, by Switchfoot
Footloose
Sport to Play
Ultimate Frisbee
is arts and crafts a sport?
Sport to Watch
Basketball
Football
Sports Star
Rajon Rondo
it was Tom Brady but now he's a traitor.... so,?
Sports Team
Celtics
New England Patriots
Thing to Cook
Burgers
Orange Chicken
Time of Day
Late night
Mornings
Tradition
Summer camp
Taking turns opening gifts on Christmas morning
TV Show
Lost, The Office
Psych!
TV Show Character
Hurley from Lost
Carlton Lassiter
Type of Music
Alternative & Pop Rock
70's Rock and top 40's
Vacation Spot
Lake Winnipesaukee
Wolfboro NH
Video Game
Hollow Knight, or Dark Souls
Super Mario games