How Do You Adopt a Baby in Florida?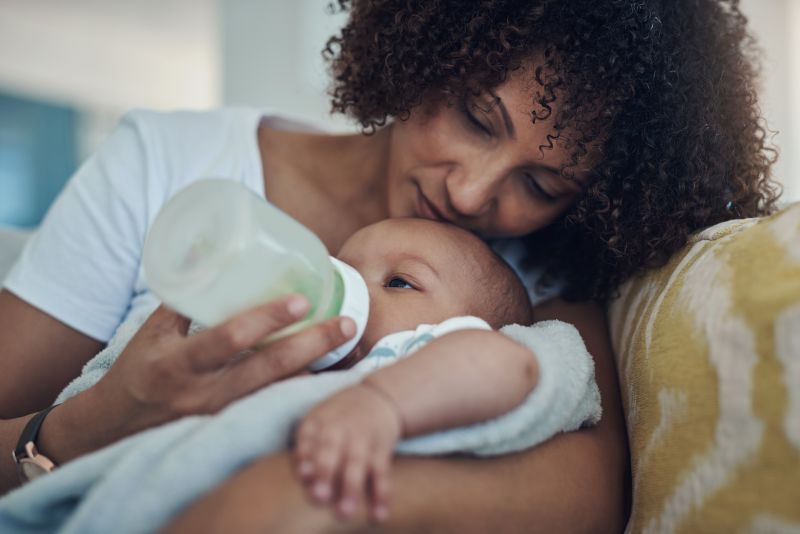 If you're considering baby adoption in Florida, please know that you're starting a beautiful journey. Adoption benefits everyone involved. A child gets the loving home and bright future they deserve. A birth mother can move forward from an unwanted pregnancy and keep her dreams alive. You get a chance to start the family you've always wanted.
Adopting a baby in Florida or in any other state is a noble act of love. But how do you adopt a baby in FL, and why should you do it? To find these answers (and many more), keep reading below as we cover some of the factors that motivate prospective adoptive parents to choose baby adoption in Florida.
Also, we want you to know that if you're considering adoption of a baby in FL, you need an experienced, compassionate professional on your side. We can help with that. To speak with an adoption specialist today, call 1-800-ADOPTION or complete our online form.
How Can You Adopt a Baby in Florida?
You want to pursue Florida baby adoption, but you're not sure how to go about adopting a baby in FL. The good news is you're in luck. Below, we'll walk you through the 6 steps in the FL adoption process. Those 6 steps are:
Selecting the right adoption professional.
Completing APQ, screening, profile, home study, and training.
Waiting for an adoption opportunity.
Learning more about the birth mother who chose you.
Accepting placement after the child's birth
Finalizing your Florida baby adoption and carrying out your post-placement adoption agreement.
If you want to know more about the Florida baby adoption process in greater detail, you can check out our deeper dive into that topic by clicking here.
Why Should You Pursue Adopting a Baby in Florida?
If you've already started your research into how to adopt a baby in the U.S., your next step may be to seek out some of the reasons that other hopeful adoptive parents decide adopting babies in FL is the best method of family growth. Fortunately, you're in the right place to find that information.
Read more below to learn what motivates waiting parents to select baby adoption in FL.
1. You are only interested in adopting a baby in FL
Hopeful adoptive parents who adopt a baby in FL get the chance to shape their baby's life from the beginning. Some parents who adopt a baby find it gives them a deeper connection with their child. It also lets them ensure that their child has the best possible foundation to enjoy a healthy, happy future.
If shaping your child's life by instilling your values in them and establishing family traditions is important to you, then adopting a baby in FL could be your best option for achieving your goal of building a family.
2. You want comprehensive support and services when adopting
American Adoptions is a private domestic adoption agency with national reach. You can rest assured knowing that when you partner with our organization, we'll be there to guide you through each step of the process for adopting a baby in FL. We provide industry-leading comprehensive resources and support for parents who want to adopt a baby in Florida.
There's a long list of benefits you get from partnering with American Adoptions, such as:
No another Florida baby adoption agency can match the unique services that we offer through our organization. American Adoptions is committed to making sure you have the support you need and deserve throughout your adoption journey.
3. You wish to help an expectant woman preserve her future plans and goals
While the focus in most adoptions is the adoptee, many forget that adopting an infant in FL gives you a way to support an expectant woman caught in a difficult situation. For women seeking to move forward from an unplanned pregnancy, adoption offers a way to keep their future hopes and dreams intact.
At American Adoptions, we serve both expectant birth parents and hopeful adoptive parents. We understand the predicament that unexpected pregnancy can cause, and we put an emphasis on supporting women considering adoption. In fact, a lot of your investment in your Florida baby adoption will directly fund services and financial support of your baby's birth mother.
Some of the support we provide to women considering adoption and those committed to adoption for babies in FL includes:
Choosing to adopt a baby in Florida through a private domestic adoption agency lets you support women who are dealing with tough circumstances and who want to preserve the future they have always wanted.
4. You want to pursue an open baby adoption in FL
Most adoption professionals now agree that open adoption is beneficial for adoptees. Open baby adoption in FL allows them to grow up with the knowledge that they are loved by two sets of parents who support them. Adoptees in open adoption get full access to their culture and history. They know who they are and where they come from. Birth parents and adoptive parents also reap the benefit of open baby adoption in FL.
Choosing open adoption of a baby in FL indicates that you love your child and you're willing to ensure they have every chance to enjoy a bright future rich in love and opportunity. They'll get to have a meaningful relationship with their birth parents and grow up with full transparency regarding their adoption story.
5. You want to know your FL baby adoption is ethical and compassionate
One of the biggest benefits of partnering with American Adoptions when adopting a baby in FL is that you can take comfort in knowing we get maximum oversight. Because we're a national agency licensed to perform adoptions in all 50 states, we undergo many regulatory processes and reviews for licensure many times each year. Those reviews ensure we're offering ethical, quality services to both birth mothers and adoptive parents.
Not every adoption professional is held to such high standards, however. Some unethical adoption professionals may not offer the quality of service you get from American Adoptions. The best way to encourage ethical adoption practices when you adopt a baby in FL is to partner with our domestic agency.
6. You want to adopt a baby in FL, but you want the shortest possible wait
How can American Adoptions offer some of the shortest wait times in the industry? It's because we partner with birth mothers from across the U.S. instead of just one state. We also offer 800x more marketing than other leading national agencies, which helps your family gain exposure with expectant birth parents.
Marketing has a direct impact on your adoption wait time. If you choose an agency that only offers a fraction of the marketing, completed fewer adoptions and has a low number of waiting adoptive families, you could wait years to become a mom and dad.
Our unmatched marketing, number of completed adoptions, and reach to families and birth parents mean significantly more adoption opportunities for your family.
We'll put our robust resources to work in finding prospective birth mothers, and we offer them quality services they can't get anywhere else. Working with us when adopting a baby in FL means your adoption profile will be seen by many more expectant women and your wait time will be dramatically reduced.
7. You want financial protection when adopting a baby in FL
Adoption of babies in FL is an expensive endeavor for any family to undertake. We know that, which is why we're committed to protecting your investment of time and money, though there's always a chance it may not work out. Adoption disruption happens, but unlike other agencies, we strive to protect adoptive families from its effects.
Other FL baby adoption agencies may claim to protect adoptive families by offering a "rollover" policy for adoption disruptions. However, a rollover policy doesn't offer a high level of protection for families because the funds spent on a failed adoption opportunity can only be "rolled over" into another adoption opportunity.
At American Adoptions, we don't believe that it serves the best interests of the families that partner with our agency. Our financial protection program fully protects families by providing a full refund of the money you have invested in your adoption opportunity, even if it falls through. That way, you get maximum flexibility and retain your options following a disrupted adoption opportunity.
Final Words on How to Adopt a Baby in Florida
Above are just a few of the compelling reasons that prospective adoptive parents choose FL baby adoption. After reading them, you may have decided it's the right way forward for you, too. If so, we want to congratulate you. You've taken the first step on a life-changing journey that will bring growth and joy to your family.
Next, you'll want to speak with an adoption professional about the process. We can help with that. To speak with an adoption professional today, simply call 1-800-ADOPTION or complete our online form. We'll be in touch soon!
Disclaimer
Information available through these links is the sole property of the companies and organizations listed therein. American Adoptions, Inc. provides this information as a courtesy and is in no way responsible for its content or accuracy.