Adoption in Gainesville
Gainesville Adoption Agencies, Lawyers and More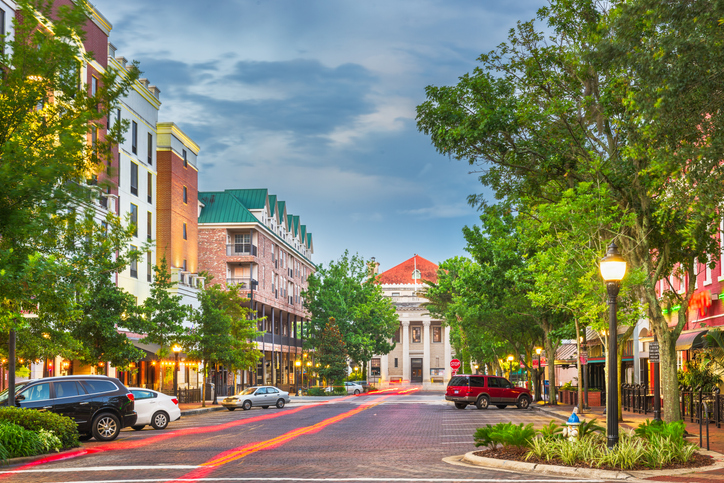 Gainesville is a great place to raise a family. And, if you need a little extra help to bring a child into your home, there are plenty of local resources here to assist you.
But, what if you're not looking to add to your family — and facing an unplanned pregnancy instead? Are there helpful resources and options for you in Gainesville, too?
The answer is yes. Whatever reason you're considering adoption, you can find the support you need in Gainesville. In fact, you're already one step closer by coming to this article. Here, you can learn more about all the resources you'll need for a successful adoption in Gainesville — and the local options available to you.
Ready? Let's get started.
Adoption Agencies in Gainesville
The first decision you'll need to make? Whether you will work with a full-service adoption agency.
An adoption agency can be the answer to all of your questions. These professionals are experienced and knowledgeable. They've done this many times before, and they can help you with the same grace and support they offer every client. Adoption can be scary, but, with an adoption agency by your side, it will be much easier.
You have a few options when it comes to adoption agencies in Gainesville. Might we suggest American Adoptions of Florida?
We're a national agency, meaning we can offer an extended network of professionals and shorter average wait times for prospective adoptive parents. We're also licensed in Florida, so we can provide the personalized, local feel you may desire in your Gainesville adoption agency.
Here's just a few reasons why so many Floridians choose us to guide them through the infant adoption process:
We know choosing a Gainesville adoption agency for your journey is an important decision. So, feel free to reach out to our trained specialists anytime for answers to your questions, more information or whatever guidance you might need. Give us a call at 1-800-ADOPTION or contact us online right now.
Foster Care Adoption Agencies in Gainesville
Have you thought about adopting an older child, a child with special needs or a sibling group? If so, foster care adoption in Florida might be right for you.
Most foster placements have the goal of reunification, but many children are also eligible for adoption today. You can learn more about them on the Florida photolisting site or by contacting one of these local professionals:
International Adoption Agencies in Gainesville
Do you dream of bringing a child from another country into your family? You might consider international adoption.
First, know that options and paths for international adoption have decreased over the last few decades. However, there are still many professionals in Florida who can guide you through this family-building journey. Make sure to work with a Hague-approved agency to safely, ethically and legally complete this process. Here are a few to consider:
Adoption Attorneys in Gainesville
Every adoptive parent and prospective birth parent can decide whether or not to work with an adoption agency. However, there is one professional that is not optional: an adoption attorney.
Adoption laws in Florida can be confusing, so you'll need an experienced professional to guide you through them. An adoption attorney will not only ensure your adoption is legal, but they'll also complete important services like monitoring living expense payments or terminating parental rights.
Working with American Adoptions of Florida automatically connects you with an experienced Gainesville adoption lawyer — but the ultimate choice is always up to you. If you want to do some research, there are a few local professionals available to help:
Gainesville Adoption Home Study Providers
Every adoptive parent must meet certain requirements before they can adopt. While every professional sets its own requirements, there's a common one: the adoption home study.
An adoption home study is essentially an overview of your home, your family and your lifestyle. It ensures that you are ready for the unique challenges and joys of parenting an adopted child. A social worker will conduct an in-home visit, at which point they'll also complete interviews with every member of your household.
As a Florida-licensed agency, American Adoptions of Florida can help you with this process. We complete infant adoption home studies (even for those not working with us for placement) and international home studies in Florida. We'd be happy to help you, whenever you're ready.
Contact us online to learn more.
Gainesville Hospitals for Prenatal and Maternity Care and Delivery
If you're considering adoption in Gainesville to place your child with a new family, you're making a brave choice. American Adoptions of Florida will be there to support you every step of the way, never obligating you or pushing you to make an adoption decision you're not 100% ready for.
When you do move forward, you'll create a personalized adoption plan, which will also include your wishes for your delivery experience. Your adoption specialist will work with you, the adoptive family and the hospital you choose to prepare for this special moment. You'll want to choose the hospital that is most convenient for you from these local options:
And remember: Your medical costs for prenatal care and delivery will always be covered by the adoptive parents you choose.
Gainesville Courts for Adoption Finalization
The legal process of adoption can seem long, but it concludes with one momentous occasion: the adoption finalization hearing.
This hearing typically occurs six months after placement, after the adoptive parents have completed any required post-placement assessments. Adoption paperwork will be presented to a judge, who will review it, ask a few questions and then issue a final decree of adoption. Adoptive families are encouraged to bring a camera and a few loved ones to mark this special moment.
Finalizations for adoptions in Gainesville typically occur at the Alachua County Courthouse.
Tourism Spots for Your Adoption in Gainesville, FL
You'll probably spend some time in the Gainesville area when you're pursuing an adoption here. Many prospective birth parents and adoptive parents meet up for a few pre-placement visits, and adoptive parents will often spend some time in the birth mother's city after placement while they wait for ICPC clearance.
However long you're in Gainesville, make sure to check out some of these local attractions:
When it comes to your adoption in Gainesville, what are you waiting for? Give American Adoptions of Florida a call today at 1-800-ADOPTION or contact us online anytime.
Disclaimer
Information available through these links is the sole property of the companies and organizations listed therein. American Adoptions provides this information as a courtesy and is in no way responsible for its content or accuracy.