Adoption in Hollywood, FL
Hollywood Adoption Agencies, Lawyers and More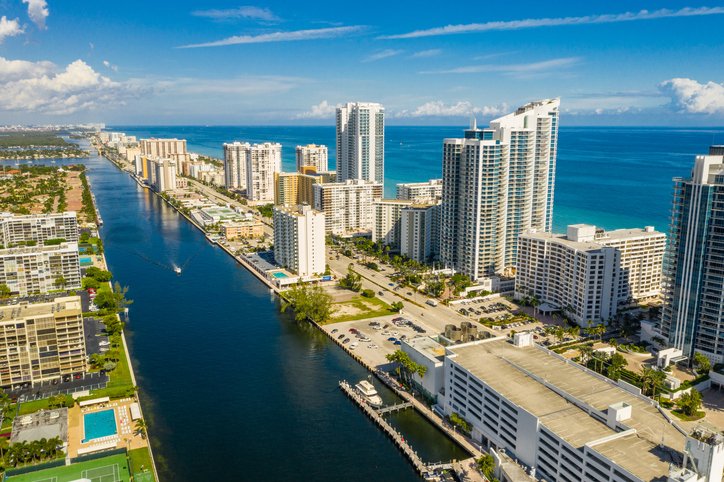 When you're considering an adoption in Hollywood, Fla., you have a lot of decisions to make. One of the most important? Deciding which adoption professionals will accompany you on this life-changing journey.
Whether you are looking to adopt a baby in Hollywood or place a baby for adoption in Hollywood, a trained professional can make the journey much easier. With the right services and support, you can rest assured that your adoption will be completed ethically, legally and safely.
Finding the right professional, however, can take some effort. To help you out, we've created this extensive guide to adoption in Hollywood. Below, find all the information you need to choose the best adoption professional for you.
Want to get started with a baby adoption in Hollywood today? American Adoptions of Florida will always be here to help.
Adoption Agencies in Hollywood, FL
Why is American Adoptions of Florida a good choice? Because we're a national agency licensed in Florida — giving you the best of both worlds during your Florida adoption journey.
American Adoptions of Florida is happy to provide our prospective adoptive parents and birth parents all the advantages of national agency, including:
A network of trained adoption professionals
A wide variety of adoption opportunities and waiting adoptive families
24/7 support for pregnant women considering adoption
Financial risk protection for hopeful adoptive parents
Financial support for prospective birth mothers
And more
At the same time, you'll receive personalized case support and counseling from a local social worker who will guide you through every step of the journey.
When it comes to adoption agencies in Hollywood, there's no better choice than American Adoptions of Florida. Want to learn more? Give our specialists a call anytime at 1-800-ADOPTION, or request free, no-obligation information online.
Foster Care Adoption Agencies in Hollywood, FL
Some hopeful parents decide that they want to adopt an older child, a child with special needs, or a sibling group. In that case, foster care adoption is the right path for them.
Foster care adoption can be a complicated process, but it can be a beautiful way to provide a home to the thousands of children in Florida state custody who need one. American Adoptions does not complete foster care adoptions, but there are several foster care adoption agencies in Hollywood you can reach out to:
International Adoption Agencies in Hollywood, FL
While there are many options for a domestic adoption, many adoptive parents still decide that an international adoption is the right choice for them. Options for viable intercountry adoptions have decreased over the last few years, but you may still be able to pursue this family-building option.
If you are interested, we encourage you to work with a Hague-approved adoption agency in Hollywood, such as:
Adoption Attorneys in Hollywood, FL
No matter what kind of Hollywood adoption you pursue, there's one professional you can't do without: an adoption attorney.
Hollywood adoption laws can be confusing. Without trained legal guidance, you could quickly put your own adoption journey in jeopardy. Fortunately, American Adoptions of Florida is always happy to provide our prospective birth parents and adoptive parents references to trusted lawyers we frequently work with.
Want to look for Hollywood adoption attorneys on your own? You could start with these local options:
Hollywood Adoption Home Study Providers
Adoptive families have to meet different requirements depending on the type of adoption they choose. But, there's one thing that all families have to do: complete an adoption home study.
An adoption home study is essentially an overview of an adoptive family's lifestyle, home and readiness to adopt. During this step, a licensed social worker will visit your home to conduct an assessment and in-home interviews.
It can seem stressful, but, as a licensed Florida home study agency, American Adoptions of Florida will make it as easy as possible. Even if you're not working with our agency for placement, we will be happy to complete your domestic and international adoption home studies, too.
Contact us online for more information or to get started.
Hollywood Hospitals for Prenatal and Maternity Care and Delivery
If you're facing an unplanned pregnancy and think adoption in Hollywood might be right for you, we'll be there to help you every step of the way — from providing 24/7 education and counseling to presenting profiles of waiting adoptive families to counseling birth parents after placement.
Part of that journey involves creating a hospital plan, where you'll detail exactly how you want your childbirth experience to go. We'll help you create a plan for your chosen hospital, and we'll help your medical professionals prepare, too. Don't have a hospital in mind? There are a few options in and near Hollywood you might consider:
Please remember: Your medical costs will always be covered by your adoption agency and the adoptive parents you choose for your baby.
Hollywood Courts for Adoption Finalization
When you're an adoptive parent, your journey isn't officially over when your baby is placed in your arms. You'll need to complete a few more legal steps before your child is officially (and legally) a member of the family. These include post-placement visits and adoption finalization.
Post-placement visits will typically be completed by your home study provider, and that information will be presented to a judge during your adoption finalization hearing. Your family will be present during this hearing and, after asking a few questions, the judge will approve your adoption and declare an official final decree of adoption.
Your Hollywood adoption finalization will typically take place at the Broward County Court.
Tourism Spots for Your Adoption in Hollywood, FL
Finally, if you're pursuing an adoption in Hollywood, Fla., it's important that you keep yourself busy during this time. If you're in town for a pre-placement meeting with the prospective birth or adoptive parents, you'll probably want some ideas for activities to share. And, if you're staying in Hollywood through the duration of your ICPC stay, you'll want some ideas to get you out of your hotel room.
Fortunately, there's plenty to do in this bustling city, such as:
Wherever you're at in your Hollywood adoption process, American Adoptions of Florida is always happy to help. Learn more about our agency services anytime by calling 1-800-ADOPTION or contacting us online. We can't wait to hear from you.
Disclaimer
Information available through these links is the sole property of the companies and organizations listed therein. American Adoptions, Inc. provides this information as a courtesy and is in no way responsible for its content or accuracy.