Everything to Know About Florida Adoption Laws
Important Florida Adoption Regulations to Know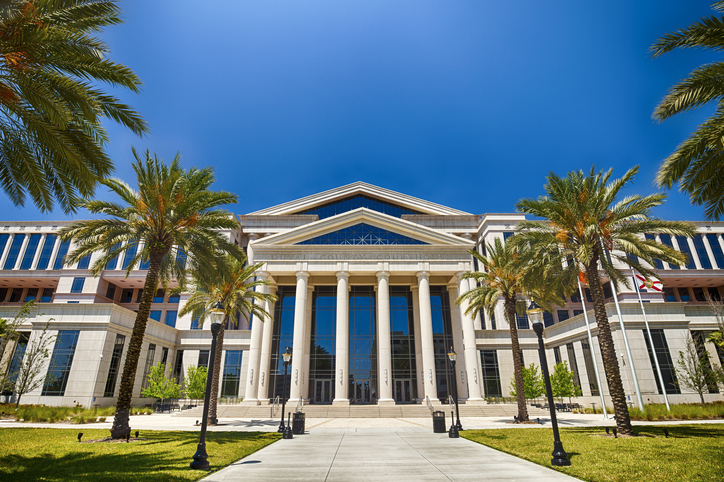 Each state has its own adoption laws. While there are similarities across the board, there are also distinct rules and laws for adoption in Florida.
American Adoptions of Florida is a fully licensed adoption agency. We have provided services for hundreds of prospective birth parents and adoptive parents over many years. This experience has given us a unique expertise when it comes to the adoption journey in Florida, and we've created this guide to give you a better understanding of the Florida adoption laws that will affect your upcoming process.
Learning about adoption laws in Florida is a great thing to do. However, the best thing you can do for your process is work with trustworthy professionals. That means agencies — like ours — and adoption attorneys.
Use this guide as supplemental material in your adoption research and not as legal advice. Contact a professional for legal advice concerning adoption laws in Florida.
5 Florida Adoption Laws You Should Know
There are many laws about adoption in Florida. These five statutes are some of the most important, and they will have the largest impact on your journey.
Who Can Adopt and Who Can Be Adopted
Considering adoption as a way to grow your family? A good place to start your research is Florida adoption law's eligibility requirements.
In Florida, single adults or married couples may jointly adopt. There are no single parent adoption laws in Florida that may prohibit you from adoption, whereas other states require marriage. All adoptive parents must be approved through an adoption home study, as well as meet any additional requirements from their private agency.
It is important to know that while Florida may not require marriage, your agency might. Agencies usually have their own requirements in addition to the requirements in state laws.
If you are experiencing an unplanned pregnancy and considering adoption for your baby, you can create an adoption plan. There are no adoption requirements for prospective birth mothers in Florida adoption law.
Any newborn may be adopted in Florida, as well as any other child. However, children age 12 and older must give their personal consent to any adoption placement, unless the court decides to waive the child's consent.
LGBTQ Adoption Laws in Florida
The adoption laws in Florida previously banned same-sex couples from adoption, but this offensive and outdated statute has been struck down. If you are an LGBTQ couple considering adoption, there are no Florida adoption laws that stand in your way.
Make sure to find an agency that truly supports you on this journey. American Adoptions of Florida is proud to work with many LGBTQ couples as they fulfill their dreams of becoming parents.
Open Adoption Laws
The majority of domestic infant adoptions are at least semi-open. American Adoptions of Florida encourages openness in adoption, including direct contact between prospective birth parents and adoptive parents. Both experience and extensive research have shown open adoption to be a beneficial experience for everyone involved.
You may be wondering if open adoption agreements — which establish the type and frequency of communication — are legally enforceable according to adoption laws in Florida. The answer is tricky, and you should speak with your attorney for more clarity in your situation.
Florida adoption laws do allow Post-Adoption Contract Agreements (PACAs) between prospective birth parents and adoptive parents. However, the law does not establish any viable mechanisms for enforcement of these agreements.
This is not necessarily a bad thing. The best open adoption relationships are based on a genuine connection, not a law. And American Adoptions of Florida is here to support all birth and adoptive parents through their open adoption relationships, whatever they may look like.
Regulations for Prospective Birth Parent Financial Assistance
Prospective birth parents can receive adoption-related financial assistance throughout the process. Because this journey can become all-consuming, you may be wondering, "What, exactly, is 'adoption-related?'" Your whole life is about adoption during the process, so what qualifies and what doesn't?
Thankfully, laws on adoption in Florida help clear things up. Each state has its own regulations on financial assistance. In Florida, prospective birth parents may be eligible to receive:
Medical expenses
Legal fees
Pregnancy-related expenses during pregnancy and up to six weeks postpartum
Living costs
Administrative fees for medical records or other documents
Counseling costs
And more
American Adoptions of Florida will always work to ensure any prospective birth mother receives all the allowable and necessary financial assistance available according to Florida adoption law. When you're a prospective birth mother, adoption for your baby is always free and you will never pay for legal, medical or other required expenses.
Adoption Advertising Laws
Advertising in adoption is the process of finding an adoption opportunity for hopeful parents. This typically takes the form of showing adoptive family profiles to prospective birth mothers. There are rules in Florida adoption law that lay out who can and cannot conduct advertising for adoption.
Licensed adoption agencies are the only professionals allowed to advertise in the state of Florida. This protects families and prospective birth parents. Licensed agencies are trustworthy and held to high standards, whereas other organizations or individuals can more easily participate in fraudulent advertising or unethical adoption practices.
Through this regulation, and many others, Florida adoption laws make it clear that working with a licensed adoption agency is essential to a successful placement.
Learn More About Florida Adoptions Laws
We hope this guide gives you a better understanding of adoption laws in Florida. To learn more or ask specific questions about your situation, contact an attorney who specializes in family law. If you are interested in starting your journey with American Adoptions of Florida, please contact us at any time by calling 1-800-ADOPTION.
Disclaimer
Information available through these links is the sole property of the companies and organizations listed therein. American Adoptions provides this information as a courtesy and is in no way responsible for its content or accuracy.