Your Complete Guide to LGBTQ Adoption in Florida
How Our Agency Can Help You Become Parents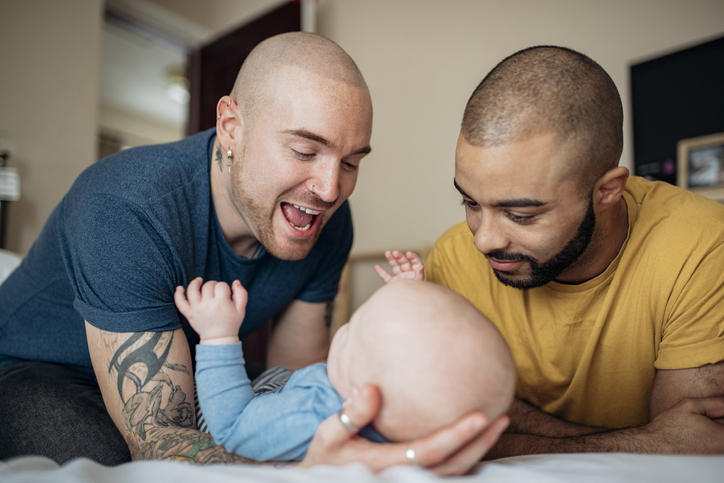 Anyone who dreams of starting a family should have the opportunity to do so. One great way for same-sex partners to turn this dream into a reality is through adoption, and American Adoptions of Florida is here to make it happen.
Florida gay adoption can be the start of a beautiful story. If you are new to the idea, it's common to have a lot of questions. We've created this guide to gay adoption in Florida to help. Here, you can learn a bit about how the process works, the laws about same-sex adoption in Florida and the professionals that can assist you during this journey.
While reading, keep in mind that American Adoptions of Florida is a fully licensed national adoption agency with a long history of advocating for LGBTQ rights in adoption. If you would like to adopt a child, we would be honored to help.
Florida Gay Adoption — What You Need to Know
Every adoption journey is unique. Your experience will be unlike anybody else's. However, the distinct ups and downs of your process won't be caused by your sexual orientation. Same-sex adoptions in Florida shouldn't be treated differently from any other adoption. Love is love, parents are parents, and adoption is beautiful.
With that in mind, here are a few of the most common questions about Florida gay adoption — and the answers you're looking for
Is Same-Sex Adoption Legal in Florida?
Although the answer to this may already be obvious, we want to emphasize it yet again: Yes, same-sex adoption is legal in Florida.
There are no anti-gay adoption laws in Florida. The offensive and outdated Florida gay adoption ban, overturned in 2015, no longer applies. In fact, LGBTQ adoption is legal in all 50 states. A state cannot stop you from adopting based on your sexual orientation. However, some private agencies can, and this is important to know.
Recently, arguments have been advanced in court by private organizations that attempt to create loopholes to anti-discrimination law on the basis of religious freedom. In some states, a private organization can legally refuse service to an individual based on sexual orientation.
This matters, because you deserve to work with an agency that supports you. American Adoptions of Florida is a strong proponent of LGBTQ rights and has proudly worked with many hopeful parents for same-sex adoption in Florida.
How Can Gay Couples Adopt in Florida?
The adoption process can be long and complicated. The best way to complete it is to work with an adoption agency.
American Adoptions of Florida is a fully licensed agency that specializes in domestic infant adoption (also called private adoption). Are your dreams to adopt a newborn in the U.S.? If so, then domestic infant adoption may be a great fit for you.
The process for gay adoptions in Florida is the same as for heterosexual partners. Once you start the process with our agency, a specialist will help you become an "active family." This means you will complete your home study and create an adoptive family profile that will be shown to prospective birth mothers — brave women who have chosen to create adoption plans for their babies.
From there, the process will follow these steps:
Step 1: Wait for an adoption opportunity. Your profile will be shown to prospective birth mothers whose situations fall within the scope of your Adoption Planning Questionnaire (APQ). During this time, your specialist will be working tirelessly to find the right opportunity for you.
Step 2: Accept your opportunity. One of the best moments of your life will come when your phone rings and it's your specialist informing you that you have been selected by a prospective birth mother. You're going to start a family!
Step 3: Connect through pre-placement contact. Most gay adoptions in Florida, just like all domestic adoptions, are at least semi-open. This means you will have the opportunity to get to know the prospective birth parent(s) before placement and continue communicating post-placement.
Step 4: Travel for placement. The prospective birth mother will have created a hospital plan for the birth. When the time comes, that plan will kick into gear and direct how things go. Adoptive parents travel to the hospital for placement — a truly transformative moment in the life of a family.
Step 5: Finalize the adoption. Your journey does not end at placement. Rather, it ends several months later at an adoption finalization hearing. Finalizations for gay adoption in Florida are the same as for any other adoption. Your specialist with American Adoptions of Florida will help you prepare for a successful finalization.
Domestic infant adoption is only one of several Florida same-sex adoption paths. You could also choose to adopt from foster care or look abroad to international adoption. If you are interested in international adoption, you should be aware that some nations will not allow same-sex partners to adopt.
While American Adoptions of Florida can only serve as your agency for domestic adoption, we are licensed to provide home studies for all types of adoption (except for those from China).
Resources for Same-Sex Adoption in Florida
Individuals and partners pursuing same-sex adoption in Florida can access a variety of helpful resources. The first is speaking with a specialist by calling 1-800-ADOPTION, if you are interested in domestic adoption with American Adoptions of Florida. Our team would be happy to answer your questions and help you start the process.
If you are a member of the LGBTQ community, there are additional resources designed specifically to equip you for adoption and advocate for your rights throughout the process. See below for helpful tips, tools and information on gay adoption in Florida:
Contact Us Today
Are you ready to start your adoption journey? Call 1-800-ADOPTION or contact us online today to learn more about working with American Adoptions of Florida.
Disclaimer
Information available through these links is the sole property of the companies and organizations listed therein. American Adoptions provides this information as a courtesy and is in no way responsible for its content or accuracy.