Adoption in Jacksonville, FL
Jacksonville Adoption Agencies, Lawyers and More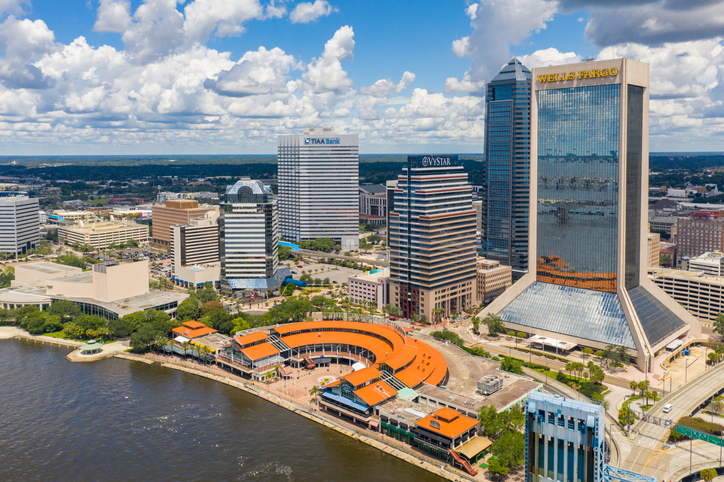 Whether you're looking to place a child for adoption or adopt a child in Jacksonville, Florida, you can't do it on your own. Adoption, while beautiful, can be a very complicated process. It's not one to embark on without proper guidance.
Fortunately, if you're considering adoption in Jacksonville, Fla., you have plenty of resources available to you. From agencies to attorneys to medical professionals, adoption services in Jacksonville, FL, can help bring your adoption plan to life.
We know that getting started can be tough. How do you find the right professional for your family?
By checking our extensive guide, full of everything you need to know about modern Jacksonville adoption.
Adoption Agencies in Jacksonville, Florida
One of the first decisions you'll need to make? Whether or not you'll work with an adoption agency in Jacksonville, Fla.
Adoption involves a lot of moving parts. An experienced professional can ensure that all of these steps are properly taken care of. An agency can take a great deal of stress off your plate, whether you're considering adopting or "giving a child up" for adoption in Jacksonville.
And, when it comes to adoption agencies in Jacksonville, Florida, there's no better option than American Adoptions of Florida.
American Adoptions is a national agency licensed in Florida. That means we can offer all the advantages of a national network (more opportunities, shorter wait times, greater financial protection) and the personalized feel of a local adoption agency in Jacksonville. Our staff will be there for you 24/7, and we'll make sure your adoption is completed ethically, legally and safely — whether you're a prospective birth parent or hopeful adoptive parent.
You can always learn more about our Jacksonville adoption agency services by calling 1-800-ADOPTION or contacting us online.
There are also a few other adoption agencies in Jacksonville and throughout Florida that you might consider:
Foster Care Adoption Agencies in Jacksonville, Florida
Older child adoption in Jacksonville, Fla., can be a wonderful way to add to your family. At any given time, there are thousands of children in the Florida foster care system waiting for a permanent home through adoption. You could be the family they are waiting for.
American Adoptions of Florida only completes private domestic infant adoptions in Jacksonville, but we support all adoption paths. If foster care adoption in Florida sounds like the right fit for your family, contact these agencies to learn more about the process:
International Adoption Agencies in Jacksonville, Florida
On the other hand, maybe you don't want to adopt from the United States. International adoption allows you to achieve your dreams by bringing a child from another country into your family. While international adoption numbers have dropped over the last few decades, there are still a few options for adoptive parents who want to take this path.
You'll want to work with a Hague-approved adoption agency in Jacksonville to safely and ethically complete an international adoption in Florida. Fortunately, there are a few throughout the state that can help you get started:
Jacksonville Adoption Lawyers
You'll need an adoption attorney to complete whichever kind of Jacksonville adoption you choose.
An attorney ensures that every adoption journey meets Florida adoption laws and regulations. They also ensure that both birth parents' and adoptive parents' rights are protected every step of the way. Moving forward without an adoption lawyer in Jacksonville, Fla., is not only unethical — it's illegal.
If you choose American Adoptions of Florida as your agency, we'll be happy to refer you to local Jacksonville adoption lawyers we commonly work with. However, the ultimate decision will be up to you. If you want to research some of your Florida options, they include:
Home Study Providers in Jacksonville
If you would like to adopt a child in Jacksonville, Fla., you'll first need to complete an adoption home study. During this investigation, a licensed social worker will review your home and your family's readiness for raising an adopted child. They will ask you questions and provide suggestions to help you prepare.
The home study process can seem overwhelming, but American Adoptions of Florida is here to guide you through it. Because we're licensed in the state of Florida, we can assist you from start to finish. And, even if you aren't working with our agency for a child placement, we can still complete your home study for you.
Want to learn more? Request free information online anytime.
Jacksonville Hospitals for Prenatal and Maternity Care and Delivery
If you are thinking about "giving a baby up" for adoption in Jacksonville, know that you'll be in charge every step of the way. You'll create what's known as an "adoption plan," which details your preferences from start to finish — including whether you want a Jacksonville open adoption.
Another part of that plan will be deciding where you receive prenatal care and deliver your child. You get to choose every aspect of your childbirth experience, including whether or not the adoptive parents will be there and how much time you will spend with your child. Don't forget: All of your medical costs will be covered, too.
When it comes time to deliver, you might choose one of these local hospitals:
Jacksonville Courts for Adoption Finalization
An adoptive parent's journey doesn't end at the hospital. Before their child's adoption is complete, they must complete a series of post-placement assessments and then an adoption finalization.
Adoption finalization occurs at your local courthouse. There, a judge will review adoption paperwork and post-placement assessments to ensure laws and regulations have been followed. They will then grant a final decree of adoption, and your Jacksonville adoption journey will be complete.
You will typically finalize your adoption at the Duval County Clerk of Courts. Don't worry — your attorney and agency will help you organize and prepare for this hearing.
Tourism Spots for Your Adoption in Jacksonville, FL
Many times, prospective birth parents and adoptive parents completing open adoptions in Jacksonville, Fla., will meet up prior to and after the child's birth. These visits allow both parties to get to know each other better and build a solid foundation for a future open adoption relationship.
Whether you're in town for a visit, or you're waiting out your ICPC clearance after your child's birth, there is a multitude of fun ways to spend your time:
Finding the right Jacksonville adoption professional can be hard. So, make it easier on yourself: Give American Adoptions of Florida a call today at 1-800-ADOPTION. Our specialists will be happy to answer your questions about our agency and, when you're ready, help you start your adoption journey.
Still debating your options? We understand. In the meantime, request free online information for prospective birth parents and adoptive parents here.
Disclaimer
Information available through these links is the sole property of the companies and organizations listed therein. American Adoptions provides this information as a courtesy and is in no way responsible for its content or accuracy.