How to Adopt a Child in Florida With Our Agency
The 5 Steps of the FL Adoption Process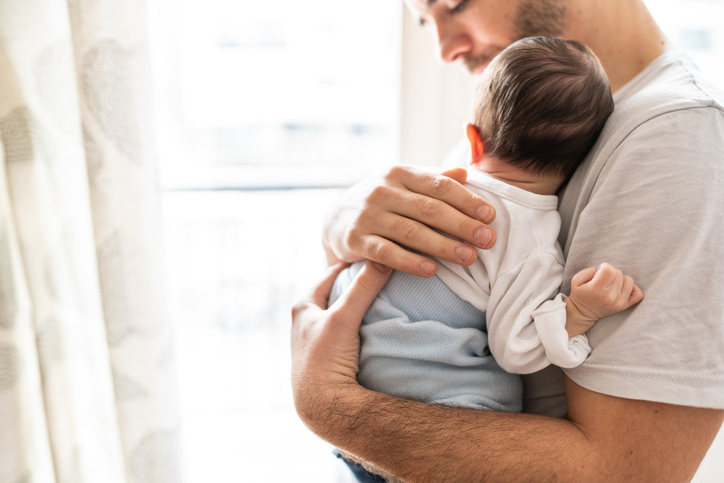 Adopting a child in Florida will change your life. This may be something you've dreamt of for many years, or it could be a new idea after a painful struggle with infertility. Regardless of which path has brought you here, we're glad you're considering adoption. And, we're here to help.
The process of adopting a baby in Florida involves many steps. It can get complicated, and that's where we come in.
American Adoptions of Florida is a fully licensed national adoption agency. We have served adoptive parents for more than 25 years, completing hundreds of Florida adoptions. Even though we are a national agency, we have a local presence in Florida, where you can find us at:
3001 North Rocky Point Drive East, Suite 200
Tampa, FL 33607
813-868-1000
Right now, you're probably searching for answers to some of your biggest questions. We get it — the whole process can feel confusing! That's why we've created this guide on how to adopt a child in Florida with American Adoptions of Florida. We hope it provides a helpful foundation for your adoption decision.
If you have more questions about adoption, please contact us at any time.
How Do I Adopt a Child in Florida?
Each adoption journey is unique. One thing you're sure to discover as you go down this road is that no two families are alike. Our agency can help you embrace the unique ups and downs of your journey as you adopt a baby in Florida.
While every family has a different experience, there are several key steps to adoption in Florida that each hopeful parent will go through.
Step 1: Decide if Adoption Is Right for You
Your choice to adopt a child in Florida will alter the course of your life. Adoption is amazing — it's also one of several family-building options. Is it right for you?
We can't answer for you. But, we can give you some helpful questions. If you are thinking about starting the adoption process in Florida, ask yourself:
Am I prepared for the responsibilities of parenthood?
Do I believe that family is more than biology?
Am I ready, emotionally and financially, for the challenges of adoption?
For partners: Are you completely unified in your decision?
These are just a few questions to get you started. Once you are able to say with certainty, "I want to adopt a baby in Florida," then you are ready for the next step of the process.
Step 2: Find an Adoption Agency
Private adoption in Florida is done with the support of an agency. If you are reading this, you've already got a head start on this step. American Adoptions of Florida can be your agency from start to finish when you are adopting a child in Florida.
Why should you work with an agency to complete your Florida adoption process? This journey is complex, and one misstep can endanger the entire process. You'll want peace of mind with something this important. You can get that by putting your process in the hands of an experienced professional. When it comes to your adoption in Florida, there's no better choice than American Adoptions of Florida.
Our agency offers adoptive parents a unique advantage. Because we are a national agency, we are able to work across the country to find the perfect adoption opportunity for you. This results in lower average wait times and an increased chance of finding the right match. Additionally, we are licensed in Florida and have a strong local presence, giving you a personal connection to a local professional and expertise in Florida adoption law. When it comes to how to adopt a child in Florida, we offer a level of service that few other professionals can.
Complete your infant adoption in Florida with American Adoptions of Florida. Get started today by calling 1-800-ADOPTION.
Step 3: Start the Adoption Process
You'll begin the Florida adoption process by working with an adoption specialist. Through a series of phone calls, your specialist will get to know you and help you create an adoption plan — the most important part being your Adoption Planning Questionnaire (APQ).
Once the APQ is completed, you'll begin the next steps of the process. This involves creating an adoptive family profile — which will be shown to prospective birth mothers — with the help of American Adoptions of Florida's excellent media team. You will also need to complete your home study, which is a review of your lifestyle and living situation to ensure you are prepared to have a child placed with you.
In addition to being a fully licensed agency, American Adoptions of Florida is also a licensed home study provider in Florida. We can take care of you at each step of the journey when you are adopting a baby in Florida.
Step 4: Accept an Adoption Opportunity
After your APQ, family profile and home study are completed, you will become an "active family." This means that your profile is being shown to prospective birth mothers (in Florida and across the country). Of all the steps to adopt a baby in Florida, this can often be the most challenging.
It's ironic, because this step asks very little of you, other than to wait. And the wait is a real challenge. It's hard to be patient! But, this step is all about trust. Trust in your specialist, your agency and that the perfect adoption opportunity is out there for you.
Eventually, you'll get one of the best phone calls of your life. It will be your adoption specialist — a prospective birth parent has chosen you to adopt their newborn. Your entire journey to adopt in Florida has been leading up to this moment.
Depending on how far along the prospective birth mother is in her pregnancy, things may kick into high gear as you prepare to travel, or you may have time to get to know the prospective birth mother through pre-placement contact leading up to her due date.
Step 5: Complete Placement and Finalization
When the times come, you will travel to the hospital for placement. Typically, infant adoptions in Florida occur shortly after birth. Florida law requires a 48-hour wait after birth before the prospective birth mother can officially sign her consent to adoption. After this time has passed and consent is given, your baby will be placed with you.
Your journey to adopt a baby in Florida isn't quite over yet. There's still finalization, which will take place six months (or so) after placement. Several post-placement visits will be conducted, which are similar to the original home study. Once these are completed and it is verified that everyone is adjusting properly to the new placement, you will go to a local courthouse to receive your final decree of adoption. Don't worry — this is a step that your adoption specialist will walk you through.
Congratulations — at this point, you will have finished the process to adopt in Florida!
…
That's technically the end of your journey adopting a child in Florida. But really, in a more important way, it's only the beginning. "Step six" of the process is the rest of your life — the joys and challenges of parenting and the fulfillment of your dreams as you love, cherish and nurture your newborn baby.
American Adoptions of Florida believes that anyone who dreams of starting a family should have the opportunity to do so. We are committed to serving families, and we would be honored to serve you.
Ready to take your first step toward adopting a baby in Florida with our agency? Call us today at 1-800-ADOPTION or contact us online at any time. If you would like to do more research before making this important decision, you can request free information online.
Disclaimer
Information available through these links is the sole property of the companies and organizations listed therein. American Adoptions provides this information as a courtesy and is in no way responsible for its content or accuracy.