How Do I Find a Family to Adopt My Baby in Florida?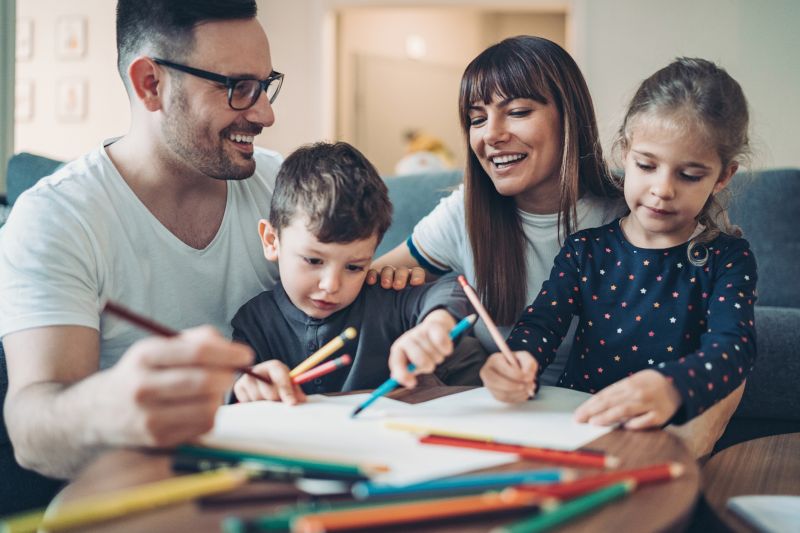 As the expectant mother, you are in charge of finding the perfect family for your baby. But as you start to get a sense for how many parents are waiting for children, narrowing down your options can feel overwhelming. It's enough to make you ask:
How do I find a family to adopt my baby that has everything I'm looking for?
The best way to find adoptive parents in Florida is by working with American Adoptions. In this guide, we'll go over everything you need to know when it comes to finding couples waiting to adopt. And if you're ready to start looking for a family now, we can help. Please give us a call at 1-800-ADOPTION or fill out our online form to get free information today.
How will I find couples to adopt a baby in Florida that are safe?
Every adoptive family that you see on our website is extensively screened before they're approved to adopt a child. One of the requirements that they must complete the Florida home study for adoption.
Additionally, we do our own screening to make sure that every adoptive family you see is emotionally and financially ready for adoption. This extra layer of security also helps ensure that any family you talk to is fully ready for the adoption process. And, when you choose any of our adoptive families, you can rest easy knowing that they're safe, ready to adopt, and ready to give your baby the life they deserve.
How Specific Can I Be When Choosing a Family?
You can be as specific as you want! Because American Adoptions is a national adoption agency, we're able to work with families across the country. This means you will have hundreds of families to consider, instead of only a small handful.
When you create an adoption plan, your specialist will help you determine what your preferences are. You can choose from adoption couples that are waiting in Florida based on:
Whether they live in the suburbs, city or country
Whether they already have children or not
What type of religion they practice
And so much more
As you'll start to notice, adoptive families come from all walks of life. So, if there's a specific race, age, religion or lifestyle you're looking for, chances are that we're already working with a family that meets your criteria.
How Will I See What Adoptive Parents are Really Like?
Adoptive family profiles are often the key to finding the perfect family waiting to adopt in Florida.
When an adoptive family starts working with our agency, one of the first things that they'll do is create their adoptive family profile. This profile provides a snapshot of their life. When you look at each one, you'll learn more about their hobbies, interests, extended families, reasons for adoption, and so much more. And when you look at their video profile, you'll be able to see what a family is like in their own environment.
When you go on our website, you can view waiting families in Florida and other states. You can filter families waiting to adopt profiles based on what you're looking for until you find ones that stand out to you.
Can I Only Pick Families in Florida?
Not at all. Because of our size and scope, you're not limited to looking at families waiting to adopt profiles in Florida. We work with adoptive parents from all 50 states, which means that you have a better shot at finding an adoptive family that meets everything that you're looking for. Even if that means they have to cross state lines.
As you start to create your adoption plan, it can be helpful to envision what kind of life you want your child to have. If you choose a family that lives close to you, your child will get to grow up doing all the things you enjoyed doing as a kid. But if you choose a family that lives farther away, you might find that your child grows up with even more opportunities.
No matter where the perfect family lives, it's up to you to make the best decision for you and your baby.
What Happens if I Want to Change Adoptive Families?
As an expectant mother, you have the right to change adoptive families.
Adoption is a big decision, and we know it's normal for feelings to change throughout the process. But before you start looking at other couples looking to adopt a newborn, start by talking to your adoption specialist. They are here to support you the entire way through, and they can talk you through whatever you're feeling. If you do decide, "I want to keep looking for families to adopt my baby in Florida," then your adoption specialist can walk you through the next steps.
Most of the time, finding an adoptive parent in Florida will be very similar to the first time around. Only this time, you'll want to keep an eye out for any traits that you were unsure about in the last family. And with your adoption specialists help, you'll have a better idea of what to look for.
What if I Don't Find a Family for My Baby?
You absolutely will. We know that it feels like you won't be able to decide from the waiting adoptive parents. But no matter what you're looking for, we can help you find the perfect family looking to adopt a baby in Florida. And when you find them, you'll know. Just like countless women before you.
When Erika chose her baby's adoptive parent, she knew that they were the ones. Seeing them interact with her baby just solidified her decision:
"Since we picked them, I had known that they were the ones, but after seeing the way they acted once they had seen her — it solidified everything even more, and I didn't know that could be possible," she said.
Just remember that there is no time limit when it comes to finding a family in Florida, just like how it's never too late to choose adoption. No matter how far along you are in your pregnancy, you still have time to find the right fit. And even if you've already given birth, there will still be an adoptive family excited to meet you and your baby.
Casey, a single mother, knew that she wanted to give her twins the life she always wanted for them. And finding adoptive parents was the answer she had been looking for:
"The way I knew they were the family for my birth sons was when we went to the park," she remembered. "The boys wanted to go down the slide, and their dad took the initiative not to take them up to the slide by themselves but to go down the slide with them.
"That's the type of parent I wanted for them: hands-on parents that would interact with them," Casey added.
"That's what told me they were the perfect family for my boys."
Find Families Looking to Adopt in Florida Today
As you can see, there's a lot to know when it comes to finding families looking to adopt in Florida. And there are a ton of ways to go about it. If you have more questions about, "How to find adoptive parents for my baby," you can always give us a call at 1-800-ADOPTION to learn more.
Disclaimer
Information available through these links is the sole property of the companies and organizations listed therein. American Adoptions provides this information as a courtesy and is in no way responsible for its content or accuracy.