Placing Children for Adoption Together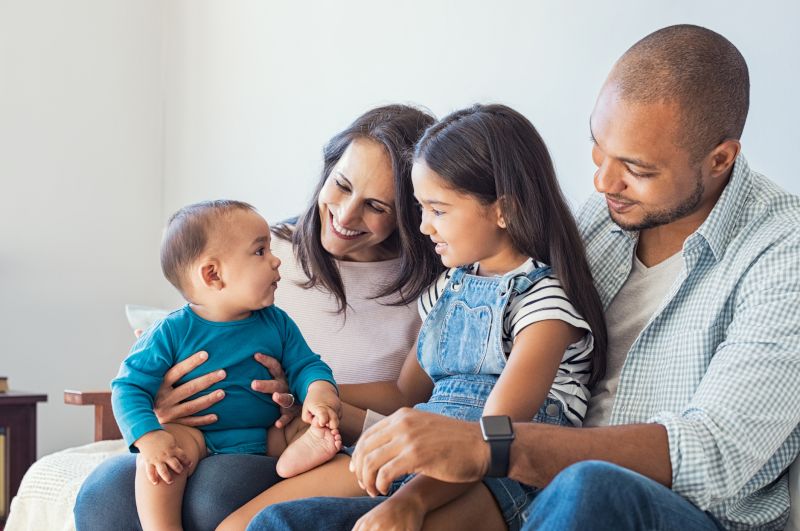 Life is constantly changing — financial situations, relationships, parenting ability, and more. Because of this, you may be in a position where you are considering placing your children for adoption together in Florida.
Know that you are not alone; many other parents experience the same thoughts and concerns. Because placing multiple children for adoption in Florida is a fairly common occurrence, American Adoptions has created this guide to provide you with more information.
Many women in similar situations as yours ask:
Can you place multiple children for adoption?
If I don't want my children anymore, who can help?
Does placing children for adoption together mean they will stay together?
Many other questions
This guide answers all of your questions and more.
No matter your situation or circumstances, adoption is always an option. You can place multiple children for adoption, and American Adoptions is here to help make every effort to keep siblings together throughout the adoption.
You can always call 1-800-ADOPTION to speak with an adoption professional or fill out this online form to get free information and support. In the meantime, continue reading to learn more about how to give children up for adoption in Florida.
Can You Place Multiple Children for Adoption in Florida?
Whether you are pregnant, recently delivered your baby, or have raised your children for any amount of time, choosing adoption is a brave and selfless decision. You are making this decision because you want what is best for them. You are making this decision out of the love you have for them.
Putting kids up for adoption in Florida, no matter how many, is common and takes plenty of thought and consideration. With such an important decision as adoption, you want to be entirely sure it is the best option.
If you have thoughts like, "I don't want my children," it's important to decipher if these are brief moments of uncertainty or serious concerns about your ability to parent your children. Depression, anxiety, financial problems, and many other contributing factors can leave you feeling like you cannot provide the love and support for your child you want to give. Many different things can lead you to feel like parenting is impossible.
"It was super tough at first, but I knew it was what needed to happen, that we weren't in the right place and it wasn't the right environment to bring two babies into," Janelle, a birth mother who chose adoption for her twins, said. You can click here to read about how she explains the thoughts and emotions that went into her decision.
Many other birth mothers share similar thoughts and experiences and realize that adoption was best for their children. You can read their stories and testimonials here.
When Putting Kids Up for Adoption in Florida Is the Right Choice
Putting kids up for adoption may be a difficult decision, but, often, it's the right one to make. Speaking with an adoption specialist can help better assess your situation. They can determine if there are resources that you and your babies could benefit, that would improve your current situation and make parenting a more reasonable option. A specialist can also explain the pros and cons of parenting vs adoption.
If you're looking for guidance about putting kids up for adoption in Florida, speaking to a specialist may help you determine that adoption is the best option for everyone involved. There will be many different factors that will impact this decision. Keep in mind, you are in complete control of your decision to parent or place your children for adoption.
If you are considering adoption or are having difficulty parenting multiple children, call 1-800-ADOPTION or fill out this form to get more information. We understand this is an emotional decision, but you do not have to make it alone.
How American Adoptions Can Help
Although American Adoptions is a national domestic infant adoption agency, meaning we tend to work with birth mothers placing newborns for adoption, we can also assist in toddler and older child placements for children up to 4 years old. Our support is on a case-by-case basis. Placing older children for adoption can sometimes be more difficult, but you'll gain peace of mind knowing there is an adoptive family for every child; we just have to find them.
If you are considering placement of your newborn, whether individual or multiple and are hoping to place your baby and their siblings for adoption — we will do everything we can to help you create a better future for yourself and your children.
With over 30 years of experience as one of the largest national domestic infant adoption agencies, we have helped thousands of birth mothers successfully place their children for adoption in Florida in nearly every scenario imaginable.
If working with our agency seems to be the best situation for you and your adoption, we will be by your side every step of the way.
When you work with American Adoptions, we will help you create the perfect adoption plan to ensure every step of your adoption meets your adoptive goals. From deciding the type of adoption you want to pursue to creating a hospital plan, we are here to make your adoption all about your needs and goals.
We offer services such as:
Legal representation free of charge so that your rights are always protected
Adoption financial assistance so that you can feel at-peace and free of financial stress
Assistance in finding the perfect family for your children so they will have the best life possible
And so much more
The agency you choose will ultimately impact your entire adoption experience. You want to make sure you find experienced professionals that will put your needs first— call 1-800-ADOPTION to discuss if our agency is right for you and your adoption. An adoption specialist will answer any questions you may have and learn more about your personal situation.
Does Placing Children for Adoption Together in Florida Mean They Will Stay Together?
Research has shown how important it is to maintain a sibling connection through adoption. If this is important for you and your adoptive goals for your children, you will want to choose an agency that emphasizes keeping sibling groups together.
American Adoptions values and supports the importance of sibling groups, which is why we will do everything in our power to never split your children up.
The significant impact of adopted children growing up with their brothers or sisters is too important for the coping and growing process to separate siblings. With our national reach, we have families from all over the United States that are open and excited about adopting a sibling group.
Keeping your children together during adoption is one of the most common concerns birth mothers face when considering putting children up for adoption in Florida. Call 1-800-ADOPTION to learn more about the importance of sibling groups and what we do to make sure your children stay together during placement.
Your Next Steps
No matter if you are just researching your options for placing children for adoption in Florida, would like to speak with a professional about your specific situation, or are ready to begin an adoption plan — speaking to an adoption professional is the best place to start.
In some situations, they may help you find the resources you need to get back to being the parent you always dreamed of for your children. If you determine adoption is best for your children, you will have the experience of a trusted adoption professional by your side throughout this life-changing journey.
Whenever you are ready to get more information, call 1-800-ADOPTION or fill out our online form. No matter your decision, your children's needs come first, and American Adoptions is here to help accommodate that with you.
Disclaimer
Information available through these links is the sole property of the companies and organizations listed therein. American Adoptions provides this information as a courtesy and is in no way responsible for its content or accuracy.