Adoption in Tampa, FL
Tampa Adoption Agencies, Lawyers and More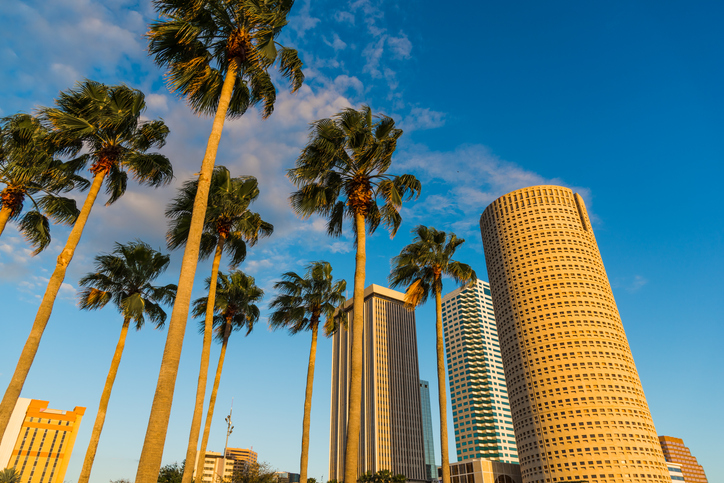 When you're new to adoption, even the smallest things can seem impossible. Knowing where to start? It may feel like finding a needle in a haystack.
We know what you're feeling, and we're here to help. Whether you're considering adopting a child or "giving a baby up" for adoption in Tampa, you'll need an experienced professional by your side. This choice will always be up to you. But, we know how hard that can be, which is why we've created this extensive guide to Tampa adoption professionals.
Below, you can read about local adoption agencies, attorneys and other professionals that can guide you through your journey. Take your time to learn about all of your options and find the right one for you.
Just remember that American Adoptions of Florida will always be here to help.
Private Adoption Agencies in Tampa, FL
Many adoptive parents and prospective birth parents choose to work with an adoption agency in Tampa — and for good reason.
Adoption agencies are, essentially, "one-stop shops" for your adoption journey. They take care of every step along the way, including coordinating with other professionals. Their case management and support takes the stress off your shoulders and allows you to focus on your adoption goals.
You'll have a choice between local and national adoption agencies in Tampa, Florida. But, if you want the best of both worlds, American Adoptions of Florida should be your choice.
We're a national agency licensed in Florida. What does that mean? It means you get all the benefits of a large national agency (shorter wait times, more adoption opportunities, 24/7 support) and the feel of a local agency (personalized support and case management). It's no wonder so many adoptive and birth parents choose us as their adoption agency in Tampa.
Want to learn more? Request free information online or give us a call at 1-800-ADOPTION. We also have a local Tampa office, found at:
3001 North Rocky Point Drive East, Suite 200
Tampa, FL 33607
813-868-1000
All that said, we always encourage people to do thorough research on all of their options for adoption agencies in Tampa, Florida. Here are a few more to consider:
Foster Care Adoption Agencies in Tampa, Florida
While American Adoptions only completes private domestic infant adoptions, we support all avenues of family-building, including foster care adoption. This can be a beautiful way to grow a family by bringing a child in desperate need of a home into yours.
There are thousands of children in Florida's foster care system at any time. Older children, children with special needs and sibling groups are all in equal need of loving, supportive parents. Could you be the family they are waiting for?
If you think so, contact one of these adoption agencies in Florida to learn more:
International Adoption Agencies in Tampa, Florida
Perhaps domestic adoption isn't your preferred path. If you want to adopt a child from another country, there are some things you need to know first.
International adoption requires the guidance of a Hague-approved agency. This is the only way you can safely and ethically bring a child from another country into your family. Your agency will help you navigate all the complexities, including international and domestic adoption laws, as well as the immigration process and re-adoption.
Get started with one of these professionals:
Adoption Lawyers in Tampa
One professional you can't do without? A Tampa adoption attorney.
An adoption attorney ensures that your process meets all legal requirements. That includes everything from monitoring living expenses to informing prospective birth parents of their rights to finalizing the adoption at the end of the journey. Work with a Tampa adoption lawyer from the very beginning, or you risk a delay or disruption in your process.
American Adoptions of Florida refers all of our clients to attorneys within our network. However, if you'd like to research your options on your own, start with these:
Tampa Adoption Home Study Providers
If you're an adoptive parent, you'll need to complete a home study before receiving an adoption opportunity.
A home study can seem overwhelming, but it's a simpler process than you think. Still, you must work with an experienced home study professional to meet every requirement and be approved to adopt. Fortunately, American Adoptions of Florida is here to help.
Because we're licensed in Florida, we can help any adoptive parent in the Sunshine State complete their home study. Whether or not you're working with us for placement, we're happy to guide you through this process.
Contact us online to start your Tampa adoption home study today.
Tampa Hospitals for Prenatal and Maternity Care and Delivery
If you're facing an unplanned pregnancy and considering adoption in Tampa, Fla., know that we will be here to support you every step of the way — whether or not you ultimately decide to place your child with adoptive parents.
When you first contact our team, we will answer every question you have and help you create an adoption plan. You're in charge of every aspect of your adoption journey, including your hospital stay. Your medical costs will always be covered during prenatal care and childbirth, but you'll have to decide where you would like to deliver your child.
Fortunately, you have several options in the Tampa area:
Tampa Courts for Adoption Finalization
Before an adoption is complete, adoptive parents must finalize their adoption with a court hearing. Don't worry — your attorney and agency specialist will help you prepare for this short-and-simple legal appointment.
During your finalization hearing, a judge will review your paperwork, possibly ask you a few questions and then approve your adoption. You'll receive a final decree of adoption, and your child will be legally yours!
You'll complete your Tampa adoption finalization at the Hillsborough County Clerk of Courts.
Tourism Spots for Your Tampa Adoption
If you're completing an adoption in Tampa, you may have some time to kill on your visits to the city. Maybe you're looking for something to do during open adoption visits, or maybe you're going stir-crazy during your ICPC wait. Either way, you can bet there's plenty to keep you busy in Tampa.
Here are some spots to check out during your next stay:
No one ever said adoption in Tampa would be easy. But trust us: It will be worth it. Make things a bit easier on yourself by working with American Adoptions of Florida from the beginning. Give us a call at 1-800-ADOPTION to get started, or request free information for prospective birth parents and adoptive parents here.
Disclaimer
Information available through these links is the sole property of the companies and organizations listed therein. America Adoptions, Inc. provides this information as a courtesy and is in no way responsible for its content or accuracy.